For anyone that has read what I've written recently, it should come as a surprise that I'm bearish on a stock like this. After all it's a Latin America mining company. There you've got emerging markets and gold exposure wrapped into one. So for me to be bearish on this, something must be wrong. Revenues and earnings estimates heading in the wrong direction spell out W-R-O-N-G to me. That's what we have here with our Bear of the Day, Buenaventura (NYSE:BVN).
The drop in income and EBITDA started in 2011 and was followed by a peak in revenue in 2012. Since then this company has been moving in the wrong direction. Now it seems to be getting worse. Rather than expanding mining operations the company plans to cut costs and streamline by closing mines.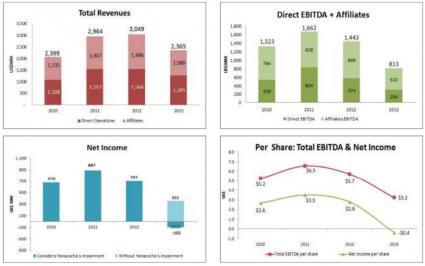 Granted the mines that BVN is planning on closing are non-profitable operations currently. But they are also selling smaller assets that have a reduced contribution to revenues and reserves. In 2013 about 60% of revenue came from gold, 18% silver, 18% copper and 4% zinc. Last year the company had about $62 million in cash on hand to go along with $235 million in debt.
You don't have to take my word for it, you can look to the recent analyst estimates. In the last week three analysts have lowered estimates for the current year and two have done so for next year. These revisions have helped lower estimates for the current year from 95 cents to 65 cents per share and next year from $1.23 down to $1.04.
That's not the only troubling news for the company. Last quarter the company reported a 6 cent loss per share versus analyst consensus of 20 cents per share profit. That huge miss came on the heels of what had been a great Q42013 where BVN blew estimates out of the water. However the prior two quarters BVN also disappointed by a combined 30 cents.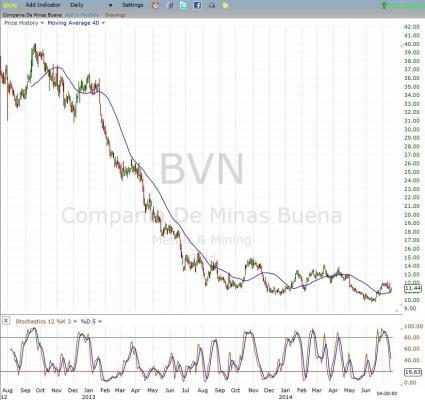 Looking at a long-term chart of BVN you can't help but think to yourself the downtrend has to end eventually. You're right but it's very difficult to figure out just where that level is. In late 2012 this stock was trading up at $40 per share. Now look at what's happened to it. We've completely unwound all the way down below $10 before the small dead cat bounce that took the stock back to nearly $12.
Now it looks like the stock may be dropping again, losing strength even in the face of a gold rally since June 5th. Stochastics topped out in overbought territory late last month. After flashing a sell signal on that indicator, BVN has unwound again, losing its hold on $12. If you're looking to catch a falling knife on this one, I would make sure to have your fingers protected.
Investors looking to invest in this industry should look at Zacks Rank No. 2 (Buy) Endeavour Silver (NYSE:EXK).
ENDEAVOUR SILVR (EXK): Free Stock Analysis Report
BUENAVENTUR-ADR (BVN): Free Stock Analysis Report
(email registration required)