The US has been caught in the midst of a new market revolution, which is legalized marijuana. Some states go the medical route and others have found huge success by way of legalized recreational marijuana. In fact, as of July 7, the Empire state became number 23 on the list of states approved to sell, dispense, and tax marijuana for medical purposes. Gov. Cuomo has signed the bill under the ruling that the drug is prescribed for use that does not involve actually smoking the plant. This means that companies that produce edibles, oils, waxes, and even vapor products can benefit in a large way from this decision.
So as new market trends arise like the coming of a vapor industry and the impending edibles movement, the public sector churns with new opportunity to take advantage of this exponentially expanding marketplace. As in all markets, the marijuana space is no different; we see cyclical consolidation and up until this point there really hasn't been enough of a marketplace for the marijuana industry. In observing MJ companies, including ones that I have mentioned in the past, there's big opportunity with the right timing of an investment to catch a stock at the bottom. As Jim Cramer has always said, when stocks become over valued, it's time to look at the right opportunity in the pullback.
I believe this to be true of the marijuana industry, especially right now. FINRA, the SEC and other government agencies have zeroed in on pot companies that don't cut the mustard, many of which have been halted because of their lack of business operations and extended hopes of cashing in on a burgeoning industry. There's no doubt that the marijuana market is pushing the margin and quickly becoming an economy of scale and as the public continues to favor new business, where does that leave investors?
With the creation of the MJX, investors have had a small glimpse into the "leaders" of the new public marijuana space, and after studying this in its entirety, I've come up with 5 potentially undervalued plays not only based on past performance, but also based on current trends and company announcements. The top of the list starts with a recent vape company that I had mentioned earlier this month in my article "The Vapor Trail To Profits: Who's Winning, Who's Losing?" Vape Holdings (OTCPK:VAPE), a "holding company focused on providing healthy and sustainable vaporization products," has seen an incredible decline over the last several months.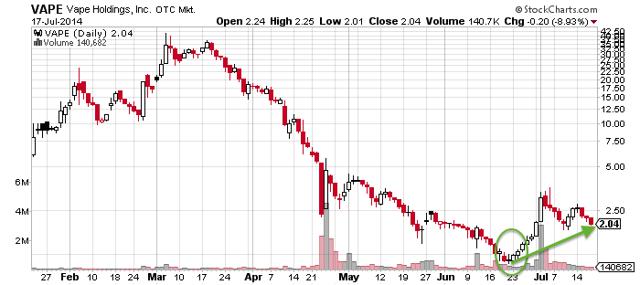 Back in March, VAPE hit a high of $41.75 following its negotiations outline for the HIVE Ceramics vaporization product. Since then, VAPE has seen a low of $1.08 as of the last half of June, marking a total drop of 97%. Where I see the underlying potential is in the recent upswing since hitting lows. Thursday's close (7/17) marks a near 90% rebound from those June lows and in my opinion, this may finally be a turning point for the stock.
Vape has announced several new developments over the past few months, including increased sales numbers from the HIVE product arrival as well as the launch of the company's e-commerce site. Additionally, the latest move for e-cig makers, like Reynolds (NYSE:RAI) and Lorillard (NYSE:LO), to aggressively establish a foothold in the e-cig/vaporizer market could be foreshadowing to big business' approach at the medical and recreational marijuana industry, leaving smaller companies an open door to take advantage of the "rising tide". If VAPE had any glimpse of returning back to those March highs, investors could find this to be a smoking hot marijuana stock.
Second on my list is a lesser-known MJ company that holds roughly 0.40% weight on the MJX, Agritek Holdings, Inc. (OTCQB:AGTK). This company is focused on two segments: cultivation and accessories. The saying goes, "During the gold rush, it wasn't the miners that made all the money, it was the people selling pick and shovels who raked in the dough". For AGTK, it looks like they've identified a way to work toward having their cake and eating it too. In May, the company announced that it had executed an exclusive celebrity marketing agreement and contract with Tara Reid, star of the hit movies Sharknado, American Pie and others, on behalf of the new Mont Blunt E-cigs brand.
Since hitting a high of $0.529 in March (prior to the name and symbol change), AGTK dropped 65% to a low of $0.186 during the final week of May. Since then, sentiment has become more positive, and in July, AGTK made the announcement that it would be taking on a cultivation role through its execution of a long-term lease agreement of an additional 40 acres in Pueblo, Colorado. According to the announcement, the company will sublease individual parcels of the 40-acre managed and secure agricultural facility to fully licensed and compliant growers and dispensaries within the regulated medicinal and recreational market throughout the entire state of Colorado. The Thursday session marked a rebound of nearly 30% from previous lows when AGTK closed at $0.237 (up from the $0.186 low). Again, this may be a new uptrend to follow from a "fallen" MJ stock.
GrowBLOX Sciences Inc. (OTCQB:GBLX) is third on this list. I originally reported on this company back in May when it was up for approval as one of Nevada's "chosen 18" that were granted special use permit licenses for medical marijuana dispensaries. Its GrowBLOX chamber has garnered attention from the marijuana community for its ability to successfully produce consistent strains of medical grade marijuana in a fully enclosed, climate controlled medium. Since hitting highs of $3.49, GBLX has made its way down to a dollar as of this past Thursday, marking a 71% drop in price from June's record highs. But two recent announcements, one from the company and another from Capitol Hill, put this on the list for a potential rebound.
First, the company had announced that it secured a letter of intent with First Security Bank of Nevada for the purpose of managing the currency and banking flow of the company's operating facilities. Second, the House voted Wednesday (7/16) in a 236-186 vote in support of making it easier for banks to do business with legal pot shops and providers of medical marijuana. This was a decision that rejected a move by Rep. John Fleming, R-La., to block the Treasury Department from implementing guidance it issued in February telling banks how to report on their dealings with marijuana-related businesses without running afoul of federal money-laundering laws. The Treasury guidance was intended to give banks confidence that they can deal with marijuana businesses in states where they're legal. This opens the floodgates for marijuana cultivation companies like GrowBLOX to have full access to banking operations as it stands today.
Congruent to the two previous marijuana companies, GrowBLOX may be at its low. Thursday's session marked a record bottom for the company with only a slight 5% rebound before the close. Both VAPE and AGTK had already begun their ascents so for GBLX, this may be the bottom that bargain hunters could be looking for in the marijuana market, especially with this latest news of federal regulations being loosened.
Medbox Inc. (MDBX) comes in at number 4 for marijuana companies coming down from their highs. At the end of January, this MJ consulting firm was trading at highs of $42.71 and five months later found itself at lows of nearly $13. Over the course of June and July, the company has been starting to turn things around. First, it initiated a relationship to market the real estate financing services of MJ Holdings (OTCQB:MJNE), and Medbox also announced that is it launching its marijuana dispensary management practice in Portland, OR, to better service potential clients for consulting services related to Washington's growing marijuana industry after recent recreational legalization took effect. Additionally, the company received final approval with no comments on its Form 10 filing, which marked a milestone for Medbox becoming a fully reporting public company.
Since making these announcements, MDBX has already begun to bounce back. From its May lows, Medbox has come back 25% after closing out the July 17 session at $16.54. A look at the MDBX chart will also show that though the stock has moved back from these lows, there still may be some bottoming out to do. The downtrend suggests to me that the market is still looking for support so this will be a cautious watch for me heading into the end of the month.
The final marijuana company on my list actually holds the second largest percentage of the MJX. Second to that of Medbox (5.78% : 12.10%) is CannaVest Corp. (CANV). This company has received some serious scrutiny throughout the year. Bart Mackay, a 57-year-old Las Vegas lawyer who works on various ventures like Dot Vegas which operates the .Vegas top-level domain, achieved the title of the "first pot stock billionaire" (on paper) in a Forbes article in March. At the time, this stock was trading around $113 and at one point prior, even saw highs of $201 per share. Since receiving mixed attention from the media and market, CANV took a monster nose dive all the way to $6.42, marking a near 100% loss for any investor taking a chance at a 3 figure stock price earlier in the year. Despite this incredible decline, the time may be now in order to find the real value in this seemingly 'infamous' company. Beyond having roughly $8 million in cash on the balance sheet as of the most recent filing, CANV had a rough first quarter.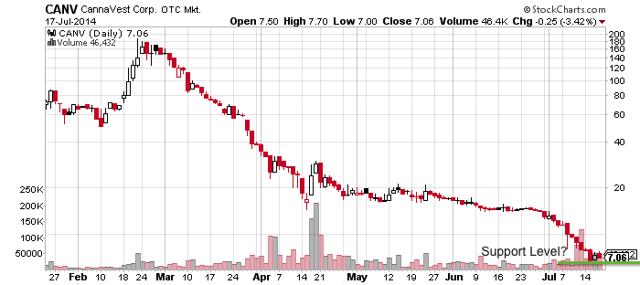 Net loss for the first quarter of 2014 was $118,416, or $0.00 per share (basic and diluted), compared to a net income of $682,533, or $0.09 per share (basic and diluted) for the same period in 2013. Selling, general and administrative expenses for the first quarter of 2014 were $924,365 compared to $194,392 for the same period in 2013, and research and development costs for the first quarter of 2014 were $151,021. Now, the company does attribute much of this to "growing pains" which include increased operations, additional personnel, web development, as well as legal and marketing costs, so for me, I will be closely monitoring CANV for a bottom on the chart as well as reading through the next quarter's financials. If the company has, in fact, invested as much into operations as the last Q shows, then the second half of the year could be strong for the company based on ramped up product and corporate development.
There you have it, the 5 marijuana companies that not only weigh in on the MJX, but have also come down from their highs, looking for support, and could be ready to either rebound or continue to rally. Obviously, time will tell and with so much happening in the political arena as it relates to the market, companies may simply start to find themselves in the right place at the right time. For investors, that could also apply with a well-timed investment in a company at "bargain basement" levels.
Disclosure: The author has no positions in any stocks mentioned, and no plans to initiate any positions within the next 72 hours. The author wrote this article themselves, and it expresses their own opinions. The author is not receiving compensation for it (other than from Seeking Alpha). The author has no business relationship with any company whose stock is mentioned in this article.
Editor's Note: This article covers one or more stocks trading at less than $1 per share and/or with less than a $100 million market cap. Please be aware of the risks associated with these stocks.