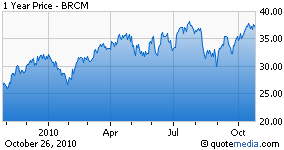 Broadcom (BRCM) is expected to report Q3 earnings after the market close on Tuesday, October 26, with a conference call scheduled for 4:45 pm ET.
Guidance
The consensus estimate is 71c for EPS and $1.75B for revenue, according to First Call. Broadcom's Q3 guidance was for sales to increase in the range of 6%-12% quarter-over-quarter, or $1.7B-$1.8B, with growth driven by the Mobile and Wireless segment.
Analyst Views
Deutsche's checks indicate continued baseband ramp at Nokia (NYSE:NOK) and Samsung offset by weakness in computing/consumer areas such as WLAN and digital TV. The firm expects Broadcom to report sales relatively in-line with Street estimates. Deutsche is modeling Q3 sales/PF EPS of $1.70B, or up 6% q/q, and 63c. Their GAAP EPS estimate for Q3 is 51c with a GM of 52.3%. Looking forward: Deutsche expects Q4 guidance to be sub-seasonal similar to other semiconductor peers. Their current sales/PF EPS estimates for Q4 are $1.58B, or down 7% q/q, and 52c compared to the Street at $1.75B and 68c. While Deutsche is relatively more cautious than the Street, the firm would not be surprised if Broadcom's Q4 outlook straddled their and the Street's estimates.
Key focus items for the conference call: Order patterns, GM and pricing, Inventory, Opex, share gains, and status of the Nokia and Samsung handset ramps.