Taking A Gamble With Earnings
Summary
Earnings season may provide excellent opportunities to benefit from enhanced volatility while controlling risk.
The sale of out of the money put options can define risk as well as potential reward.
Nimble maintenance of positions may be necessary in the event of unforeseen adverse price movements, but that can be the nidus for greater returns.
The coming week stands to be a busy one as about 150 of the S&P 500 stocks will be reporting their quarterly earnings.
While earnings had gotten off to a good start last week with a strong showing from those in the financial sector, the market's initial optimism was tempered a bit during the first day of Janet Yellen's Humphrey-Hawkins testimony, and was sent into a pall with news of the tragic downing of a Malaysian civilian plane over the disputed Ukraine-Russian border area.
Regardless of the direction a stock's price takes upon the earnings parade that also includes forward guidance, there is often opportunity to profit from either the expected or unexpected news that's delivered.
Whenever I ponder whether an earnings related trade is worth consideration, I let the option market's measure of the "implied price move" serve to determine whether there is a satisfactory risk-reward proposition. That calculation provides a price range in which projected price movements are thought to be likely.
If selling options, whether as part of a covered call strategy or through the sale of puts, there may be opportunity to achieve an acceptable premium, even if it represents a share price outside of the bounds set by the option market. Of course, that does depend to some degree on your own definition of "acceptable" and what you believe to be the appropriate level of risk to accompany that reward.
This coming week there appears to be a number of stocks that may warrant some attention as the reward may be well suited to the risk for some, as premiums tend to be heightened before known events, such as earnings.
A unifying theme for stocks that satisfy my criteria of offering a 1% or greater premium for a weekly option at a strike price outside of the boundary defined by the implied move calculation is underlying volatility. While already heightened due to impending earnings release and the uncertainty that accompanies the event, stocks that typically satisfy the criteria I've selected are already quite volatile.
While the implied volatilities may sometimes appear to be high, they are often consistent with past history, and such moves are certainly within the realm of probability. That knowledge should serve as a warning that the unthinkable can, and does, happen.
While individuals can set their own risk-reward parameters, I'm very satisfied with a weekly 1% ROI. The other part of the equation, the risk, is less quantitative. It is merely a question of whether the necessary strike level to achieve the reward is above or below the lower boundary defined by the stock's implied move.
I prefer to be below that lower boundary.
Among the companies that I am considering this coming week are Apple (NASDAQ:AAPL), Cliffs Natural Resources (NYSE:CLF), Comcast (NASDAQ:CMCSA), Chipotle Mexican Grill (NYSE:CMG), Facebook (NASDAQ:FB), Freeport McMoRan (NYSE:FCX), Intuitive Surgical (NASDAQ:ISRG), Microsoft (NASDAQ:MSFT), Pandora (NYSE:P) and VMWare (NYSE:VMW).
The basis for making any of these trades is entirely predicated upon what may be an inefficiency between the option premiums and the implied price movement. I give no consideration to fundamental nor technical issues, and would prefer not to be in a position to take ownership of shares in the event of an adverse price move.
My preference when selling put contracts is to do so when shares have already been falling in price in advance of earnings. Given the flourish with which this past week ended that is a bit more difficult, as a number of the shares listed had sizable gains in the session, recovering from the previous day's drops.
While I would prefer not to take ownership of shares, the investor must be prepared to do so or to attempt to manage the options contract, such as rolling it forward, if assignment appears inevitable.
During periods of low volatility, it may sometimes be difficult to do so and achieve a meaningful additional premium without going out further in time than you may have envisioned, however.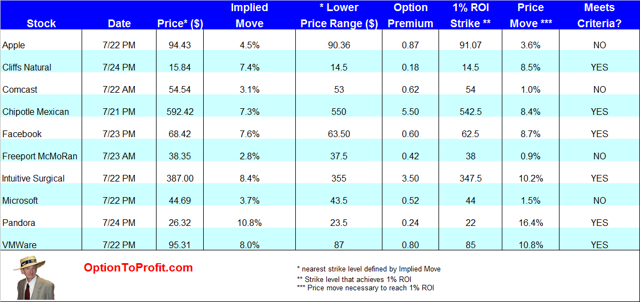 The table above may be used as a guide for determining which of these selected companies meets risk-reward parameters. Re-assessments need to be made as prices and, therefore, strike prices and their premiums may change. Additionally, the target ROI may warrant being changed as time erodes. For example, if the trade is executed with only 4 days of time remaining on the contract, the 1% ROI may find its equivalent in a 0.8% return.
While the list can be used prospectively, there may also be occasion to consider put sales following earnings in those cases where shares have reacted in an extremely negative fashion to earnings or to guidance. If you believe the response was an over-reaction to the news, there may then be opportunity to sell put options to take advantage of the negative sentiment that may be reflected in option premiums.
In such a case, the sale of a put is a bullish sentiment and there may be opportunity to make that expression a profitable one as the over-reaction faces its own correction. My recent observation, however, is that it seems to be taking longer and longer to see some stocks mount meaningful recoveries after earnings disappointments, which I interpret as a bearish indicator for the market as a whole, as risk aversion is a priority.
Recently, I've spent some considerable time in managing some positions that had greater than anticipated price moves, including taking assignment and then managing the position through the sale of call options.
Ultimately, regardless of the timing of an earnings related trade there is always opportunity when large price movements are anticipated, especially if those worst and best case scenarios aren't realized.
Best of all, if the extreme scenarios are realized, a nimble trader may have opportunity to create even more opportunities and allow the position to accumulate returns while doing so.
Disclosure: The author is long FCX. The author wrote this article themselves, and it expresses their own opinions. The author is not receiving compensation for it (other than from Seeking Alpha). The author has no business relationship with any company whose stock is mentioned in this article.
Additional disclosure: I may sell puts in AAPL, CLF, CMCSA, CMG, FB, FCX, ISRG, MSFT, P and VMW.
This article was written by
I am a simple individual investor who believes that the playing field is level, but may require active management of one's holdings. I've devised a series of steps that constitute a highly defined covered option strategy that most anyone can follow and that I've described in Option to Profit (2011). Having retired from a career in Pediatric Dentistry, approximately 10 years ahead of schedule, after spending the previous 10 years working just 2 1/2 days each week, I now spend my time trading.For almost 5 years I alerted others of trading opportunities in large cap positions through the Option to Profit subscription service, a premium subscription service that provided actionable Trading Alerts via text messaging or e-mail at my old site www.optiontoprofit.com. As of January 2, 2017, the site  and the name "Option to Profit" are no longer mine. as I've again joined the dark side and taken the easy money. But I've returned to my blogging roots on January 2, 2017 by resurrecting the old TheAcsMan.com ad supported web site, open to all.That, too, ended and the new, subscriber based LEAPtoProfit.com which launched July 2018 and is geared to the less active trader who is either shifting into a "buy and hold" strategy, as am I in this next to final stage of my investing career or seeks to milk an existing "buy and hold" portfolio.Current;y. the LEAPtoProfit p[ortfolio is fully invested and the paywall has been removed until December 2019 when I expect an infusion of cash from position assignments.Ultimately, I hope to make my stock portfolio improve the quality of my life. Whatever stage of life you are in, you can make your stocks improve that quality by putting them to work for you and perhaps LEAPtoProfit can be part of that process.