Since May grains have been trapped in a classic downtrend. For almost a quarter, three of every four days have seen wheat and corn fall. Wheat is now at four year lows. Could it continue to falter? The answer to that is of course it could. However, several technical and sentiment indicators suggest that the downside from here should be limited in the near term. Add to the short term support the longer term fundamental and geopolitical stories that are beginning to play out and this may be a time to dabble in wheat.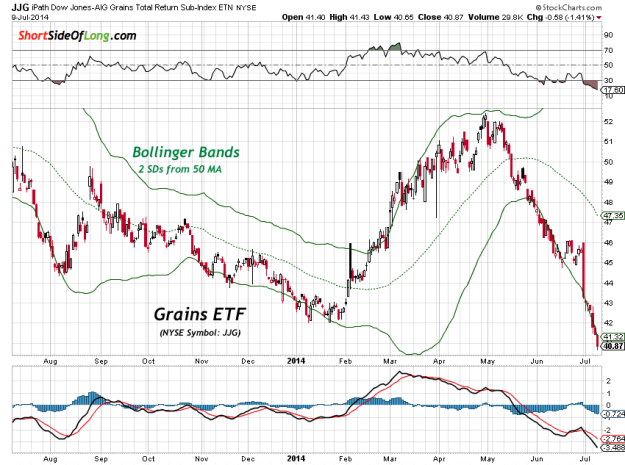 The chart above comes from the great shortsideoflong.com (I would highly suggest readers to give it a look if you have not heard of it). It is clear that grains have been shunned on the back of an expected strong harvest and is now trading outside of the lower Bollinger bands. This shows extreme oversold conditions with an RSI that is also historically low. I am not disputing a strong wheat harvest in the US this year as well as Europe. Markets discount the future though and the chart above shows that current prices have already priced that in. It has led to a dearth of ag bulls.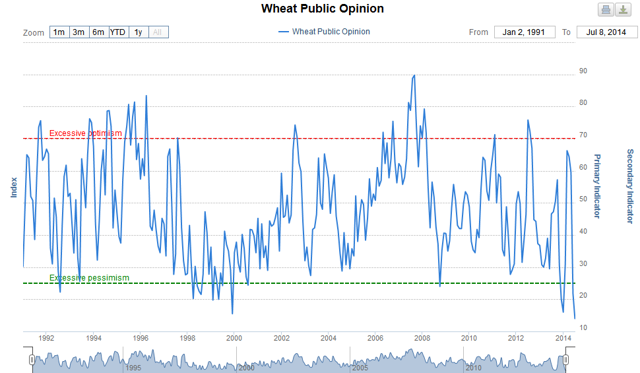 We have never seen more pessimism in wheat futures according to J.C. Parets and All Star Charts. There honestly are no bulls left and that should make it hard for further selling to materialize. It is in the process of exhausting itself. One last chart here to show wheat's performance when facing oversold and pessimistic conditions.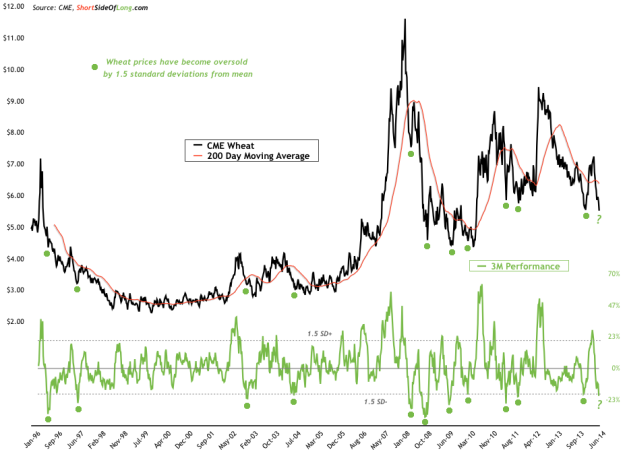 As you can see, when wheat is 1.5 standard deviations below the 200 day moving average it nearly universally outperforms to the upside. Many bottoms are characterized by chop, kind of like last week's performance. Two days were up over 2.5% and Friday saw a drop of over 3%. The chop lasts longer if bullish conviction is dormant but longs tend to do okay in these scenarios. What factors could give longs courage here? I have two.
First is weather. Grains are one of the few commodities where it does require you to be a meteorologist. Cool, wet summers in the Midwest and long winters in Canada have given us two record harvests. It appears that the jet stream that has created these conditions is in the process of changing. Texas, Oklahoma, Kansas, and Missouri are now registering drought conditions as the beginning of El Nino nibbles away at the southern edges of the wet blanket that has covered the Eastern US for a year and a half. It was July 2012 when the "Heat Dome" effect broke here in Michigan, giving us a wet and cool August that year while the bread basket broiled. Being in the northern US we were the first to notice a trend break from the heat pattern that kept the US from having a winter the year before. The southern US may be giving the same tell now in the opposite direction. As fall kicks into gear in six weeks it will be imperative to watch the heartland for above average temperatures mixed with dry conditions. The markets future discounting mechanism will price in a tougher harvest for 2015.
Also, given the geopolitical events of Thursday with the downing of a passenger jet by Russian separatists (trained and supported by Russia itself) it is becoming obvious that Europe will be forced to finally exert financial pressure against Russia. I really doubt that oil and natural gas will be part of the sanctions regime given European dependence. Something as serious as restricting market access to Russian banks might be enough to get Russia to threaten turning off the pipelines. Agricultural sanctions may be the answer. Russia's self-imposed grain ban in 2010 after a terrible harvest provided an explosive catalyst to wheat prices. With prices down 30% this year after a bad 2012, even sanctions wouldn't be enough to cause price inflation. Restricting Russian grain from the market would be a great way for European and American farmers to offload a bountiful harvest at higher prices, the best of both worlds. It would also harm Russian farmers appropriately and hopefully act as a deterrent from future Russian aggression in Eastern Europe.
Disclosure: The author has no positions in any stocks mentioned, and no plans to initiate any positions within the next 72 hours. The author wrote this article themselves, and it expresses their own opinions. The author is not receiving compensation for it (other than from Seeking Alpha). The author has no business relationship with any company whose stock is mentioned in this article.
Additional disclosure: The Author is long December 2014 wheat futures.