Netflix (NASDAQ:NFLX) is set to report this coming Monday after the market closes.
Netflix has been lucrative over the last year -- to say the least. In the last 12 months, the stock has returned 67.9% to investors. Since the start of 2014, it's produced a lucrative 20.6%. With its original content and growing subscriber base, Netflix has been the epitome of an aggressive growth story over these last 3 years.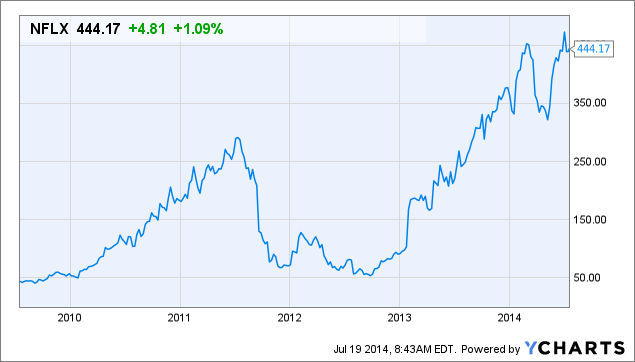 NFLX data by YCharts
Analysts are expecting a consensus estimate of $1.16 EPS on revenues of $1.33 billion for the current quarter. That EPS estimate marks massive YOY growth to the tune of nearly 130%. Netflix earned only $0.49/share EPS in the same quarter one year ago. Profitability has been growing consistently over the last 2 years for Netflix as their growing subscriber base has helped the company mitigate costs.
(source - Yahoo! Finance)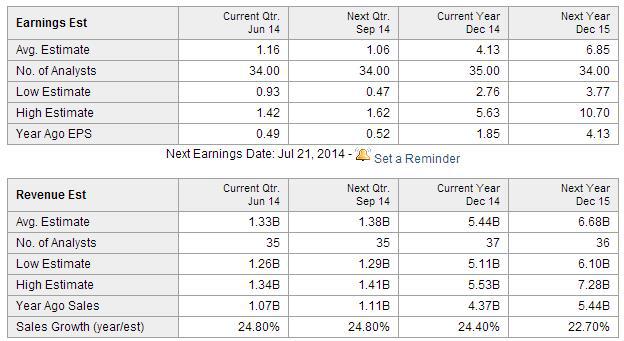 The major metric is going to be in the company's subscriber numbers - as it generally has been for the last several quarters. The company has guided for 1.46 million new streaming subscribers during the past quarter. That would push total subscribers to nearly 50 million. As you recall from the last quarter's conference call, the company also noted that it was going to be increasing its streaming prices to new customers by $1/month. Analysts and investors alike had been pushing for such an increase for the better part of the last year.
Netflix still looks affordably priced to potential customers at $8.99/month, in QTR's opinion.
International business is also going to be important as the company continues to expand overseas. The company breaking even or turning a profit overseas would be encouraging for Netflix's growth. Analysts are also expecting the company's contribution margins to improve YOY, based on the company's growing subscriber base - which, again, should help margins on fixed costs.
According to Marketwatch, analyst sentiment seems to be bullish heading into Monday:
Raymond James analyst Aaron Kessler recently reiterated his outperform rating on Netflix's stock and lifted his price target to $500 a share from $450, saying that growth in international markets "significantly expands [the company's] opportunity." During the quarter, Netflix said it would expand its service into six more European countries this year, including France and Germany, and Kessler estimates that those new markets contain 62 million broadband households and should "significantly expand Netflix's European presence."
We all know that Netflix's original content has done fantastically well, and that's an additional area that the company looks to grow.
With Netflix's past of highly volatile moves after earnings, a long straddle would be the trade I would place going into the company's earnings report. Earlier this year, we had a profitable trade on Netflix's last earnings report.
My first suggestion of trading a long straddle for a company into earnings was last week's athenahealth (NASDAQ:ATHN), which saw a momentary drop after trading started last Friday to ensure a breakeven price. Even though we didn't make money -- we didn't lose any either.

With Netflix, we can buy July 25th calls and puts for a net debit of $36.60 -- forecasting less than a 10% move in the stock, with 4 additional trading days post-earnings for the stock to move. The break evens for this trade at $481.60 and $408.40 -- two numbers that QTR thinks are extremely reasonable given Netflix's history of moves after earnings. QTR is bullish going into this report on Netflix, but likes the long straddle because it removes the risk of earnings missing estimates and simply accounts for volatility.
Again, this trade is not without risk. Should Netflix's report fail to move the needle, the risk gets greater and greater the closer to $445 Netflix is towards Friday's expiration.
Having said that, QTR looks to make this small long straddle as one of his opening trades of the upcoming week. With Chipotle (NYSE:CMG), Apple (NASDAQ:AAPL), Facebook (NASDAQ:FB) and Pandora (NYSE:P) reporting in the coming week, there's going to be several chances for us to profit from volatility in high momentum names this week. After identifying my next trade, I'll likely write about it tomorrow.
Best of luck to all investors.
Disclosure: The author has no positions in any stocks mentioned, but may initiate a long position in NFLX over the next 72 hours. The author wrote this article themselves, and it expresses their own opinions. The author is not receiving compensation for it (other than from Seeking Alpha). The author has no business relationship with any company whose stock is mentioned in this article.