Abstract
My previous article gave readers a background of Kandi's transformation to an EV company, Kandi Technologies Group, Inc. (NASDAQ: KNDI) and Geely's (NASDAQ: OTCPK:OTCPK:GELYY) joint venture which yielded the successful CarShare and the group leasing programs. This article covers the latest exciting developments of Kandi JV and China.
Sequential Production Increase In Q2 2014
After a slow start, China's NEV production has accelerated. In 2013, 17,642 new energy vehicles were sold, a year-over-year increase of 37.9%. In the first six months of this year, Chinese car companies have sold a record 20,477 NEV. Q2 sales of 13,624 NEV, which doubled Q1 sales of 6,853.
Industry insiders estimate that with the NEV subsidy policies and purchase tax exemption, the full-year sales of NEV will exceed a record 50,000 units this year, representing a 200% increase year over year.
KNDI is the leader in the first half of this year of both EV production and sales. KNDI JV ended Q2 2014 with a bang, produced 4,115 EV and sold 4,114 EV to record its best quarter ever. In comparison, it sold 1,215 cars in Q1, and 4,694 cars in all of 2013.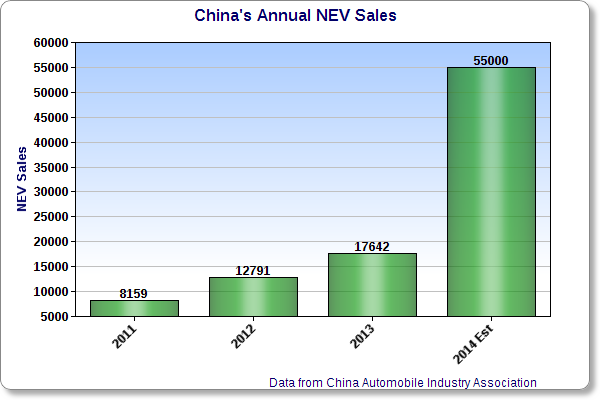 Annual NEV Sales in China from domestic brands (Data from CAIA)
Kandi's New "Urban Beauty" Electric Car
On July 9, Kandi EV Group's first Supplier Conference was successfully held in Hangzhou's First World Hotel. The General Assembly to "seize the opportunity and create win-win" as the theme, more than 160 representatives of more than 200 vendors from across the country to participate.
During the conference, Kandi debuted the new EV called "Urban Beauty" which generated strong interest. The new two-door sporty car contains some of the most intelligent and technologically advanced features among leading domestic car producers.
KNDI reported in its most recent Form 10-Q that it's been working on the new EV model SMA7005BEV. Mr Hu also confirmed the company is working on new models based on the Panda platform. Since the Panda is a four-door electric sedan, the "Urban Beauty" does not appear to descend from the Panda, therefore the new EV model SMA7005BEV could be a new and different car.
China Securities News on July 11 posted KNDI is in cooperation with Alibaba to launch its electric car platform. The news suggested that the two companies developed a "hot and trendy" EV using this platform. No other details were disclosed. With Alibaba making headlines about its upcoming IPO in the U.S., this would indicate a lot of visibility for KNDI when they announce the co-operation detail.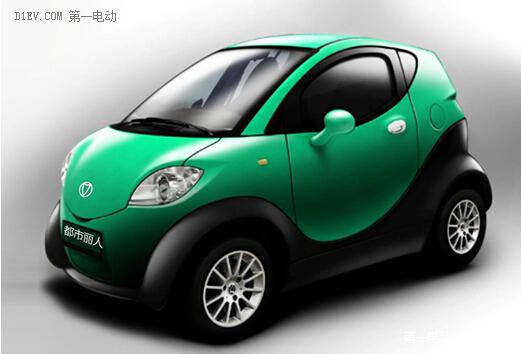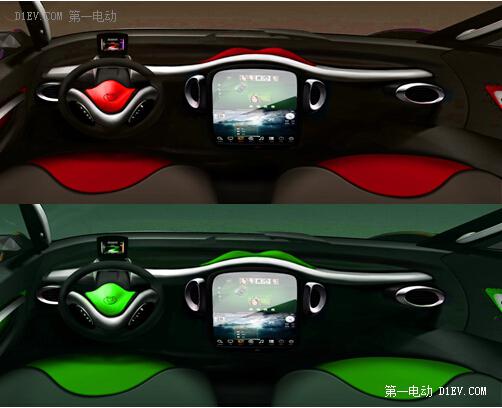 The new Kandi's "Urban Beauty" mini EV (Source: D1EV.com)
The Mini Electric Vehicle Market Boom
Why Kandi is building another mini EV? Southern Wealth Network on July 15 summarized Kandi's coverage by Haitong Securities with the headline "Mini electric car barbaric growth." The report forecasts 30,000 mini EV sales this year, accounting for 40% of China's NEV sales. Next year, mini EV sales could exceed 100,000 units. Haitong reiterated "overweight" rating for Kandi stocks.
According to the report, the mini EV market is being born in the context of overweight subsidies, which provide lots of room for profits. At this stage, mini EV is in the interest of all parties to achieve a win-win situation. For consumers, cost-effective, attractive; for businesses, high consumer demands, good profit model and high rate of return; and for government, the successful achievement of EV targets.
Currently the main mini EV companies include Kandi JV, Zotye and Chery. Compared to conventional cars and traditional electric cars, mini EV attracts more consumers because it is cost-effective, practical and convenient. The mini EV market is vast, especially in the second and third tier cities and towns.
From the production and sales statistics in the first half of this year, mini EV has been in a leading position. Kandi has been the leader, followed by Zotye. Because mini EVs are extremely sensitive to the subsidy policies, as more and more local subsidies are announced, coupled with the purchase tax relief, mini EV sales are expected to accelerate in the second half. As production increases, the cost to build mini EV declines, which means increased earnings for mini EV companies.
In addition to an overweight rating by Haitong Securities, on July 2nd Kandi also received a second overweight recommendation by Bloomberg, Essence International suggesting that Kandi EV sales this year could exceed 12,500 units.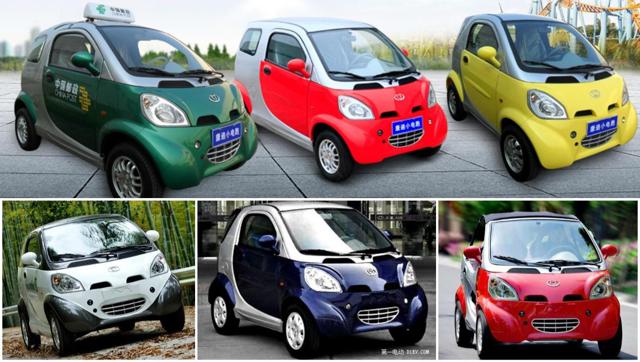 Kandi's EV lineup (Source: Kandi and D1EV.com)
NEV Purchase Tax Exemption
Premier Li Keqiang on July 9 announced at the State Council executive meeting that the Central Government decided to exempt NEV purchase tax of 10% for vehicles purchased from September 1, 2014 until the end of 2017. The aim is to stimulate domestic demand for consumer purchases of NEV. The Orient Securities said it expects the introduction of the tax policy will ensure faster growth rate in NEV sales.
ChinaEV.org reported that the Chinese Central government has been studying tax relief policies since March, to bolster sales of new energy vehicle (NEV) after past incentives failed to spur high enough demand to meet set goals, said Vice Premier Ma Kai during his visit of New Energy Automobile Enterprises in Shenzhen.
Last year, the government offered subsidies totaling $4.25 billion to stimulate the purchase of NEVs.
New Central Government Vehicle Mandate
On July 13, China released a statement requiring that electric cars must make up at least 30 percent of government vehicle purchases by 2016, the latest measure to fight pollution and cut energy use. Central government ministries and agencies will take the lead on purchases of NEVs, and will be offered subsidies. President Xi Jinping urges government agencies to buy domestic brands.
Under the new guidance, the number of government vehicles shall not be less than 10% for 2014, 20% for 2015 and 30% for 2016. The ratio will be raised beyond 2016, when local provinces are required to meet the target. According to the Automobile Association Secretary General Dong Yang's forecast, this year government officials' NEV procurement will reach 30,000, approximately 60% of total NEV annual sales.
"The second half of this year, with the implementation of the national purchase tax incentives and government procurement of the NEV, sales of NEV will skyrocket." Said Ma Jing, Shanghai Municipal Commissioner at the Shanghai municipal government news conference.
The new rules also require government agencies to build charging stations and improve other infrastructure for green vehicles. The new guidance came just a few days after China scrapped a purchase tax for green vehicles, fearing that it had fallen far behind in meeting its target of putting 500,000 new-energy vehicles on the road by next year.
Proposed Charging Pile Subsidies
Zhengbao reporters on July 2nd disclosed the Central Government will soon introduce a new charging facility subsidy policy. Once the Central Government releases its charging pile subsidy terms and conditions, the number of charging facilities is expected to multiply, accelerating NEV sales further. Shanghai and other local governments have already launched the charging infrastructure subsidy programs while most of the country is still waiting for a central subsidy policy to be released.
The Central Government recognizes development of the NEV market requires charging facilities multiplication. CCID Consulting's latest report stated that in 2013 China's electric vehicle charging station industry reached $574 million, in 2016 it will reach $5.3 billion, a stunning increase of tenfold in just three years.
Hangzhou Subsidies
All eyes are on Hangzhou as it's finalizing the new subsidy policy. In August 2010, Hangzhou introduced a policy that subsidized up to $9,600 for individuals for NEV purchases. The policy expired at the end of December last year. The lack of the new policy has hurt the local auto industry, and the city government has been under tremendous pressure to release its updated policy. When the new policy is released, it will open the floodgate for EV sales and Kandi group leasing activities, and also means significant retroactive Hangzhou city subsidy checks will be mailed to EV companies. My last article mentioned Kandi JV has already delivered 6755 EV to Hangzhou CarShare project, this means a fat subsidy check will be in the mail to Kandi soon after the new subsidy policy is announced.
Meanwhile in Hangzhou, the chance of winning a car plate gets slimmer, down to 1.7 percent in July from 2.2 percent in June. Hangzhou holds a car plate auction and lottery every month to issue 80,000 plates a year. A total of 398,101 people have signed up for the July auction and lottery, about 80,000 more than June, while the number of car plates available for July is only 6,750. Hangzhou sold 7,091 car plates last month at an average price of $2,482 for individual buyers and $3,180 for institutional buyers.
Technical Analysis
Last week KNDI gapped up over the head-and-shoulder resistance level at 15, flirting with 52-week closing high before closing the week at 19.62. Weekly volume was a record. Weekly chart shows six continuous weeks of stock accumulation by investors, institutions and funds, which is also a record. The 50, 100 and 200 day moving averages have begun to point upward, a bullish sign. The relative strength indicator (RSI) has improved to 79 from as low as 32 as the stock corrected 50%, presented an opportunity for EV believers to accumulate shares cheaply. MACD went from an overbought condition in March to a long period of oversold condition between April and June, in which May was the extremely oversold month that brought the stock down to the 10.80 level where it found support, made a solid base, then began to move upward.
The weekly chart clearly shows KNDI is forming the right side of the cup with heavy volume, that indicates a potential breakout in the next few weeks after testing resistance area around $20-$22.50. If the breakout is successful with strong volume, KNDI could move into the uncharted territory containing no technical resistance, which could mean KNDI trading near $30 in just days. The upward movement could also be intensified with shorts get squeezed. Tesla stock experienced a similar breakout last year after the company reported strong sales volume, and Tesla Model S received praises from the media. That breakout, coupled with short squeeze action drove Tesla stocks up tenfold in less than six months.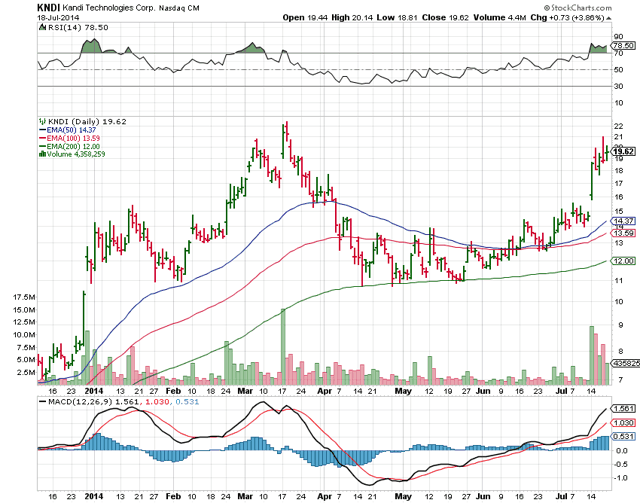 Kandi Technologies daily chart (Source: StockCharts.com)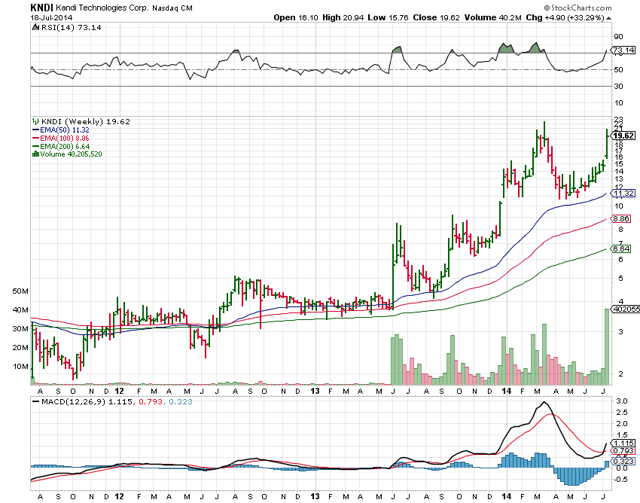 Kandi Technologies weekly chart (Source: StockCharts.com)
Microsoft Money shows Kandi's institutional and mutual funds/ETF ownership has increased to nearly 12%, with fresh new accumulation from Security Investors, LLC, Mizuho Securities USA Inc, First Trust ISE China Index Fund, and several PowerShares funds.
Conclusion
In 2008 the world entered the great recession. The U.S. Federal Reserve came to the rescue by several rounds of interest rate reduction and quantitative easing. Since mid 2009, U.S. economy has started to turn around, and the stock market has been going up ever since. Sadly a huge number of investors were continuously cashing out on their mutual funds and stocks during the last several years, therefore missing a huge gain from the bull market.
The mistake many investors made is now repeated with the emerging EV technologies. After the initial hurdles of lacking charging infrastructures coupled with slow consumers' acceptance and adoption of the new EV products, resulting in slow growth in the last few years; EV sales have now begun to pick up worldwide and will accelerate for many years to come. Nevertheless, EV companies like Tesla (NASDAQ:TSLA) and Kandi are among the most shorted stocks.
On July 10, chief economist Jun Ma in his keynote speech on green finance roundtable held in Guiyang suggested that China needs to establish a green investment policy system, and assist Chinese green transformation by investing $320 million per year into these projects.
Do not underestimate the China State and its local governments when they do all in their power to restrict traditional car purchases, pour trillions of dollars into NEV subsidies, provide tax exemption, enforce government procurement of EV, and build charging infrastructures. The EV movement has just begun, go with the flow, invest wisely, and profit greatly!
Disclosure: The author is long KNDI, TSLA. The author wrote this article themselves, and it expresses their own opinions. The author is not receiving compensation for it (other than from Seeking Alpha). The author has no business relationship with any company whose stock is mentioned in this article.
Editor's Note: This article discusses one or more securities that do not trade on a major U.S. exchange. Please be aware of the risks associated with these stocks.