Shares in Dr Pepper Snapple Group (NYSE:DPS) have gone up by 22.0% year to date and are now trading near their 52-week high. At the current price per share of $59.45, shares in Dr Pepper are now yielding 2.76%. Does the current price level offer opportunities for long term dividend investors, or would it be wiser to wait for a pullback before getting in?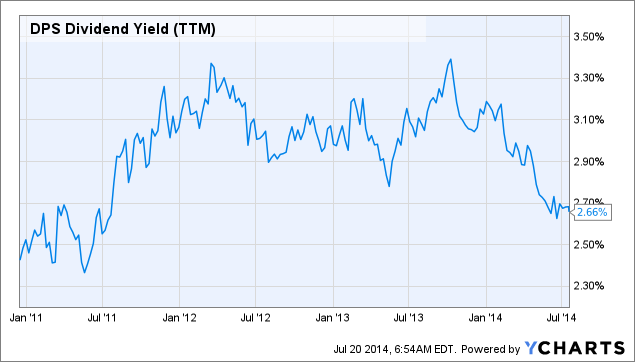 DPS Dividend Yield (NYSE:TTM) data by YCharts
As we can see from the graph above, Dr Pepper's dividend yield hasn't been this low since 2011. Dr Pepper currently yields a bit less than its two largest competitors, Coca-Cola (NYSE:KO), which yields 2.88% and PepsiCo (NYSE:PEP), which yields 2.91%.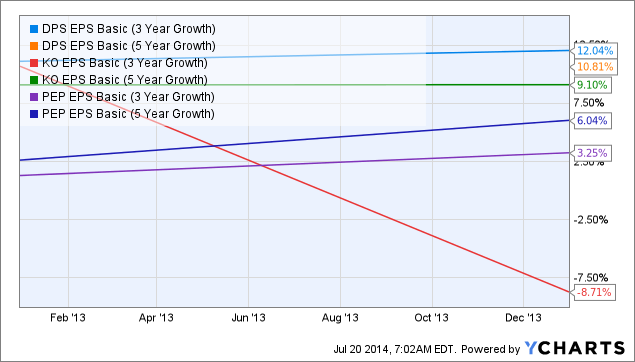 DPS EPS Basic (3 Year Growth) data by YCharts
Dr Pepper easily beats it competition in terms of EPS growth, as we can see in the graph above. However, most of this growth is thanks to the large amounts of stock Dr Pepper repurchases, whereas Coca-Cola and PepsiCo increase their EPS by growing revenues. Dr Pepper's 5-year revenue growth rate stands at 0.99%, compared to 8.96% for PepsiCo and 7.96% for Coca-Cola.
Looking at the balance sheet we can see Dr Pepper has a current ratio of 1.06, which is close to Coca-Cola's 1.03 and PepsiCo's 1.20. A current ratio of more than 1.0 tells us current assets are larger than current liabilities, indicating good short term balance sheet health.
For the current fiscal year, analysts expect Dr Pepper to have earnings per share of $3.47, which means Dr Pepper's forward p/e ratio stands at 17.1, which is quite a bit cheaper than PepsiCo, which is trading at 19.8 times this year's expected earnings, and Coca-Cola which is trading at a forward p/e of 20.3.
The forward price to sales ratios for the 3 companies show a similar pattern, with Dr Pepper trading at a forward p/s of 1.93, compared to Coca-Cola's 3.97 and PepsiCo's 2.03.
Unlike its two mega-cap competitors, Dr Pepper's revenue isn't growing. However, due to the fact the company buys back large amounts of its own stock, earnings per share have grown at a higher pace than that of PepsiCo and Coca-Cola. The large increase in shareprice this year has pushed down the yield somewhat, but I feel 2.76% is still reasonable, though I would definitely understand if investors prefer to wait for a pullback. I believe a long term investments in Dr Pepper, with dividends reinvested, should prove to be profitable.
Disclosure: The author has no positions in any stocks mentioned, and no plans to initiate any positions within the next 72 hours. The author wrote this article themselves, and it expresses their own opinions. The author is not receiving compensation for it (other than from Seeking Alpha). The author has no business relationship with any company whose stock is mentioned in this article.