NQ Mobile's (NYSE:NQ) dismissal of PwC as its independent auditor has sparked a heated debate in the investment community as to which party was in the wrong. I do not believe that either party was in the wrong and this article will summarize why. Two concepts that I want readers to bear in mind while reading this article are:
Auditors provide reasonable, not absolute, assurance over a company's financial statements.
An unqualified audit opinion is not equivalent to a "clean bill of health" from a doctor.
An integrated audit consists of two opinions by an auditor, one on the financial statements and one on the effectiveness of internal control. NQ skeptics have highlighted differing language in PwC's audit opinion and PwC's internal control opinion. Comparing these two opinions side by side is like comparing apples to oranges. They are simply not the same thing. An auditor's opinion on the financial statements determines if the financial statements are presented fairly, in all material respects, in accordance with the relevant and applicable accounting standards (in this case, U.S. G.A.A.P.). An auditor's opinion on the effectiveness of internal control discusses whether or not the auditor believes the internal controls are working effectively. Comparing the language used in both opinions is wrong, useless, and a waste of time.
NQ skeptics have also highlighted a liability disclosure in the third paragraph of PwC's opinion.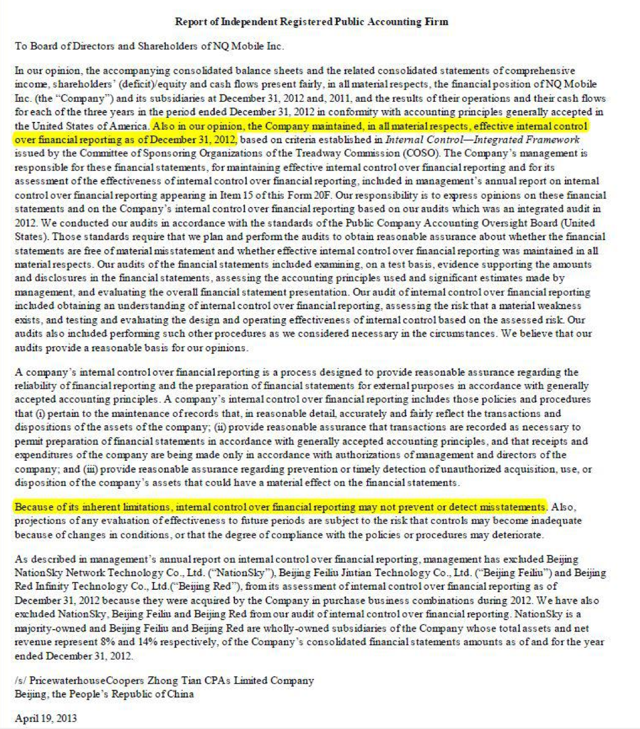 Do not fret NQ investors; this liability disclosure is not unique to NQ nor is contradictory to PwC's internal control opinion. Please feel free to read through the internal control opinion found in any company's 10-K. You will find the same disclosure in every single one of them.
The audit risk model (ARM) is essential to the planning of every audit. The tolerable amount of audit risk is determined during the planning phase of the audit. The audit risk is equal to inherent risk (IR) times control risk (CR) times detection risk (DR) (visual below).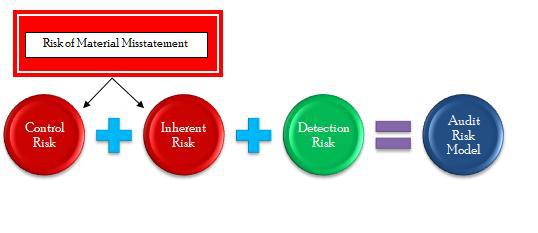 Inherent risk is reflective of many things, including (but not limited to) the company's industry, sector, business model, competitors, and management team. Control risk is the risk that a material misstatement will occur because of the absence or failure of internal controls. Detection risk is the risk that the auditor itself will fail to detect a material misstatement. Assume a hypothetical situation in which inherent risk and control risk are both low. Bearing the ARM in mind, detection risk can be higher to achieve the targeted audit risk because the other two variables in the equation are low. As a result, an independent auditor would have to perform fewer substantive procedures to achieve the targeted audit risk.
Given the Muddy Waters report (no matter how right or wrong it is), the number of auditors NQ has had, and the fact that NQ is a Chinese company, it is reasonable to assume that PwC's assessment of NQ's inherent risk was high. Accordingly, PwC requested to expand the scope of its 2013 audit to minimize detection risk and to achieve its targeted audit risk. This does not imply that NQ has or has not committed fraud. PwC had every right to ask to expand the scope of the audit and NQ had every right to decline this request. Therefore, I do not believe either party was in the wrong. PwC did not want to sign off on NQ's financial statements without performing the additional audit procedures it had requested and NQ did not wish to grant PwC access to additional third-party documentation.
Given the recent scrutiny related to NQ's financial statements, it does seem odd that NQ did not want adhere to PwC's request. If I were an NQ investor, I would want PwC to perform as many procedures as possible to ensure the financial statements are free from material misstatement. The NQ saga has certainly been an interesting one to say the least and I look forward to the completion of the 2013 audit.
Disclosure: The author has no positions in any stocks mentioned, and no plans to initiate any positions within the next 72 hours. The author wrote this article themselves, and it expresses their own opinions. The author is not receiving compensation for it (other than from Seeking Alpha). The author has no business relationship with any company whose stock is mentioned in this article.