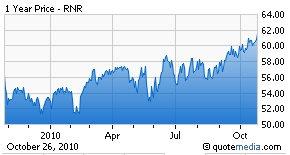 RenaissanceRe Holdings Ltd. (NYSE:RNR) is a "global provider of reinsurance and insurance to cover the risk of natural and man-made catastrophes." This $3.8b market cap company is trading at 1.05x tangible book value and 7.6x the consensus calendar-year 2011 EPS estimate of $7.95, and is yielding 1.6%.
RNR reports 3Q10 results on Thursday morning, October 28, 2010. The company states in its 2009 annual report that the most important metric by which it measures shareholder value is tangible book value per share plus the change in accumulated dividends. This company has a history of raising dividends each year by $0.04 per share; its latest annualized dividend is $1.00, up from $0.96 in 2009. The stock has traded between 0.81x to 2.11x tangible book over the last 7 years, and in 2008 and 2009, traded at an average tangible book value of 1.21x and 1.19x.
RNR stock got our attention because it is only two of the 18 new adds that scored the best possible score in 3 out of 4 factors in our weekly ranking report, and the second highest score for a fourth. Based on forward looking estimates, it looks like operating momentum may have peaked in the June 2010 quarter, but given its rising stock price, though still low P/BV multiple, and rising analyst revision momentum, we wonder if analyst revisions will continue. Perhaps earnings estimates are too low because of overly-high estimates for the cost of the Gulf of Mexico cleanup? This is one stock that deserves further study.

Disclosure: None