On June 21, 2013 Morgan Stanley (NYSE:MS) agreed to pay $4.7B for Citigroup's remaining 35% stake in the joint venture wealth management business. Naturally the profits from that business are now filtering into MS's coffers in much greater amounts. This is in keeping with MS's strategy of performance and growth from 2014 onward, after the roughly five years of recovery from the Great Recession.
MS posted a pretax profit of $767 million in its wealth division in Q2 2014. That was 38.6% of its total profit; and it was the highest since the joint venture with Smith Barney began five years ago. The profit represented 21% of net revenue in the wealth management division. Gorman says MS intends to drive that margin even higher in future quarters to 22% to 25% by the end of 2015. Gorman earlier this year said compensation costs in wealth management should fall from 60% to 55%. Many are speculating that he will cut signing bonuses and brokers' pay. Aside from compensation other costs fell 9% year over year because MS is no longer spending millions to combine its operations with those of Smith Barney.
Asset management related fees climbed 9% to $2.1B from $1.9B a year ago. Commissions fell -10% to $511 million. Total client assets soared to just above $2T as of June 30, 2014. This was a record, which was attributed to market appreciation and brokers' focus on gathering assets from wealthy people. MS was also awarded a patent for an innovative manager research/scoring tool. This is known as the Adverse Active Alpha Manager Ranking Model. MS believes this tool can help it better analyze managers and increase the odds of selecting those with the potential to excel in the future.
Gorman continued with the other four of his major five points. Second, he noted MS improved its ROE in fixed income and commodities. MS continues to optimize that business appropriately for the firm. Revenues from these areas were flat excluding Debt Value Adjustment (DVA) in 1H 2014. Since MS has also decreased Risk Weighted Assets (RWAs) and expenses, it has increased ROE in this business in 1H 2014.
As of June 30, 2014 MS's RWAs in fixed income and commodities were $192 billion. MS has also taken significant steps in commodities to improve returns. For instance, MS sold TransMontaigne on July 1, 2014 -- the first of two oil businesses it is selling. MS is aiming for a global franchise that leverages its clearing and electronic capabilities.
Third MS is driving additional expense reductions and improvements in its expense ratios. Non-compensation expenses have declined while the firm wide compensation ratio is lower. Year-over-year overall expense ratios improved from 79% to 76%. MS continues to see more opportunities to increase efficiencies in the future through both tactical and strategic moves, including investing in technology that simplifies its business.
Fourth MS has made progress in its banking activities such as production of mortgages and securities based lending. It has very low penetration of such products in wealth management compared to peers. Therefore it sees a lot of room for growth in this area.
Fifth MS is continuing to work toward achieving returns in excess of its cost of capital. A key driver of capital returns are stable and consistent earnings, which MS demonstrated again in Q2 2014. Even excluding DVA (Debt Valuation Adjustment) in 1H 2014 and last year, and excluding the tax benefit of this quarter, MS's underlying ROE was still higher. Plus MS demonstrated improved performance and momentum in many areas across the firm. Of particular note, MS had a very strong quarter in investment banking. This was driven by underwriting and advisory function. In addition MS successfully raised its first post Dodd-Frank merchant banking fund in Asia.
Overall MS had net revenues of $8.6B (versus $8.5B a year ago) and EPS from continuing operations of $0.94 (versus $0.43 per diluted share a year ago). Of course these results included a net discrete tax benefit of $609 million (or +$0.31 per diluted share). The "benefit" last year was a -$0.08 per diluted share, so the difference was startling (+$0.39 per diluted share). For Q2 2014 investment banking ranked #2 worldwide in M&A and #3 in IPOs. Plus MS showed continued strength in equity sales and trading.
Gorman clearly believes the company is set up for growth going forward. However, growth recently has only been decent, not spectacular. Still analysts are predicting 21.80% EPS growth in 2015; and they have an average Next Five Years EPS Growth Estimate per annum of 25.45%. In other words they agree with Gorman.
With a PE of 20.15 and an FPE of 11.26, MS is reasonably priced, especially with its gaudy Next 5 Years EPS Growth Estimate per annum of 25.45%. It only pays a 1.20% dividend; but Gorman has said he and MS are committed to raising that dividend; and the most recent results and guidance tend to substantiate that view. MS is a buy. It should be one of the better performing U.S. financials over the next few years.
The two-year chart of MS provides some technical direction for this trade.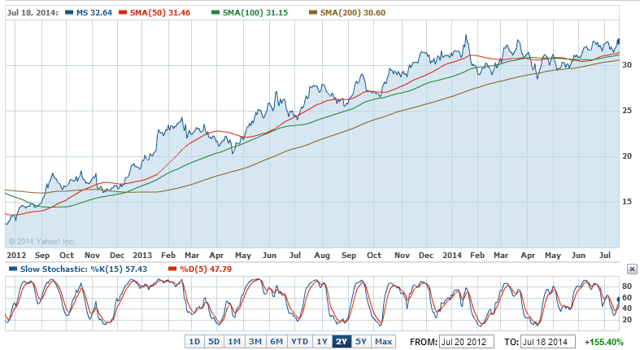 The slow stochastic sub chart shows that MS is neither oversold, nor overbought. The main chart shows that MS is in a weakening uptrend. However, the recent results and the guidance make one believe that MS can continue its uptrend; and it may be able to reaccelerate its uptrend upward. In a very uncertain environment, MS may be one of the better financials to own. It is a buy. Gorman may be a great salesman; but he also may be selling you a good to great investment in MS.
NOTE: Some of the fundamental fiscal data above is from Yahoo Finance.
Good Luck Trading.
Disclosure: The author has no positions in any stocks mentioned, but may initiate a long position in MS over the next 72 hours. The author wrote this article themselves, and it expresses their own opinions. The author is not receiving compensation for it (other than from Seeking Alpha). The author has no business relationship with any company whose stock is mentioned in this article.