Now that we're in the thick of earnings season, I think its best we look at some of the bigger more well-known names that actually pay their investors a fairly sizable dividend. When I think of higher-yielding, well-known companies, with earnings reports set to come out this week, one of the first names that pops into my head is Altria Group (NYSE:MO).
Company Overview
Headquartered in Richmond, Virginia, Altria Group along with its subsidiaries, manufactures and sells cigarettes, smokeless products, and wine in the United States and internationally. It offers cigarettes primarily under the Marlboro brand, cigars principally under the Black & Mild brand, and smokeless tobacco products under the Copenhagen, Skoal, Red Seal, Husky, and Marlboro Snus brand names. The company also produces and sells blended table wines under the Chateau Ste. Michelle, Columbia Crest, and 14 Hands names, and distributes Antinori and Villa Maria Estate wines, as well as Champagne Nicolas Feuillatte in the United States.
Recent Trend Behavior
On Friday, shares of MO, which currently possess a market cap of $83.77 billion, a forward P/E ratio of 15.31, and a dividend yield of 4.55% ($1.92), settled at a price of $42.17/share. Based on a closing price of $42.17/share, shares of MO are trading 0.55% below their 20-day simple moving average, 2.00% above their 50-day simple moving average, and 12.89% above their 200-day simple moving average.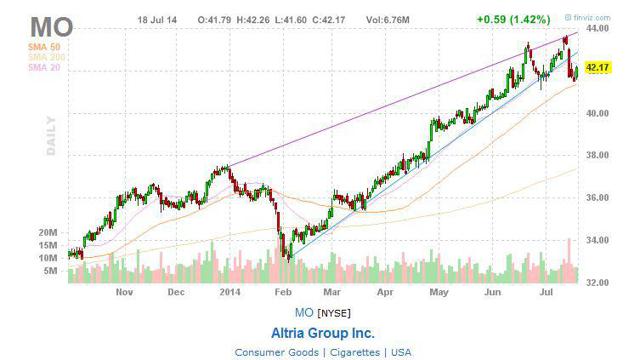 These numbers indicate a short-term downtrend and mid-to-long term uptrend for the stock, which generally translates into a buying mode for most near-term traders and many long-term investors. If the company can demonstrate a stronger-than-expected earnings performance when it announces Q2 results on July 22, there's a very good chance the company's trend behavior will continue to move in a very positive direction.
Upcoming Earnings Outlook
When it comes to the company's upcoming Q2 earnings, there are a number of things potential investors should consider. For example, analysts are currently calling for MO to earn $0.66/share in terms of EPS (which is $0.09/share higher than what the company had reported during Q1 2014, and $0.04/share better than what the company had reported during the year-ago period) and $4.60 billion in terms of revenue when its latest earnings are released on July 22.
In order to meet and/or exceed its quarterly EPS estimates, I'd like to see a 3%-to-6% increase in the company's Q2 gross profit (as compared to Q1's gross profit of $2.25 billion), a 3%-to-5% increase in operating income (as compared to Q1's operating income of $1.73 billion), and lastly, a 1.5%-to-2.5% increase in the company's net earnings (as compared to Q1's net earnings of $1.175 billion).
Smokeless Products Should Continue To Lead The Charge
During the first quarter we saw Altria's smokeless products segments increase their net revenues by 6.4%, increase their OCI by 7.7%, and their OCI margins grow by 1.1 percentage points to 62.1. So what am I expecting during the second-quarter? In all honesty I expect nothing less then the same performance we saw during Q1. In other words I'm looking for the company's smokeless products segments to demonstrate an increase of at least 7% in terms of their net revenues, an increase of at least 8.2% in terms of their OCI and a 1.3percentage point increase in terms of their OCI margins for smokeless products.
Conclusion
For those of you who may be considering a position in Altria Group, I'd actually look to keep a closer eye on the company's smokeless products development and performance over the next 6-12 months as any uptrend in such production could positively impact the company's long-term earnings growth.
In terms of the company's upcoming quarter, steady increases of at least 3% in both gross profit and operating income as well as a 1.5%-2.5% increase in the company's net earnings could help MO stay on course to meet or even surpass analysts' expectations when it announces earnings on July 22.
Disclosure: The author is long MO. The author wrote this article themselves, and it expresses their own opinions. The author is not receiving compensation for it (other than from Seeking Alpha). The author has no business relationship with any company whose stock is mentioned in this article.