I like the insurance business. I really like the insurance business. History has shown that when not trying to reinvent the wheel and when having anything resembling a risk management strategy that insurance is almost always a profitable endeavor. History has also shown that insurance isn't necessarily susceptible to price suppressing dynamics that come with other lines of businesses and I like that too. This initiation article will discuss Trupanion, Inc. (NYSE:TRUP), a company that is in fact trying to reinvent the insurance wheel and appears to be doing it very successfully. This article will make the argument that Trupanion is successfully carving out a niche of insurance in size and scope that has never been done before and that the prospects of the company are and have high visibility of remaining quite bright. That being said, this article will also discuss the risks of trying to define the outer edges of insurance and that it may be most appropriate to take the "wait and see" approach with the stock.
Who is Trupanion, Inc.?
"Trupanion, Inc., together with its subsidiaries, operates as a direct-to-consumer monthly subscription service provider of a medical insurance plan for cats and dogs in the United States, Canada, and Puerto Rico. It serves pet owners and veterinarians. (SOURCE: Yahoo! Finance Stock Summary TRUP)"
TRUP held an IPO on 7/18/2014 and sold 7,125,000 shares at $10, which was below the targeted trade range of $14. The stock has since appreciated 14% and had a most recent close of $11.40.
What does TRUP do?
TRUP offers "medical" insurance for cats and dogs. Yes, that's a real thing. I was a bit taken back when initially reading the S-1 filing, which I might add was more specific and provided more granular detail than most, but after getting into the filing I realized we might have a long-term winner on our hands. TRUP has a direct-to-consumer (read: online) platform that allows participants to get month-to-month insurance that covers 90% of actual veterinary costs for covered accident and illness claims and has no payout limitations. This is a legitimate, all-inclusive coverage policy folks.
TRUP has found a unique way to offer this service that has provided the company with three main benefits: high barrier to entry, low cost of customer acquisition, and analytics.
TRUP markets its product via three channels, territory based salesman, veterinarians, and its website.
"Veterinary practices represent our largest referral source. While these referrals accounted for a majority of our enrollments in 2013 and in the first quarter of 2014, we do not pay commissions to or otherwise compensate veterinarians for their referrals…We engage a national referral network of independent contractors who are paid fees based on activity in their regions, which we refer to as our Territory Partners. For the years ended December 31, 2011, 2012 and 2013 and the three months ended March 31, 2014, we paid our Territory Partners aggregate fees equal to $1.8 million, $2.7 million, $3.5 million and $1.0 million, respectively. Our Territory Partners are dedicated to cultivating direct veterinary relationships and building awareness of the benefits that our medical plan offers veterinarians and their clients. (SOURCE: TRUP S-1)"
Veterinary practice referrals accounted for approximately 80% of TRUP's leads FY13 and in Q1/14, excluding existing members adding pets and referring their friends and family members. To that, 19% of enrollments in FY13 and 21% of enrollments in Q1/14 came from existing members adding pets and referring their friends and family members. This growing network effect of lead generation and low cost of territory based salesmen payouts (as a percentage of total revenues - to be discussed later) has driven and kept down customer acquisition costs. If TRUP can continue to leverage this network effect into a larger percentage of the total composition of its referrals the margin expansion from this channel should be magnificent. I am almost certain, based on the company's historical growth strategy and strategy going forward, that this is something it feels it can do. Also, having this network and the growth of this network has allowed TRUP to manage its operations at or close to breakeven during its high expansion period that it started a few years back and is currently in. This has given the company the benefit of a few financial flexibilities that will be discussed later as well.
A secondary but still very important benefit of this network is that it would extremely hard to replicate over a short period of time. The biggest top-down benefit that TRUP has on its existing competition and competition to come is that it is first to market. That obviously has allowed all the other bottom up benefits to branch off (barrier to entry, low cost of customer acquisition, analytics, etc.). With this is mind, any new to market competition would be in a very tough spot in that they would have to greatly accelerate their business model to slow TRUP's acquisition of target market. Trying to accomplish what TRUP has done over a much shorter period of time would require a massive amount of SG&A expense and an increased overall risk profile. I'm not saying this can't be done, I'm saying it would be really hard and really risky. This has created a first level of barrier to entry that makes TRUP's position defensible. Along with this, it has taken TRUP 6 years to fully license American Pet Insurance Company, a subsidiary of TRUP that TRUP writes insurance policies through, in all 50 states and that is something I do not see being able to accelerate at a much faster pace than the time frame in which TRUP completed the process. Regulations and approval processes take time that cannot be sped up to fit the business model of a company. Again, I'm not saying with certainty that this cannot be done but that it would stand to reason that completion would be extremely hard to accelerate materially. Should a new to market competitor opt to not have an in house underwriter TRUP estimates that this would cost the competitor ~10% of total revenues.
Finally, with its experience has come a great deal of collection of analytical data. TRUP has 14 years of data specific to its industry, in which there doesn't exist a large amount of readily available data, that it uses to risk manage its book and to help drive value.
"Over the past 14 years, we have collected an extensive library of proprietary data that is not commercially available and that we believe is unparalleled in the industry. As of March 31, 2014, we had collected data from over 5,500,000 medical plan months, 750,000 claims, 18,000 veterinary practices, 60,000 postal codes and 440 cat and dog breeds. Our highly specialized team of actuaries uses advanced data analytics to effectively segment our members based on expected claims cost, retention and lifetime value. Using these insights, we are able to accurately price subscriptions to our medical plan, increase our retention rate and optimize lifetime value of a pet.
The specific monthly subscription fee for an enrolled pet varies greatly depending on that pet's characteristics, including species, breed, age, gender and pet location. For example, a newly enrolled male Siberian Husky puppy living in the 19121 zip code of Philadelphia, Pennsylvania and having a $250 deductible may have a monthly subscription cost of about $34 while a newly enrolled seven year old female American Bulldog living in the 10021 zip code of Manhattan, New York and having the same deductible may have a monthly subscription cost of $105. As more pets enroll, the power of our data grows, and we anticipate being able to further expand our data library and analytics, improving our ability to acquire new members and retain existing members. (SOUCE: TRUP S-1)"
The primary reason data and analytics are valuable in any industry is that they always come with monetization potential. TRUP has already found a way to monetize its data by writing policies for an unaffiliated managing general agent, which it has done since 2012 and which generated 8.4% of total revenue in FY13 and 9.7% of revenue during Q1/14. That is a significant amount of total revenues generated that TRUP wouldn't have without its experience. Now, outside of furthering this channel and allowing the existing agent to accelerate its policy sales and/or adding other agents to its roster, TRUP should stand benefit from entrants into the space that simply want to offer pet insurance as a retention vehicle. For clarity, what I mean by this would be if a large insurer who is not currently offering the service (say a GEICO or another company not particularly interested in the space) wanted to offer pet insurance as a greater part of a product bundle and/or as a loss leader (much like most P&C companies offer renters insurance) that larger company could outsource all revenues and responsibilities to TRUP based on TRUP's history of correctly writing and risk managing policies. TRUP wouldn't compete for the P&C business at its larger partner and would pose no other market share threat. The partnering and JV'ing opportunities are very exciting. As one final note, I reference the ability of TRUP to correctly risk manage policies - I am basing this opinion on the idea that TRUP has historically been able to pay out much higher percentages of premiums in claims than competitors primarily as a result of its risk management and analytical advantages. Many traditional providers spend approximately $0.45 to $0.64 per dollar of premium on claims while TRUP spent $0.67, $0.68, $0.70 and $0.70 per subscription dollar in 2011, 2012, 2013 and the first quarter of 2014.
Overall, the first to market advantage, the vertically integrated infrastructure, and the tangible asset of data make TRUP differentiated in an niche that is already highly differentiated and young.
The Financials
The financials look great. We should establish a few basic fundamentals before breaking down the income statement and cash flows.
First, the retention at TRUP has been amazing and everything stems from the retention rates.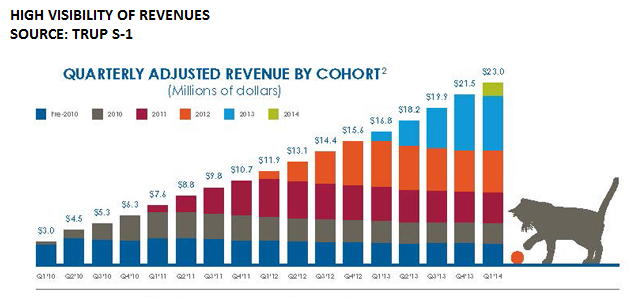 This graphic shows an incredible rate of retention dating back to 2010. You can see that while the company does lose a small amount of existing customers Y/Y that the colored bars remain flat across the expressed duration. This is really impressive. You also see in the most recent year that the bars begin to balance out in size meaning that the percentage of revenue being derived from any single year begin to equate to roughly the same composition of total revenues. What's important about this is that TRUP estimates the average lifetime of a cat or dog to be between 10-15 years, which with that would equate to a theoretical lifetime of revenues associated with that particular cat or dog policy. This should mean that revenues derived in Q1/10 should not be contributing to total revenues further than ~2020-25 and should begin showing deterioration, based on statistical theory, around 2018. The final point to be made here is that knowing the dynamics of revenue derivation, retention, and decay, each "expiring" year of revenue should then be replaced by a new year of revenue - holding the revenues base flat or growing it higher if TRUP can accelerate revenue growth into the future.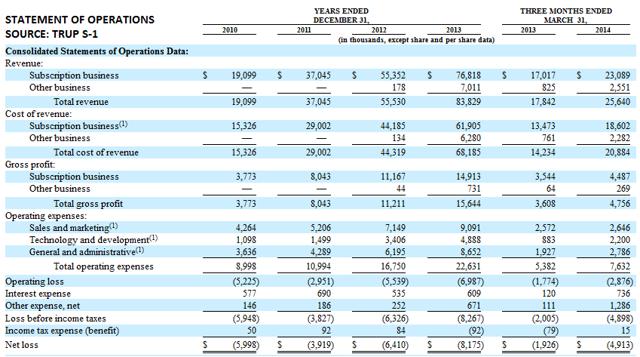 TRUP's income statement has reflected the company's growth strategy and willingness to carry a net loss in the interim. Top-line growth has been excellent historically,
"Our revenue increased from $19.1 million for the year ended December 31, 2010 to $83.8 million for the year ended December 31, 2013, representing a compound annual growth rate of 64%. Additionally, our revenue increased from $17.8 million for the three months ended March 31, 2013 to $25.6 million for the three months ended March 31, 2014, representing 44% year-over-year growth. We have achieved sequential revenue growth in every quarter since the first quarter of 2010. (SOURCE: TRUP S-1)"
TRUP has also been able to show a positive gross profit since 2010 although it has fluctuated greatly. Now, below that TRUP's SG&A and its version of R&D has had the effect of taking crushing the top-line results but that has been planned and is to be expected going forward as TRUP wants to try to capture as much of the market space as possible in the early goings before the market gets highly competitive. It also has the luxury of having little debt and after the IPO essentially no debt worth mentioning. This has created a net loss for the company but all of the growth oriented numbers look good, especially as a percentage of revenues: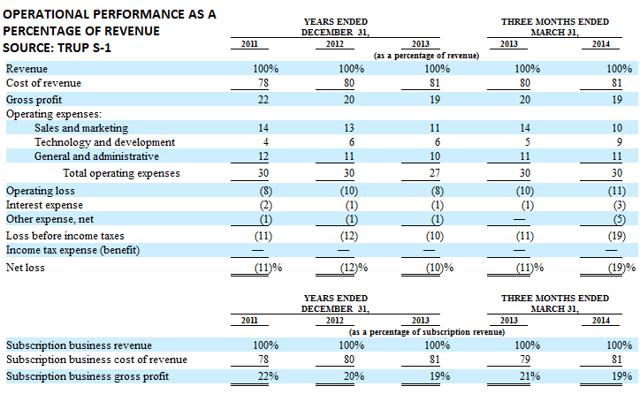 This graphic does an excellent job of clearly illustrating the control with which TRUP has operated the underlying business. Taking three full years into account, notice the consistency in the numbers from left to right. Only small, short-term variances show will a reverting to a trend line mean happening in each instance. This speaks to the effectiveness of management and the high visibility of top-line operations allowing operational flexibility at the mid and bottom lines. While the income statement may make the operations appear like they are growing to a larger and larger state of unprofitability each year that simply isn't true.
TRUP has also well managed its debt and that will pay dividends going forward (excuse the pun):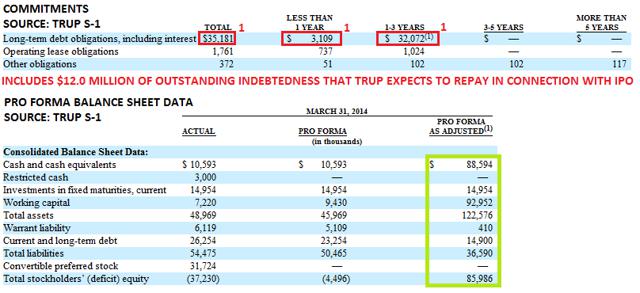 TRUP, inclusive of the IPO has plenty of cash to drive operations and no long-term commitments worth mentioning. The company also has a greatly reduced warrant liability and a significantly reduced long-term debt total. This should give great confidence to those long the stock from the IPO or shortly after and negates any concern about cash for the next 18-24 months depending on CAPEX.
Finally, TRUP performs well in all non-financial metrics:

Actual pets enrolled has increased for 10 consecutive quarters, adjusted revenue per pet, and lifetime value per pet have all gone up. Retention as mentioned above has been above 98% for the expressed duration and pet acquisition cost has remained relatively flat. It is my opinion that the closest term driver of margins will be a reduced pet acquisition cost as TRUP begins to see the mid-life cycle referral rates of its network effect. For clarity, referral networks typically grow in effectiveness each year(when showing effectiveness at all) before reaching a pinnacle and flattening out in effectiveness. It is my opinion that TRUP should be close to entering its sharpest points of growth when speaking of its network. Look for that to have an effect on other metrics including financial. The effects of the projected margin expansion could be partially negated by an acceleration of spending by the company if that is how they would choose to use any higher gross profit. I have not modeled into my 12 month models any expansion of margins because I'm waiting to speak with management after TRUP's next quarterly call to look for clarity as to this hypothetical situation.
In total, the financials reflect a company with a plan, execution of its plan, and with a potential to become a juggernaut with maintenance of performance.
Risks
We've finally come to the reasons to wait.
First, TRUP is in fact trying to revolutionize a niche that has many unknowns that the company will have to deal with going forward. I know I just applauded the company for its history of excellence and it should definitely be proud of that but capturing the front part of the market is one thing and convincing widespread acceptance of the market is another.
I wonder exactly how large the market is for this type of service as while many feel like a pet is a part of the general family historically not a large percentage of the general population has been willing to pay for the pet to be insured like the general family, less than 1% of Americans have insured their pets. I wonder exactly where the saturation point is for this market and if to gain greater market share pricing structure will have to come down. That's my first set of concerns.
Secondarily, from an operations standpoint, TRUP does plan to spend quite a bit of money on CAPEX going forward and on SG&A and "R&D". The company is asking me, a potential long of the stock, to take on the risk of this spending with the hope that the historical levels of revenue growth stay in place to drive the usage of the expanded infrastructure. Growing costs and the eventual fixing of those costs are fine as long as revenues continue to grow to support it. If TRUP has a revenue miss that isn't a part of the seasonal norm (Q4 is the slowest revenue growth quarter and Q3 is the quarter with highest amount of claims) that could quickly turn into a concern with the rate of spending.
Next, this isn't a huge deal right now but it does make me want to wait for management's comments or a resolution during the next conference call:
In reference to risk-based capital regulations:
"As of December 31, 2013, APIC was required to maintain (NYSE:I) at least $16.8 million of risk-based capital to satisfy the No Action Level, (ii) between $12.6 million and $16.8 million of risk-based capital to satisfy the Company Action Level, (NASDAQ:III) between $8.4 million and $12.6 million of risk-based capital to satisfy the Regulatory Action Level and (iv) between $5.9 million and $8.4 million of risk-based capital to satisfy the Authorized Control Level. As of December 31, 2013, APIC maintained $16.3 million of risk-based capital, placing it within the Company Action Level and, as such, APIC is preparing a risk-based capital plan for submission to the NY DFS for its review and approval. If such plan is approved, we expect APIC will be deemed to have satisfied the No Action Level until the NY DFS conducts its next annual assessment. The NY DFS will not conduct its next annual assessment until December 31, 2014, however, as of May 31, 2014, APIC maintained $17.1 million of risk-based capital. The NY DFS may increase the required levels of risk-based capital in the future, and we anticipate that we will need to maintain greater amounts of risk-based capital if our pet enrollment continues to grow. Additionally, because our risk-based capital falls below the Company Action Level, the unaffiliated managing general agent that we write pet insurance policies for may have the ability to terminate its relationship with us and require us to reimburse it for its expenses in finding and transitioning to a new company to write its policies. If this were to occur, we would lose the revenue generated from that relationship and incur additional expenses, which could have a material adverse effect on our financial condition. (SOUCE TRUP S-1)"
Again, this is a small issue but it does bring up the greater question of why exactly TRUP didn't have the minimum level to achieve a "no action" assessment and how much longer TRUP plans to stay so close to the "no action" line. This seems like a small issue to manage and the fact that it came up is a moment of uncertainty that appears out of place. It also makes me wonder with ~10% of FY13 revenues on the line why management would even allow this to be in question. I'd like answers.
Lastly, TRUP is currently in litigation with the State of California over one of its policies being issued in the state that may or may not be illegal. That's a large state and a large potential market that I would like to see ironed out prior to purchase, especially with the stock trading at where it is.
Where's the trade?
If it seems like I just spent the last 3,000 words building a bull case it's probably because I have. This company has a great history and that could very easily turn into a great future.
There's going to be a significant amount of risk on anybody wanting to get long this stock based on the uncertainty of the actual market but I think if TRUP or TRUP and a partner(s) can increase the overall market participation the top-end potential here could be amazing.
I really like the financial position the company is in as a result of the IPO and I didn't mention this but I also like who the company is using as a lender, Square 1 Financial, in that they are really aggressive in lending to otherwise risky situations. This should make capital readily available if TRUP wants to take on a bit of debt to accelerate growth.
I'll be watching very closely the next quarter's announcements and will participate on the next conference call with management. I'm excited to provide coverage of this name going forward and am excited to watch its story develop.
I recommend waiting to purchase shares of TRUP until further clarity is provided on the above issues and until TRUP can give more color on its forward looking revenue growth projections. Good luck to all.
Disclosure: The author has no positions in any stocks mentioned, and no plans to initiate any positions within the next 72 hours. The author wrote this article themselves, and it expresses their own opinions. The author is not receiving compensation for it (other than from Seeking Alpha). The author has no business relationship with any company whose stock is mentioned in this article.