As the Chinese growth engine continues to propel forward, the government is faced with the dilemma: How do we feed our growing and developing population? China's middle class is expected to double over the next 10 years and will demand a higher protein diet. China has roughly 20% of the world's population although only 7% of the world's arable land.
The big problem is that China's farmland has disappeared at an alarming rate and the country may no longer be able to self-produce its food supply. Between 1997 and 2007, roughly 755,000 hectares were lost each year to development, erosion, and desertification. Farmland that is lost to development or erosion is difficult to recover and put back into crop production.
In order to be self-sufficient in grain production, the Chinese government estimates they need to maintain 120 million hectares for crop production until 2020. Government figures estimate that the current amount of arable land is roughly 122 million hectares, which has been unchanged since 2005.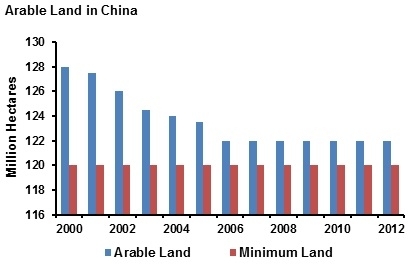 In order to prevent the loss of arable farmland, the Chinese government is strictly controlling the conversion of arable land for commercial purposes. In 2007, the government introduced a nationwide land regulatory system to maintain the arable farmland. Nine land inspection bodies were set up to supervise land use and management by local governments, which often approve illegal investment projects despite central macro-control policies.
The Chinese government is doing all it can to protect farmland resources, but it may be too late. Bank of America estimates that China's arable land has already fallen below the 120 million hectare threshold and could decrease to 117 million hectares by 2015. Urban sprawl, desertification, and illegal commercial conversion are the culprits of the reduction in farmland according to Bank of America.
Signs are pointing to Bank of America's estimates being correct. China announced this summer they will no longer be self-sufficient in corn production and will rely on imports. The U.S. Grains Council estimates that China will import 15 million tons of corn in 2014 and Bank of America estimates 17.4 million tons of corn imports by 2015.
How will China feed its growing population if it is not self-sufficient in grain production? They will have to use imports to make up for the production shortfall. The first place they will turn to is the U.S., which is the world's largest corn exporter, accounting for 60% of global corn exports in 2009.
Chinese imports will have a substantial effect on U.S. ending grain stocks over the next few years. Keep close attention to export data as exports will be driving grain prices over the next few years.
Disclosure: No positions