The world is reacting to events in both Ukraine and Gaza right now but our attention is focused what Western Europe plans to do about Russia right now. If they join the US in implementing harsher sanctions, then we could see Russia move to scale back their natural gas exports to key European countries such as Germany.
With all of the geopolitical questions being raised over the last week and a rally in oil and the US treasury market, we are a bit surprised that gold has not seen a bigger rally, either in the physical market or the SPDR Gold Shares (NYSEARCA:GLD). If the flight to safety continues, look for gold to catch a bid, even if the US Dollar is strong.
Chart of the Day:
Should focus shift back towards Ukraine and Russia without the sides agreeing to a ceasefire or other agreement we could see gold break out. No one likes to see countries annexing others, and that is precisely the headline news that impacts markets negatively.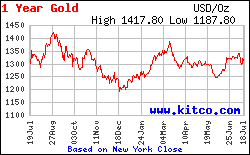 Source: Kitco
Commodity prices are as follows (at time of submission):
Gold: $1,312.10/ounce, up by $2.70/ounce
Silver: $20.95/ounce, up by $0.064/ounce
Oil: $103.72/barrel, up by $0.59/barrel
RBOB Gas: $2.8814/gallon, up by $0.0211/gallon
Natural Gas: $3.863/MMbtu, down by $0.088/MMbtu
Copper: $3.193/pound, up by $0.0085/pound
Platinum: $1,489.80/ounce, down by $0.10/ounce
Brazil Stocks Rallying
Investors have watched as big Brazilian commodities firms' stocks have languished as investors worry about the social unrest in the country as well as the unfriendly business practices of the current leadership. So while commodities and commodity stocks have risen, names such as Vale (NYSE:VALE) and Petrobras (NYSE:PBR) have underperformed greatly.
Things began to change in March of this year, but the most recent rally has shares nearly back to its 52-week high.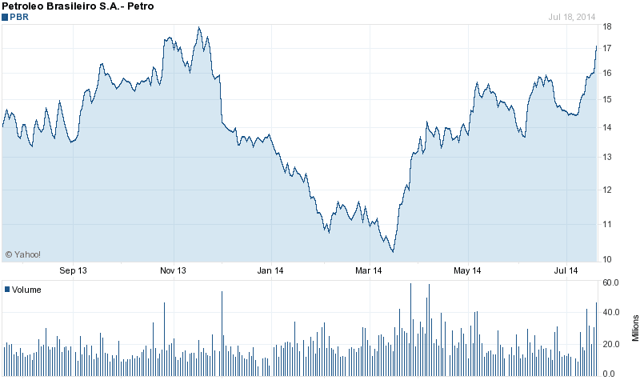 Source: Yahoo Finance
Since the World Cup however, a lot has changed. It is interesting what drives changes in policy and politics in other countries, but in this case it is pretty clear that the Brazilian men's national soccer team's losses on home soil sparked the most recent calls for new leadership and the spike in Brazilian equities.
Diamondback Strikes Again
Diamondback Energy (NASDAQ:FANG) announced another property purchase this morning which will cost the company $538 million but give it another 13,136 net acres in and around the Midland Basin. The company plans to pay for the purchase with the proceeds from the 5 million share secondary offering which was announced earlier this morning. The underwriters will have the opportunity to purchase an additional 750,000 shares, so the company should be in a good position to fully pay for the acreage and have some funds left over to pay for drilling.
It has been a losing wager to bet against Diamondback's management team and the latest deal could prove to be another winner for investors.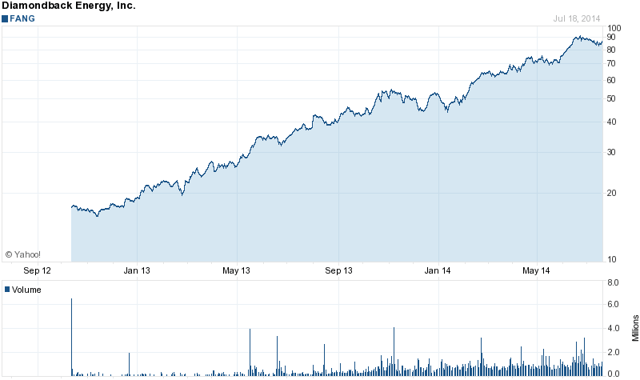 Source: Yahoo Finance
Investors should also keep in mind that the company could develop this property to figure out what they have and then drop it down into their MLP that they recently held an IPO for, Viper Energy Partners, LP (NASDAQ:VNOM). Any drop down would free up capital for the company and allow it to either increase its acreage position or pay for drilling expenses without having to further dilute shareholders. This company has not stumbled yet, and because of their track record we always pay attention when they make a move.
Disclosure: The author has no positions in any stocks mentioned, and no plans to initiate any positions within the next 72 hours. The author wrote this article themselves, and it expresses their own opinions. The author is not receiving compensation for it (other than from Seeking Alpha). The author has no business relationship with any company whose stock is mentioned in this article.