Struggling to catch my breath, I turned to my brother and said, "Run!"
We had just been doused with tear gas.
Two weeks ago, my brother and I flew to Brazil to see a quarterfinal game of the 2014 FIFA World Cup. Over 80,000 people filled the stadium in Brasilia (the capital city) to watch Argentina play Belgium.
I've been to hundreds of sporting events, but this one was different. Even though Belgium was playing, Brazil and Argentina fans made up roughly 90% of the crowd. The two countries have a long-standing rivalry. And the fans hate each other.
After the game ended, my brother and I found ourselves caught in the middle of thousands of screaming fans. It was fun at first, but the environment quickly became hostile.
People cursed at each other. Bottles and debris flew through the air. A plastic souvenir cup slammed into my brother's back. And then the police shot tear gas right next to us. I couldn't breathe. Tears swelled in my eyes. We had no choice but to run.
From this story, you might be tempted to believe the mainstream news that Brazil is a dangerous place. There have been rampant protests, its economy is struggling, the country spent too much money on the World Cup building new stadiums and it is spending too much money to host the Summer Olympics in 2016.
But these stories couldn't be further from the truth.
Yes, there were a few hostile fans after the soccer game my brother and I attended. But within five minutes, they had cleared out. A riot was avoided. Yes, there have been a few protests. But this is normal in every country during an election year.
And despite what the talking heads are saying, Brazil's economy is booming.
During my trip there, I traveled around Brasilia and Rio de Janeiro. I spent time talking to dozens of local businessmen, law enforcement officials, and cab drivers.
Restaurants were packed, airports were jammed, and beaches were crowded. Everywhere I looked, people were spending money. This is normal. After all, the World Cup is a premier international sporting event. Tourists from all over the world traveled to Brazil to cheer for their teams.
But the locals I talked to said business has been great over the past 12 months. They have never been this busy. A few locals laughed at the negative stories being written about Brazil. One said, "it's simply not true."
Based on what I saw, Brazil will easily recoup the money it spent building and renovating stadiums for the World Cup. These stadiums hold more than 80,000 people. And tickets for the "nosebleed seats" for quarter-final games were going for more than $1,000 each.
Hotel and restaurants charged double during the World Cup. And it was almost impossible to book a hotel room or get reservations at popular restaurants when I was in town.
The Olympics will bring in even more tourists. Only 32 teams qualified for the World Cup. But at the most recent Olympic Games, more than 200 countries participated. So Brazil is expecting even more tourists in 2016. Imagine how much these people will spend during the three-week event.
In the meantime, there's no reason for Brazil's economy to slow down. Ongoing construction for the Olympics will continue to create jobs and support businesses. Brazil is one of the most mine-friendly countries in the world with some of the largest gold and iron-ore deposits. Big businesses are starting to invest in Brazil and the country's offshore oil and gas reserves are just now starting to be tapped. In short, businesses in Brazil are - and will continue - seeing massive growth.
Take a look at this chart of the iShares MSCI Brazil Capped Fund (NYSEARCA:EWZ):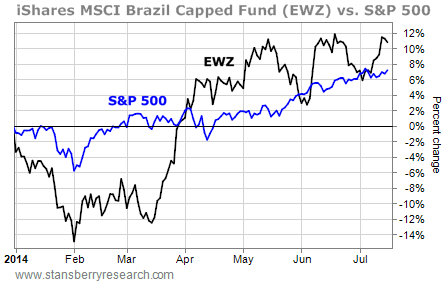 EWZ tracks some of the biggest large-cap and mid-cap stocks in Brazil. The fund is already up around 11% this year - easily outperforming the S&P 500. I expect this fund to continue to perform well over the next 12-18 months as Brazil's economy sees massive growth.
And I'm not the only one who is bullish on Brazil. This week, CNBC hosted the Delivering Alpha Conference in New York City. Each year, this conference is where the best hedge-fund managers in the world share their favorite ideas.
This year, legendary investors like Carl Icahn, Leon Cooperman, Nelson Peltz, John Paulson, Bill Ackman and Stanley Druckenmiller spoke. Then Michael Novogratz took the stage to talk about his favorite ideas.
Novogratz is the chief investment officer of Fortress Investment Group (NYSE:FIG). They have over $60 billion in assets under management. He doesn't get the same media attention as the Carl Icahns and John Paulsons, but Novogratz has one of the best track records in the business. It's why Institutional Investor magazine named him the "Hedge Fund Manager of the Year" last year.
He said investor pessimism is at an "all-time high" in Brazil. That makes it a great contrarian play. He believes the market is cheap, and we will see a rise in Brazilian assets through the October elections.
EWZ is the safe way to invest in Brazil. It trades at a 17% discount to the S&P 500 right now and yields over 3%. That's a 75% premium to the S&P 500.
But for those willing to take on more risk, the Market Vectors Brazil Small-Cap Fund (NYSEARCA:BRF) could offer big returns. This fund tracks the most popular small-cap stocks in Brazil. And it trades at a 30% discount to the S&P 500. It also pays a near-2% yield.
In short, Brazil is one of the fastest-growing markets in the world right now. And the fears and negative stories written about Brazil are overblown. As investors realize this, I expect these two funds to soar.
Disclosure: No positions