HomeAway (NASDAQ:AWAY) is in the midst of a transition that presents challenges but also an opportunity. Up until Q4 '13, the company had only accepted listings on a subscription basis but became more flexible and is beginning to see results. in Q2 '14, this change was rolled out to its top European clients and on 7/24, after the close, we will see the results.
eBay (NASDAQ:EBAY) like exchange for homeowners and agents
HomeAway provides an exchange where vacation home owners can rent out real estate to get the maximum utilization of their investments. It operates in 190 countries, has 1588 employees and in the most recent quarter, had 952k listings. The business model is simple, it charges 10% commission or a $349 annual fee for the subscription if you decide to list the property yourself. On average, the annual fee has worked out to be $442.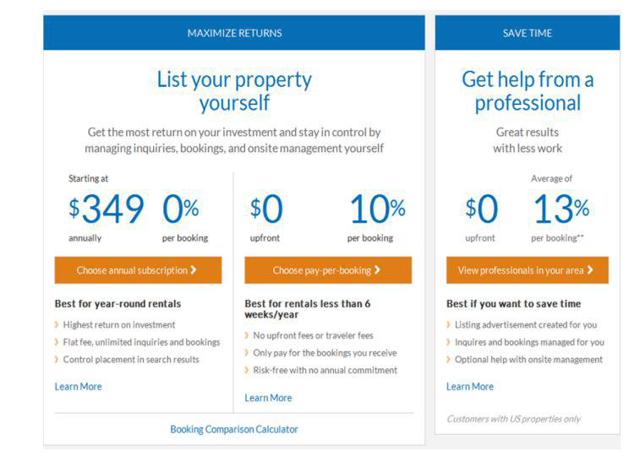 Subscription vs. performance, a win-win
The subscription model is clearly the right way to go if the client uses the property primarily for rental purposes but it also shifts the risk to the client. It is impossible to determine how many additional clients will be open to working with HomeAway as a result of the business model change but the opportunity is great. Sure it would be great to have all of your customers on subscription but how big an opportunity is being left out?
It seems to be working
In Q1 '14, the company saw year over year revenue growth increase from 25% to 34%. If you look at this quarter over quarter, revenue grew at 18% while COGS grew at only 14%...revenue is growing faster than fixed costs This is key to improving profitability especially as we enter the holiday season.
This improvement helped the company beat estimates. In Q1 '14, the company's financial results topped Wall St estimates by $5 million on the top line and $0.02 on the bottom line. Wall Street consensus for Thursday's report is $110 million and $0.15.
Competition remains key
The key issue for investors seems to be competition though. The most direct competitor is Booking.com which is a division of Priceline but faces the issue of undercutting its bread and butter clients, the major hotel chains. HomeAway does not consider Airbnb a direct competitor since it is focused on a different customer base but it is difficult to argue that the two markets are not on a collision course. The real difference between Airbnb and HomeAway is the scale of the customer but that doesn't preclude Airbnb from trying to go up market. Fortune offers a nice comparison of the two services here.
Premium valuation for a premium company
The stock is not cheap however. In the current quarter, the company issued $420 million in convertible debt as well as warrants. At a $33 share price, this brings the valuation to 3.5 billion, a size that would preclude some companies. That said, an acquisition would not be out of the question since there would be numerous synergies with a Facebook (NASDAQ:FB) or Google (NASDAQ:GOOG) (NASDAQ:GOOGL) who could digest a company this size. That said, the company appears well positioned to stand on its own merits and grow into the valuation.
It appears likely that listings will top 1 million for the first time this quarter and if revenue continues to accelerate, to the 50% range and net margin increases to 10%, its possible for the company to warrant $60 per share.
I'm on the sidelines but eager to take a position
I tend to wait until after transitional events occur to take a position and consequently will wait until after earnings. However, this seems like it could be one of the great breakout stories in tech this quarter and we will be watching closely.
Disclosure: The author has no positions in any stocks mentioned, but may initiate a long position in AWAY over the next 72 hours. The author wrote this article themselves, and it expresses their own opinions. The author is not receiving compensation for it (other than from Seeking Alpha). The author has no business relationship with any company whose stock is mentioned in this article.