As the title of this article said, I initiated a position in Mattel (NASDAQ:MAT) on Friday. Mattel's stock hadn't been on my radar in quite some time, because I thought it too expensive. The stock has been getting slammed in 2014, down about 24% year to date. Obviously, it has underperformed the S&P 500 by a wide margin. Clearly, it's not wise to buy a company's stock just because it's down sharply........but as Warren Buffett likes to say, the new low list "is a great pond to go fishing in".
Typically, purchases for my portfolios fall into one of two categories. Either they are "cigar butt stocks" (marginal businesses that are selling for less than their liquidation value or working capital), or they are powerful global brands such as our holdings in Coca-Cola (NYSE:KO) or Johnson & Johnson (NYSE:JNJ) which I like to hold in perpetuity. My recent purchase of Mattel's stock was a play on their powerful brands. This purchase was relatively small because I believe the share price will go lower, along with the broader market, and I hope to buy many more shares. When the long awaited correction will come to the broader market is anyone's guess, but Mattel's shares appear to represent a good relative value compared to the broader S&P 500. My thoughts are below.
Overview
For me, a look at Mattel begins with a look at the brands it owns/distributes. They include Fisher-Price, American Girl (dolls), Barbie (dolls), Hot Wheels, Match Box, Tyco R/C and WWE Wrestling. Mattel also has distribution agreements for the products associated with a host of TV programs and movies such as Dora the Explorer, Jake and the Neverland Pirates, Batman, Toy Story, etc. All told they are capable of selling the favorite products of many children. In addition to a diverse group of brands, Mattel sells these products globally. While the majority of sales take place in North America; Europe, Asia and Latin America are all represented. This is important to me because the toy industry is a mature business in North America and Europe, where birthrates have been falling for decades. In Latin America and Asia however, birthrates are still relatively high. To make Latin America and Asia even more promising, many of these countries are becoming more prosperous and better able to afford discretionary purchases such as toys. The sales graphic below was taken from Mattel's 2013 annual report.

Valuation
Based on the Morningstar table below, we can see that Mattel's shares are more or less in line with their historical averages. The current dividend (4.1%) is higher than the 5 year average (3.3%), and the current price to cash flow (15.2) is slightly below the 5 year average at 16.1. Meanwhile the current price to book and price to sales, 4.0 and 1.9 respectively, are slightly above the 5 year averages (at 3.8 and 1.8). Additionally, shares in Mattel sell at a much lower price to earning ratio (14.6 vs 21.4) and higher dividend rate (4.1% vs 3.23%) than its biggest rival Hasbro (NASDAQ:HAS).

In addition to the brands, there are several things I like about this business. One being that Mattel has recorded a fairly high return on equity over the past 10 years, generally between 20% and 30% (see the Gurufocus.com chart below). I like to see high (and consistent) return on equity stats from my investments, because I know my shareholder equity is being put to good use. The other is that management has reduced the outstanding share count 9 of the last 10 years, the exception being 2009. Unfortunately, the average price paid to buy back those shares is almost 20% higher than the current price, so it appears management overpaid.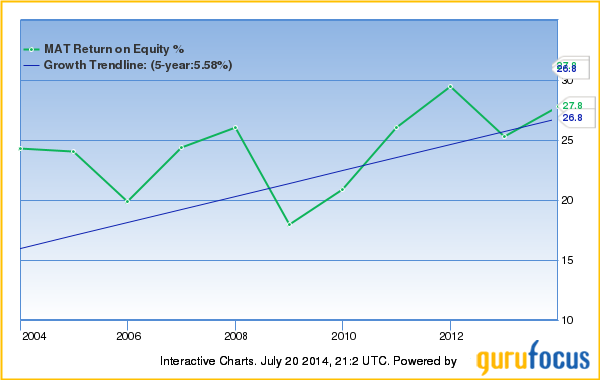 There are two things I am keeping a close eye on at Mattel. One is the debt level. I am not pleased to see the substantial jump in debt in 2013 (as shown in the Gurufocus.com graphic below). The debt increase was mostly the result of the MEGA Brands acquisition, which closed earlier this year. Time will tell if this acquisition was a good long term investment or the result of a management striving to get "bigger". I know that management is trying to streamline and reorganize, but I prefer not to see debt levels jump. The other thing I'm watching with Mattel, is their inventory levels. Inventory levels have been creeping higher for most of the last decade, as indicated by "days inventory outstanding". In 2013 they were 40% higher than they were in 2005 or 2006, according to Gurufocus.com.

2014, 2nd Quarter Results
I typically make it a point not to get too excited about any particular company's results in any particular quarter, but in this case I know I will get a great deal of comments about the most recent quarter. The quarterly results released last week were bad enough to cause the dramatic drop in the stock price we just witnessed. In Q2 not only did sales decline across all product segments, but they also declined in nearly all global markets. To make matters worse, Mattel's management began addressing the inventory problem I was discussing earlier. They discounted their products in order to increase sales. This of course reduced margins by a little more than 4% in both the quarter and the half year results. Gross margins currently stand at 46.4%, which while lower than they have been.......is still a pretty solid figure. As shown in the Gurufocus.com chart below, Mattel's operating margin has been fairly consistent and climbing over the last 10 years.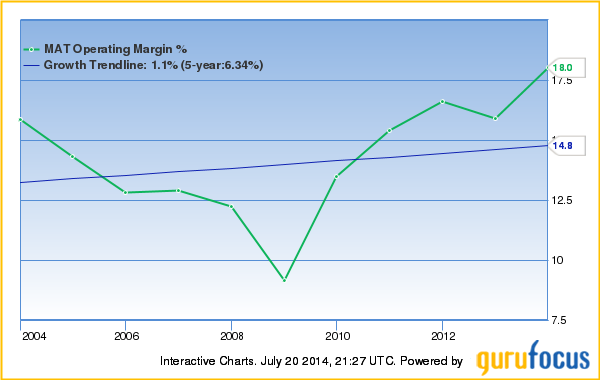 Final Thoughts
While the results for the first half of 2014 have been rather poor, I believe that Mattel is a unique company which owns or distributes many of the most popular childhood brands. I could be wrong, but I also believe that the current struggles represent a temporary problem which will be resolved in time. I consider childrens toys to be an affordable luxury, which will keep Mattel generating cash for years in the future. Given the recent sell off in the company's stock, discount to its own historical average valuations, and well covered (at 60%) 4.1% dividend, I thought Mattel a good enough value to purchase some shares last week. I will look to purchase additional shares when the broader market correction comes as well.
Disclosure:
I own shares of MAT. This article is for informational purposes only and should not be considered a recommendation for anyone to buy, sell, or hold any equities. I am not a financial professional. The information above is provided by Yahoo Finance, Morningstar.com, GuruFocus.com and corporate.mattel.com.
Disclosure: The author is long MAT, KO, JNJ. The author wrote this article themselves, and it expresses their own opinions. The author is not receiving compensation for it (other than from Seeking Alpha). The author has no business relationship with any company whose stock is mentioned in this article.