Bob Evans Farms (BOBE) reported its fiscal 2014 fourth quarter results on July 8. In the Q4 press release, the company blamed the following factors for negatively impacting its results:
Severe winter weather
An "activist" investor
Supplier disruption issues
Higher than expected plant startup "inefficiencies," and
Historically high sow costs.
Management also provided fiscal 2015 guidance well below consensus, prompting analysts to revise their estimates significantly lower for both 2015 and 2016. This sent the stock to a Zacks Rank #5 (Strong Sell).
Bob Evans Farms owns and operates 561 restaurants in 19 states, primarily in the Midwest, mid-Atlantic and Southeast regions of the United States. It also produces and distributes refrigerated and frozen side dishes, convenience food items and pork sausage under the "Bob Evans" and "Owens" brands.
Fourth Quarter Results
Bob Evans delivered results for its fiscal 2014 fourth quarter on July 8. Adjusted earnings per share came in at 61 cents, which actually beat the Zacks Consensus Estimate of 42 cents. However, it was a "messy" quarter with several adjustments to GAAP earnings.
Net sales from continuing operations fell -2% to $326 million, which was below the consensus of $333 million. This was driven by a -4.1% decline in same-store sales. The company estimated that "adverse severe winter weather" had an impact of approximately -3.4% on same-store sales. You can see that the declines did, in fact, moderate as the quarter rolled on:
February: -6.7%
March: -3.6%
April: -2.7%
Meanwhile, adjusted gross profit declined from 67.3% to 65.8% of sales.
It wasn't just sales that were negatively impacted by weather though, according to the company. Management stated that "[s]evere winter weather adversely impacted... cost of sales, operating wages and other operating expenses including utilities and snow removal." All-in-all, the company estimated the weather negatively impacted EPS by approximately $0.21.
But that wasn't all. The company also cited "[c]osts associated with responses to an activist stockholder (i.e., Thomas Sandell); supplemental tax and internal audit staff resources; strengthening the Company's internal processes and controls over financial reporting; and recruiting and relocation costs, net of short-term offsets, adversely impacted results, reducing 4Q 2014 diluted GAAP and non-GAAP EPS by approximately $0.04."
The company also cited supplier disruption issues, higher than expected plant startup "inefficiencies," and historically high sow costs as having a negative affect on earnings in the quarter.
Estimates Plummet
Although the company blamed a lot of its issues in fiscal 2014 on weather and other one-time items, management still significantly lowered its earnings guidance for fiscal 2015. The company now expects to earn between $1.90-$2.20 per share, down from previous guidance of $2.80-$3.00. It also expects full year same-store sales growth of 1.5%-2.5%.
This prompted significant negative estimate revisions from analysts, which sent the stock to a Zacks Rank #5 (Strong Sell). The 2015 Zacks Consensus Estimate is now $1.92, down from $2.52 before the Q4 report. The 2016 consensus is currently $2.40, down from $3.00 over the same period.
You can see the dramatic drop in consensus estimates in the company's "Price & Consensus" chart: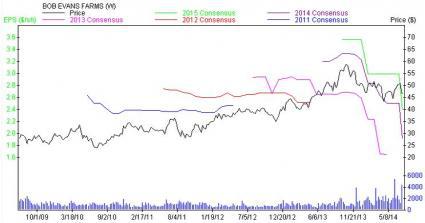 Valuation
Shares of Bob Evans are down more than 6% since the Q4 report, but the stock does not look like a value at these levels. It trades at 23x 12-month forward earnings, well above its 10-year median of 14x. And its price to book ratio of 3.0 is double its historical median of 1.5.
The Bottom Line
It appears that Bob Evans has bigger problems than simply the weather and an "activist" investor. Investors should consider staying away from this stock, at least until its earnings momentum turns around.
BOB EVANS FARMS (NASDAQ:BOBE): Free Stock Analysis Report (email registration required)