Investors who are looking for solid monthly cash flow in the stock market should give a hard look at a few select few dividend paying stocks. Unfortunately, you may have to search pretty hard to find them, since most stocks pay out dividends quarterly, semi-annually, or annually.
I personally prefer monthly dividend payers for a few reasons:
Budgeting: If you are like most people, you pay your bills on a monthly cycle, not quarterly. Rent, car insurance and payments, utility bills and groceries are all monthly expenses everyone must pay for. For this reason, receiving dividends monthly is far more convenient for budgeting.
Compounding: By receiving your dividends every month as opposed to quarterly, you can compound your money much faster by re-investing the dividends. Keep in mind that re-investment of dividends also comes at no cost (while actively trading stocks results in commissions/fees).
Here's what I mean. Let's use a $100,000 portfolio of stocks that pay a dividend monthly, compared to the same portfolio, with dividends paid out quarterly. Both portfolio's yield 7% per year for 30 years. After 30 years, how much would each portfolio be worth, assuming zero appreciation of the shares?
The $100,000 portfolio compounded monthly is worth $811,649.75.
The $100,000 portfolio compounded quarterly is worth $801,918.34, or $10,000 less.
To make things more interesting, let's say you added just $2,000 a year for 30 years to this portfolio, with the same rate of return at 7%.
After 30 years, the $100,000 initial investment would be worth $1.016 million, compounded monthly.
The same portfolio compounded quarterly would be worth $1 million, $16,000 less.
Not too bad. You can use a compound interest calculator at Investor.gov to see for yourself.
What about the actual income from the portfolio you'd receive? On your initial investment of $100,000 with no further money added, you would net $7,000 in dividends the first year (yield of 7%). However, if you re-invest all dividends for a full 30 years, then by year 30, you'd receive $49,800 per year in dividends, which could fund a retirement for some people.
Check out this chart, courtesy of BuyUpside.com: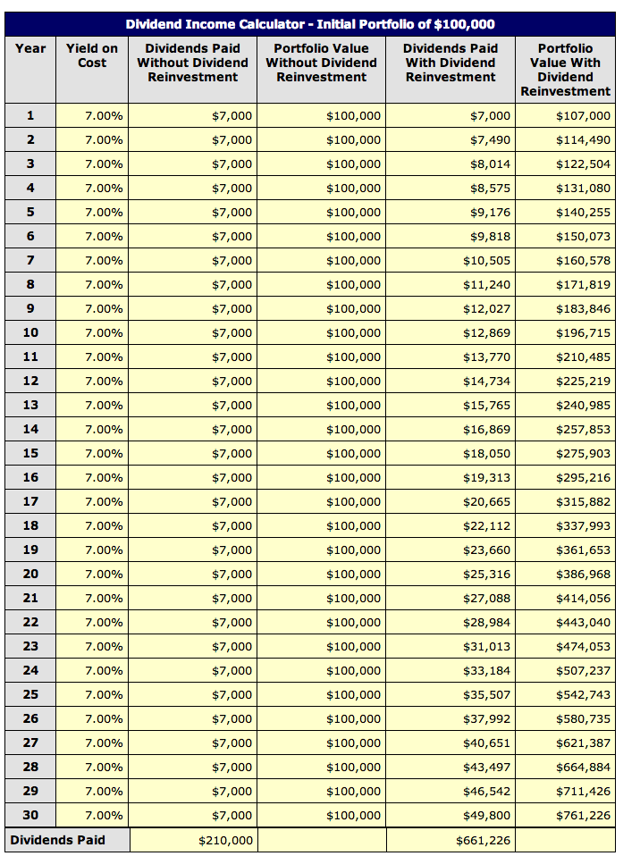 Of course, if you hold your investments in a taxable account, you'd have to pay taxes on the dividends paid each year. However, by holding your investments in a Roth IRA account instead, you can compound and grow your money, tax-free. Then you can receive income from the portfolio tax-free at retirement. You can also withdraw your contributions to a Roth IRA anytime, without tax or penalty.
*Roth IRA's come with eligibility requirements and contribution limits, so I would urge readers to do their homework on Roth IRA accounts before taking any further steps. The IRS website has all the information you should need.
What are The Best Monthly Dividend Paying Stocks?
There are actually quite a few stocks on the market that pay dividends every month. However, not all of these stocks are quality companies.
Remember that higher yield doesn't necessarily mean a better stock pick; to make this list, the companies must have a solid track record of paying out dividends, dividend growth potential and appreciation upside potential.
Here, I will highlight 5 of my current favorite monthly dividend payers.
| | | | |
| --- | --- | --- | --- |
| Stock | Yield | Dividends Per Share (Annual) | Income on $10,000 |
| PSEC | 12.8% | $1.33 | $1,246 |
| O | 4.9% | $2.19 | $478 |
| VNR | 8.0% | $2.52 | $792 |
| PGH | 6.3% | $0.44 | $660 |
| GG | 2.2% | $0.66 | $214 |
| | |
| --- | --- |
| Annual Income on $50,000 Portfolio | $3,390 |
| Monthly Dividend Income | $282.50 |
This, of course, does not take into account any potential appreciation of shares or potential dividend increases (or decreases, for that matter).
#1 Prospect Capital Corporation

Prospect is a business development company with a market cap of $3.6 billion, with more than $7 billion in capital under management. The company provides debt and equity capital to middle-market companies in the United States and Canada.
Business development companies are similar to REITS - they are not taxed at the corporate level, as long as they pay out at least 90% of taxable net income a year in dividends, and derive 90% or more of their gross income from dividends, interest and capital gains on securities, according to InvestingDaily.com.
Here's why I think Prospect Capital is one of the best monthly dividend payers in the market:
One reason I love Prospect is because the company has paid out dividends consistently to its shareholders. In fact, the company has paid out 77 consecutive dividends to shareholders since its inception. In total, Prospect has paid out over $13.26 a share in dividends, worth over $1.3 billion, according to the company.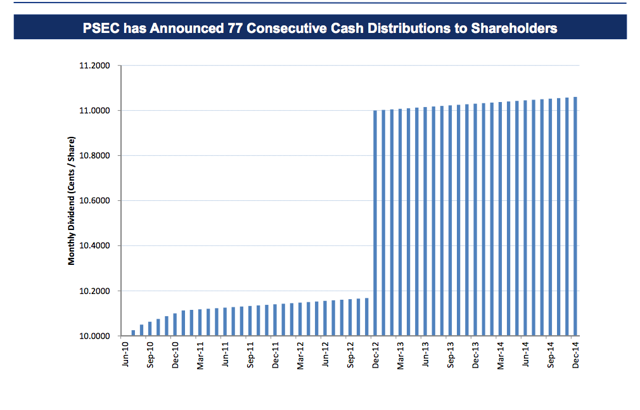 Credit: Prospect Street
Prospect is attractive versus its peers on several key metrics. First, Prospect has the highest dividend yield (12.8%), while the peer median is 8.9%. This is higher than companies like Golub Capital (NASDAQ:GBDC) at 7.1%, Triangle Capital (NYSE:TCAP) at 7.7%, and Ares Capital (NYSE:ARES) at 8.6%. Prospect also trades at a lower Price/2014 EPS, at just 8.2X, while the BDC median trades at 11.9X, according to the company presentation.
Prospect has outperformed its peers and all relevant indices over the past 8 years. According to the company, shares have returned 147.4% in this time, compared to a 100.8% rise in the Dow and a 99% rise in the S&P 500. Over the last 9 years, the only other BDC company to come close to Prospect's performance is TICC Capital Corp. (NASDAQ:TICC).
The company has grown a tremendous amount since 2008, when it had just $430 million in total equity. Today, the company has $3.56 billion total equity (as of March 31, 2014) with a portfolio of more than $6 billion. Total assets were just $105 million in 2005, and today stand at $6.3 billion, as you'll see in the below chart.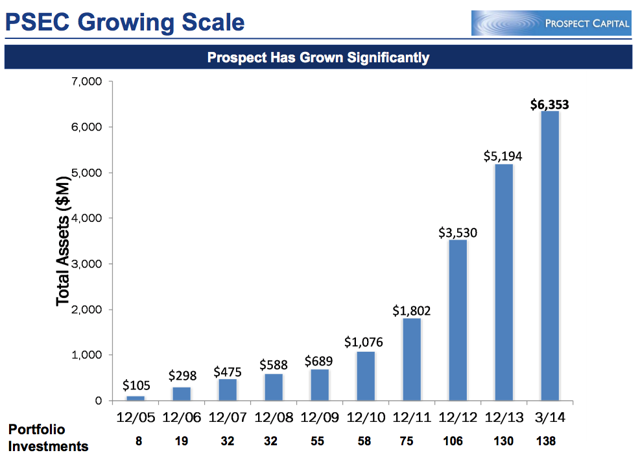 Credit: Prospect Street
During this time, net investment income has increased from just $2.4 million to $364.10 million.
Prospect is well diversified, with investments in a wide range of industries such as aerospace and defense, electronics, energy, financial services, media, pharmaceuticals, retail, software, etc.
The company has positive exposure to rising interest rates. In fact, just a 5% increase in rates would increase the company's net investment income by $.30 per share or $109.9 million, according to the company presentation. This is a major plus, as I feel that interest rates will most certainly rise over the coming years.
For these reasons and more, I think Prospect Capital is one of the best monthly dividend paying stocks you can find. I hold shares of this BDC in a Roth IRA account, where the dividends are re-invested and compound every single month.
#2 Realty Income

It would be a travesty if I did not include Realty Income on this list - the company is known as "The Monthly Dividend Company" because of its amazing 45-year track record of paying out monthly dividends to its shareholders. In fact, $3 billion in monthly dividends have been paid to shareholders during this time, including 76 total dividend increases since 1994, according to the company's website.
Realty Income is a REIT that owns 4,200 properties under long-term leases, located in 49 states and Puerto Rico. The company acquires and owns real estate that generates lease revenue, then distributes the money to shareholders every month in the form of dividends. The company has a market cap of $14 billion, with 55.7% of shares owned by individual investors.
The main reason I like Realty Income is simple: the company has a proven track record and has consistently performed well, year-after-year. Since 1994, Realty boasts a compounded average annual total return of 16.7% (this includes re-investment of dividends, which I suggest investors do). This performance beats the equity REIT Index (10.9%), the Dow Jones (10.1%) and the S&P 500 (10.1%).
Historical occupancy of Realty Income's properties is excess of 96%, which is quite impressive.
Dividend growth investors should love Realty Income, as the company has reported 76 dividend increases since 1994, representing a compounded average annual growth rate of 5%, according to the company.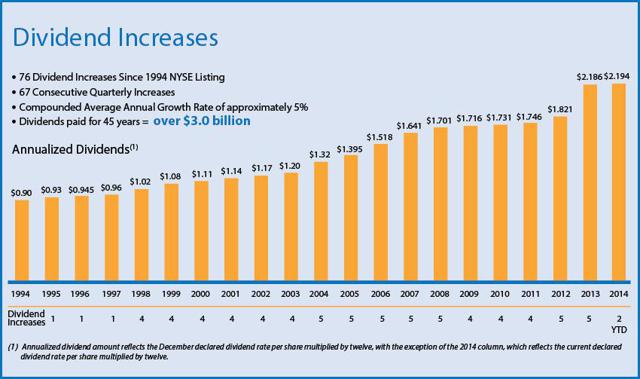 Credit: Realty Income
The company has a chart on its website that shows how much money you would have made, had you invested $100 in shares at the start of 1994. A $100 investment is currently worth more than $1,500, representing total returns of more than 1,500%; a $10,000 investment would be worth well over $150,000.
You'll even see here that Realty Income continued to pay out dividends during two major financial crises in 2001 and 2008. In fact, the company actually increased its dividends following both crashes.
Of course, past performance is not a guarantee of future success. However, I personally love real estate as an investment - as the saying goes, "buy land - they aren't making more of it."
Over the long-term, I think shares of Realty Income will continue to outperform given its track record and solid management team, and investors should strongly consider a position.
#3 Vanguard Natural Resources
Vanguard is a company focused on acquiring and developing mature, long lived oil and natural gas properties. The company's primary business objective is to generate stable cash flows, allowing them to make monthly cash dividends to shareholders, and over time increase the monthly dividend.
Vanguard's operating strategy is to acquire oil and gas properties that have stable production with a long reserve life and a high percentage of proven reserves. Since the IPO in 2007, the company has completed more than $3.4 billion in acquisitions, according to the company.
Currently, Vanguard distributes $.21 per month to shareholders, generating a 8.1% yield. Since its IPO, Vanguard has increased dividends 48%. In 2007, distributions were $1.7 per share annualized, but today that number is up to $2.52 per share: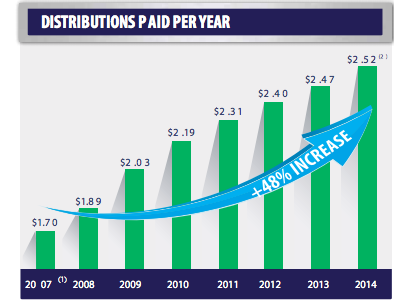 Credit: Vanguard Fact Sheet
Vanguard's operations includes producing fields in the Williston Basin, the Powder River Basin, the Big Horn Basin, and the Permain Basin - all located in the United States.
Since 2007, average annual production has grown 2,667%, from 1,935 barrels a day in 2007, to 53,500 barrels a day in 2014 (full-year estimate), according to the company's presentation. Proved reserves has also jumped during this time, from 11 million barrels in 2007 to 300 million barrels in 2014 - growth of 2,627%.
In my opinion, shares of Vanguard not only pay a solid monthly dividend, but they hold considerable appreciation upside as well. If you look at the past five years, shares have returned more than 120%, which outperformed both the Dow Jones Index and the S&P 500.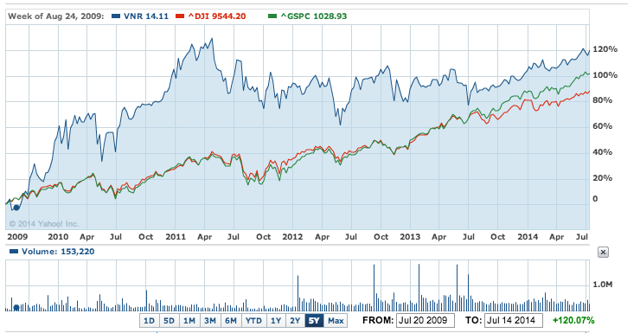 Credit: Yahoo! Finance
It's important to understand that master limited partnerships (MLP's) such as Vanguard do not pay corporate taxes - for investors, income distributions from an MLP are considered a return of capital, which means you'll most likely pay no taxes until you sell shares. Since it's already tax-advantaged, you might not want to put an MLP like Vanguard in your Roth IRA account.
#4 Pengrowth Energy

Pengrowth is a Canadian oil and natural gas producer. The corporate strategy of the company is to use funds flow from operations to sustain the company's current dividend, as well as fund a portfolio of low decline, long reserve life assets. The company has a 25-year history of paying a dividend to shareholders.
Pengrowth's projects are located in the Western Canadian Sedimentary Basin. For full-year 2013, production was 84,527 million BOE, with 45% of production coming from natural gas, 30% from light and medium oil, 14% from natural gas liquids and 11% from heavy oil.
So why should you invest? I believe the company has a solid plan in place to increase both earnings and its monthly dividend over the next few years.
Recently, the company announced that the value of its proved and probable reserves at the Lindbergh thermal oil sands project have more than doubled, to $2.2 billion from $1 billion. In fact, Pengrowth has estimated that the pre-tax net present value (NPV) of the reserves are now worth $4.20 per share, which is nearly 70% of the entire valuation of the company. Growth is expected to increase from $1 per share in funds flow for 2014, to $2.38 per share by 2018.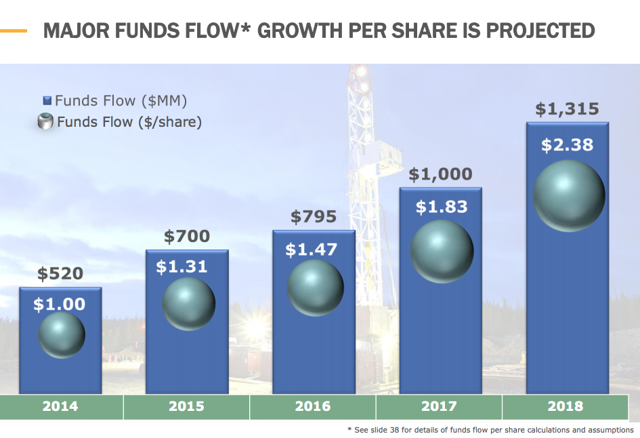 Credit: Pengrowth Corporate Presentation
This assumes that production will increase from 72,100 boe/d in 2014, to 95,500 by 2018, with a WTI oil price of $95 a barrel and an increase in total debt of $300 million. Pengrowth finished the end of the first quarter 2014 with cash and equivalents of $314.9 million, compared to $1.757 billion in total debt.
However, according to the company, the only near term debt maturity is $100 million of convertible debentures, which mature in December.
In addition, the company estimates $520 million funds from operations this year, which should be more than enough to cover both capital expenses plus the estimated $250 million to be paid out in dividends.
The company expects its Debt/EBITDA ratio to decline significantly over the next few years, from 2.8X in 2014 to 1.5X by 2018.
With a 6.5% dividend yield, investors are being paid a handsome sum to wait for this growth to occur, and if it does, I believe shares could have at least 100% upside potential.
#5 Goldcorp
This is likely the most controversial pick on the list, based on the sole fact that it is a gold mining stock. However, investors should know that Goldcorp is a world-class company and should be considered as an investment, regardless of its sector.
As you can tell by my name, I am bullish on hard assets such as gold and silver, based on solid long-term supply and demand fundamentals, as well as the increasing possibility of inflation. I won't get into much more details here, but you can read a previous article for further analysis.
Besides Gold Resource Group (NYSEMKT:GORO), Goldcorp is the only mining company I know of that pays a dividend to shareholders every single month. I believe shares also hold big long-term appreciation potential.
I like Goldcorp for number of reasons. First, the company's assets are mostly located in safe mining jurisdictions, such as Canada, the United States and Mexico. As a gold mining investor, I do not want the added risk of a mine shut down or nationalization of a mine, so I see this as a big plus.
Next, Goldcorp is focused on low-cost, profitable operations: for the last quarter, all-in sustaining costs came in at just $840 an ounce, which means the company is profitable even with gold at 3-year lows of $1,300 an ounce. You'll see that the company has done a great job reducing its costs over the last few years, with all-in costs once as high as $1,227 an ounce (Q2 2013):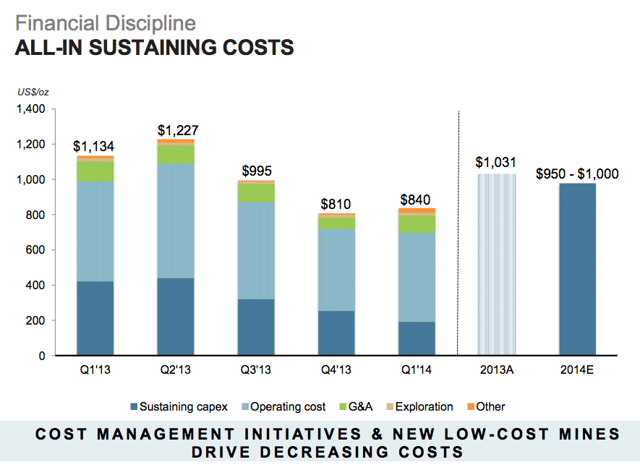 Credit: Goldcorp Corporate Presentation
Goldcorp has maintained a strong balance sheet. Currently, the company has $1 billion in cash and equivalents, with $2.4 billion in total liquidity, according to recent financial statements.
Out of its peers, Goldcorp has the least amount of balance sheet risk, with just 10% of net debt as a percentage of its market cap. This is far lower than companies like Kinross Gold (NYSE:KGC), Yamana (NYSE:AUY) and Barrick (NYSE:ABX).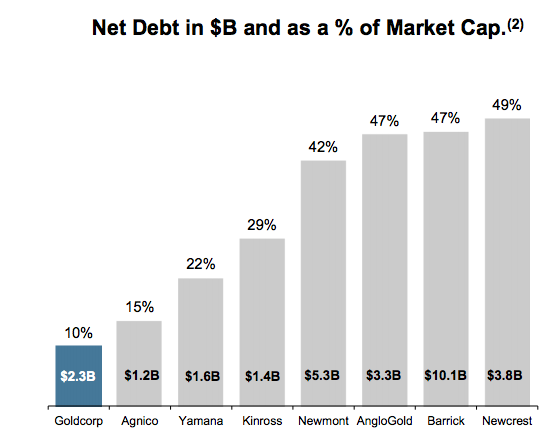 Credit: Goldcorp Corporate Presentation
Next, Goldcorp has a strong track record of rewarding its shareholders with dividends. According to the company, Goldcorp has the highest percentage of operating cash flow and yield among its peers, with 32% of operating cash flow paid out as dividends, and a current yield of 2.1%, which is higher than Yamana (1.8%), Barrick (1.1%), Agnico (.8%), etc. The company increased its dividend, even as the gold price dropped from $1,900 an ounce in 2011 to today's price of $1,300.
For all these reasons and more, I view Goldcorp as a best-in-class gold mining stock. I expect the company to continue paying out a monthly dividend to shareholders and as the years go by, I wouldn't be surprised to see significant dividend increases.
Goldcorp also has the biggest appreciation potential of any stock on this list (in my opinion), as the company aims to both increase production and lower costs over the next few years. With successful execution and a higher gold price, investors could be in for some big gains.
Honorable Mentions: Student Transportation (NASDAQ:STB), Main Street Capital (NYSE:MAIN), Fifth Street Finance (NYSE:FSC).
Disclosure: The author is long PSEC, VNR. The author wrote this article themselves, and it expresses their own opinions. The author is not receiving compensation for it (other than from Seeking Alpha). The author has no business relationship with any company whose stock is mentioned in this article.