The dust has finally settled over the bloodshed that saw BlackBerry (BBRY) tumble 12.5% in less than a week. I have to admit that when I read the headlines, after the market closed on Tuesday, I was on the edge of my seat. Taking profits on BBRY crossed my mind.
After all, isn't it Apple (NASDAQ:AAPL) the one to blame for BlackBerry's woes in the smartphone market? Arguably, the iPhone was the single greatest catalyst that shaved BlackBerry's global smartphone market share from around 20% in 2009 to less than 1% at the end of 2013.
The idea of Apple coming to BlackBerry's enterprise turf hand in hand with a giant such as International Business Machines (NYSE:IBM) surely sounds worthy of making BBRY's investors nervous. After all, BlackBerry Enterprise Server (or BES) probably contributed with more than half of the company's revenue in the latest fiscal quarter. Make no mistake, if Apple were to slay BBRY in the Enterprise Mobility Management (or EMM) industry the latter would surely be on the fast lane to bankruptcy. As much as I praise QNX, Project Ion and BBM, these segments will only contribute with a small portion of revenues for the near future.
However, as of today, I'm still long BBRY. I even added to my position at around $10 per share. Let me tell you why.
IBM: not Really that Scary
Much of the market's immediate reaction was triggered by IBM's strengths among enterprise customers. The though that Apple would lever on IBM's solid enterprise connections seemed plausible.
However, as a BlackBerry investor I found out that I wasn't very familiar with IBM's capabilities in the mobile device management industry, and with good reason.
Despite being historically one of the most innovative companies in the world, IBM moved late into mobile management. Only with new CEO Ginni Rometty, who took the reins of the company back in 2011, IBM started to take a serious glance at this sector. Since IBM so blatantly ignored mobile management, it is no wonder why they have experienced steady revenue decline in recent years.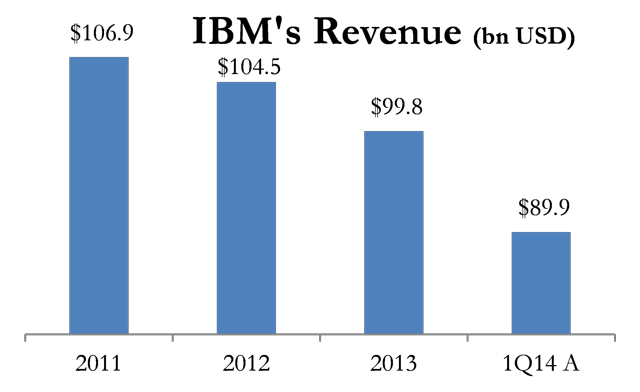 Source: Yahoo! Finance
IBM ventured into mobility management in 2013 with the launch of MobileFirst. According to the company's 2013 MD&A, this product was created to "help clients and partners deliver best-in-class mobile solutions, take advantage of more commercial opportunities and provide a superior customer experience." This product arguably overlaps only partially with BlackBerry's BES. Only later, with the acquisition of Fiberlink on November 2013, IBM started competing directly with BlackBerry for enterprise customers.
How worried should BlackBerry investors be of IBM's savvy in the EMM industry? Let's see how Fiberlink stacks against BES.
IBM disclosed in its annual report in 2013 that it had already helped "more than 1,000 clients become more mobile enterprises". Wait a second, 1,000? Forget comparing it to BlackBerry's 80,000, its not even close to MobileIron's (NASDAQ:MOBL) or Good Technology's 6,000 and 5,000 respectively.
Since Apple doesn't bring to the table any serious strengths in the enterprise mobility segment, the Apple-IBM agreement is far away even from new players such as MOBL and Good Technology, let alone BlackBerry.
BlackBerry's BES is Here to Stay
Having discussed the status of IBM's enterprise mobility offerings, let me discuss why BlackBerry's BES should prove a very resilient product for years to come.
First, BlackBerry's smartphones are still the most secure devices in the industry. Its core customers operate in highly regulated industries and place security very high in their priority list. BlackBerry's BES continues to be the sole mobility management platform to receive "Full Operational Capability" on U.S. Defense Department networks. I would be worried, as Corey Sommers correctly suggests in a recent article, if IBM suddenly succeeds in patching the security issues that clearly still plague Apple's devices. Given that Apple has failed repeatedly to close the security loop on their own devices, I don't think this outcome is likely.
Second, BlackBerry already offers the lowest Total Cost of Ownership of any vendor in the EMM market, as announced by Strategy Analytics. This of course includes IBM's own EMM platform.
Third, investing in a mobile device management platform isn't cheap. BES 10 35,000 customers, already having made the investment, are unlikely to jump ship even if Apple-IBM could still manage to create a truly competitive platform.
Forth, the next generation of BES will be available later this year, fixing some of the current issues with BES 10. The migration strategy is already in place, its called the EZ Pass Program, and has so far been successful. In the latest earnings conference call, John Chen announced that over 2,600 customers had opted for this option which provides free migration to BES 12.
Additionally, the strengths of Apple-IBM's possible offerings in enterprise mobility don't necessarily overlap with BlackBerry's BES. Tailored business apps and cloud services in an iOS platform could very well be managed by BlackBerry's BES.
Conclusion
BlackBerry needs its enterprise mobility service to thrive if it is to remain a going concern, let alone complete a successful turnaround. Its other growth initiatives, most notably Project Ion and QNX, will only contribute with a small portion of the company's revenues in the years to come. BES needs to remain strong to allow John Chen to nurture this other initiatives.
The awful trading week for BlackBerry was triggered by plausible, yet inaccurate concerns. IBM lags even Mobile Iron and Good Technology when it comes to the enterprise mobility business.
Even if Apple-IBM manage to compete in the same level as BlackBerry in the EMM industry, the latter's competitive advantages should prove resilient enough for BES to endure for years to come.
Disclosure: The author is long BBRY. The author wrote this article themselves, and it expresses their own opinions. The author is not receiving compensation for it (other than from Seeking Alpha). The author has no business relationship with any company whose stock is mentioned in this article.