The following is a list of heavily shorted stocks with conservative accounting practices, according to the ratings developed by forensic accounting firm Audit Integrity.

Audit Integrity was founded in 2002 to develop risk management tools based on a statistical analysis of corporate integrity. The Accounting and Governance Risk (AGR) rating is a forensic measure of the transparency and reliability of a corporation's financial reporting and governance practices. The closer the score is to 100, the more conservative the company's accounting practices, according to Audit Integrity.

All the companies in this list have high AGR scores above 85, i.e. more conservative and transparent accounting practices than most other firms. In addition, all of these stocks have short ratios higher than 10 days.

Short float values sourced from Finviz, AGR ratings sourced from Audit Integrity.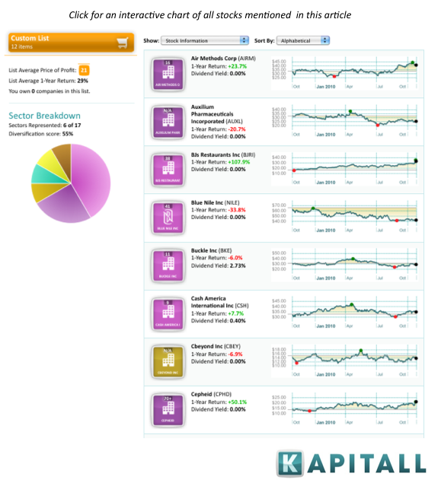 The list has been sorted by short ratio.

1. Cbeyond, Inc. (NASDAQ:CBEY): Diversified Communication Services Industry. Market cap of $431.79M. According to Audit Integrity, the company has Conservative accounting practices, with an AGR score of 97. Short float at 15.56%, which implies a short ratio of 25.25 days. The stock has lost -7.22% over the last year.

2. BJ's Restaurants, Inc. (NASDAQ:BJRI): Restaurants Industry. Market cap of $951.67M. According to Audit Integrity, the company has Conservative accounting practices, with an AGR score of 89. Short float at 21.68%, which implies a short ratio of 23.74 days. The stock has gained 113.69% over the last year.

3. Blue Nile Inc. (NASDAQ:NILE): Catalog & Mail Order Houses Industry. Market cap of $598.43M. According to Audit Integrity, the company has Conservative accounting practices, with an AGR score of 90. Short float at 36.83%, which implies a short ratio of 22.2 days. The stock has lost -36.45% over the last year.

4. Cepheid (NASDAQ:CPHD): Scientific & Technical Instruments Industry. Market cap of $1.27B. According to Audit Integrity, the company has Conservative accounting practices, with an AGR score of 94. Short float at 15.29%, which implies a short ratio of 22.18 days. The stock has gained 53.7% over the last year.

5. Auxilium Pharmaceuticals Inc. (NASDAQ:AUXL): Drug Related Products Industry. Market cap of $1.22B. According to Audit Integrity, the company has Conservative accounting practices, with an AGR score of 86. Short float at 25.06%, which implies a short ratio of 21.88 days. The stock has lost -20.69% over the last year.

6. Cash America International, Inc. (NYSE:CSH): Credit Services Industry. Market cap of $1.03B. According to Audit Integrity, the company has Conservative accounting practices, with an AGR score of 87. Short float at 16.36%, which implies a short ratio of 18.8 days. The stock has gained 8.27% over the last year.

7. Air Methods Corp. (NASDAQ:AIRM): Air Services Industry. Market cap of $518.25M. According to Audit Integrity, the company has Conservative accounting practices, with an AGR score of 86. Short float at 15.94%, which implies a short ratio of 16.02 days. The stock has gained 25.07% over the last year.

8. Scholastic Corporation (NASDAQ:SCHL): Publishing Industry. Market cap of $1.04B. According to Audit Integrity, the company's accounting risk is Average, with an AGR score of 85. Short float at 17.2%, which implies a short ratio of 14.7 days. The stock has gained 11.78% over the last year.

9. Pennsylvania Real Estate Investment Trust (NYSE:PEI): REIT. Market cap of $787.2M. According to Audit Integrity, the company has Conservative accounting practices, with an AGR score of 86. Short float at 17.98%, which implies a short ratio of 14.5 days. The stock has gained 95.74% over the last year.

10. DSW Inc. (NYSE:DSW): Apparel Stores Industry. Market cap of $1.46B. According to Audit Integrity, the company has Conservative accounting practices, with an AGR score of 89. Short float at 36.15%, which implies a short ratio of 14.03 days. The stock has gained 63.09% over the last year.

11. Buckle Inc. (NYSE:BKE): Apparel Stores Industry. Market cap of $1.39B. According to Audit Integrity, the company has Conservative accounting practices, with an AGR score of 95. Short float at 29.26%, which implies a short ratio of 13.78 days. The stock has lost -3.19% over the last year.

12. Lindsay Corporation (NYSE:LNN): Farm & Construction Machinery Industry. Market cap of $713.18M. According to Audit Integrity, the company's accounting risk is Average, with an AGR score of 85. Short float at 17.91%, which implies a short ratio of 10.9 days. The stock has gained 67.2% over the last year.

Disclosure: No positions