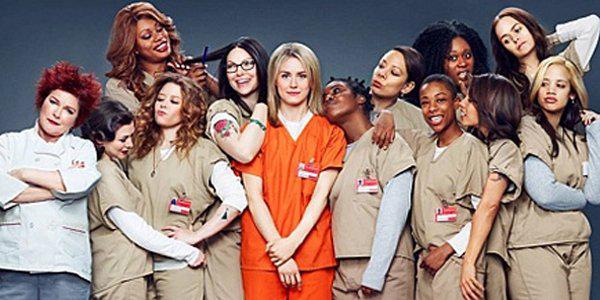 Picture: Cast from Netflix's "Orange Is The New Black"
Netflix, Inc. (NASDAQ:NFLX) reported its Q2 earnings after-hours today and there were hits and misses. Subscribers of the company's streaming segments grew 33% from Q2 2013 to Q2 2014, exceeding 50 million; subscribers of the domestic streaming and international streaming segments grew 22% and 78%, respectively. Subscribers of the domestic DVD segment declined 17% during that same period. Annual revenue and net income growth were 25% and 141%, respectively. Below are the historical financial results for Netflix: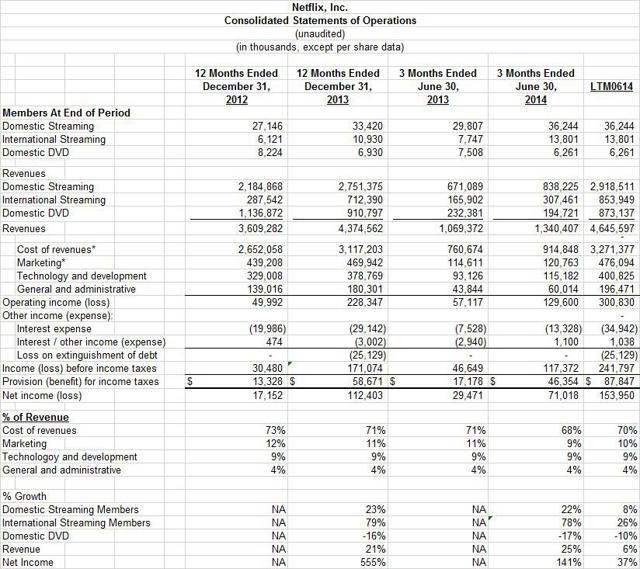 Cost of sales declined to 68% of revenue in Q2 2014 from 71% over the same period last year. Its operating expenses (marketing, technology & development, and general and administrative) also declined to about 22% in Q2 2014 versus 24% in Q2 2013.
Though its earnings growth was impressive, its $1.15 per share during the quarter were a penny shy of the $1.16 per share analysts were expecting.
Will A Sell-Off Ensue?
There were definitely high expectations for the company during the quarter. In my opinion, the market is looking for any excuse for a sell-off in high P/E stocks like Netflix. At today's close, the company had a market capitalization of $27 billion, or 176x net income through last 12 months ended June 30, 2014 (LTM0614) of $154 million. With an enterprise value of $28 billion, the company traded at about 6x LTM0614 revenue of $4.6 billion. In my previous article, I described how unforgiving the market is toward high P/E stocks that disappoint analysts:
Earnings estimates are high, yet appear fair given Netflix's historical earnings trajectory. How Q2 results measure up against expectations will determine how the stock performs after the close. The market can be unforgiving to companies who do not meet current earnings expectations or those like Advanced Micro Devices (NYSE:AMD) or SanDisk Corporation(NASDAQ:SNDK) whose earnings guidance fall short of future expectations.
Conclusion
Netflix's Q2 subscriber growth and revenue growth were impressive, and either met or exceeded analysts' expectations. However, the company missed on analysts' $1.16 per share earnings expectation during the quarter. I expect a sell-off to ensue during tomorrow's trading.
Disclosure: The author is long NFLX. The author wrote this article themselves, and it expresses their own opinions. The author is not receiving compensation for it (other than from Seeking Alpha). The author has no business relationship with any company whose stock is mentioned in this article.
Additional disclosure: I own straddles on Netflix