The following is a list of oversold stocks, as defined by the Relative Strength, or RSI(14), indicator. All of the stocks in this list have RSI(14) readings below 40, which usually signal oversold conditions.

In addition, all of these stocks have a large number of open put option contracts relative to call option contracts (i.e. bearish stock market sentiment). All of the stocks in our list have Put/Call ratios above 1.6.

Is this excessive pessimism justified? Full analysis below.

RSI(14) values sourced from Finviz, options data sourced from Schaeffer's.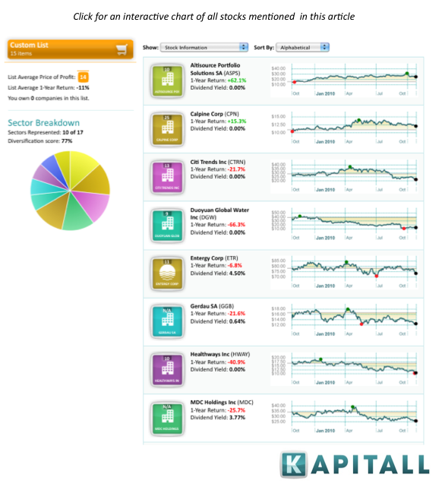 The list has been sorted by the short ratio.

1. Duoyuan Global Water Inc. (DGW): Pollution & Treatment Controls Industry. Market cap of $307.63M. RSI(14) at 32.5. Call open interest at 2,736 contracts vs. put open interest at 9,760 contracts (Put/Call ratio at 3.57). Short float at 18.3%, which implies a short ratio of 4.36. The stock has lost -67.46% over the last year.

2. Citi Trends (NASDAQ:CTRN): Apparel Stores Industry. Market cap of $324.4M. RSI(14) at 30.33. Call open interest at 800 contracts vs. put open interest at 2,743 contracts (Put/Call ratio at 3.43). Short float at 9.52%, which implies a short ratio of 6.52. The stock has lost -24.8% over the last year.

3. Altisource Portfolio Solutions S.A. (NASDAQ:ASPS): Mortgage Investment Industry. Market cap of $617.63M. RSI(14) at 33.26. Call open interest at 602 contracts vs. put open interest at 2,049 contracts (Put/Call ratio at 3.4). Short float at 0.45%, which implies a short ratio of 0.67. The stock has gained 52.52% over the last year.

4. Tsakos Energy Navigation Ltd. (NYSE:TNP): Shipping Industry. Market cap of $462.99M. RSI(14) at 21.16. Call open interest at 849 contracts vs. put open interest at 2,758 contracts (Put/Call ratio at 3.25). Short float at 0.62%, which implies a short ratio of 2.04. The stock has lost -17.92% over the last year.

5. Gerdau S.A. (NYSE:GGB): Steel & Iron Industry. Market cap of $17.66B. RSI(14) at 31.1. Call open interest at 8,019 contracts vs. put open interest at 23,872 contracts (Put/Call ratio at 2.98). Short float at 1.97%, which implies a short ratio of 2.56. The stock has lost -22.64% over the last year.

6. Ryland Group Inc. (NYSE:RYL): Residential Construction Industry. Market cap of $703.55M. RSI(14) at 37.34. Call open interest at 10,419 contracts vs. put open interest at 30,387 contracts (Put/Call ratio at 2.92). Short float at 14.47%, which implies a short ratio of 6.7. The stock has lost -20.05% over the last year.

7. Entergy Corporation (NYSE:ETR): Electric Utilities Industry. Market cap of $13.45B. RSI(14) at 30.96. Call open interest at 9,690 contracts vs. put open interest at 27,119 contracts (Put/Call ratio at 2.8). Short float at 1.86%, which implies a short ratio of 2.26. The stock has lost -1.53% over the last year.

8. MDC Holdings Inc. (NYSE:MDC): Residential Construction Industry. Market cap of $1.23B. RSI(14) at 34.83. Call open interest at 8,038 contracts vs. put open interest at 17,338 contracts (Put/Call ratio at 2.16). Short float at 13.5%, which implies a short ratio of 10.74. The stock has lost -21.1% over the last year.

9. Healthways Inc. (HWAY): Specialized Health Services Industry. Market cap of $350.86M. RSI(14) at 33.4. Call open interest at 293 contracts vs. put open interest at 631 contracts (Put/Call ratio at 2.15). Short float at 4.98%, which implies a short ratio of 8.77. The stock has lost -38.81% over the last year.

10. Tellabs Inc. (NASDAQ:TLAB): Communication Equipment Industry. Market cap of $2.67B. RSI(14) at 35.62. Call open interest at 47,767 contracts vs. put open interest at 99,007 contracts (Put/Call ratio at 2.07). Short float at 7.78%, which implies a short ratio of 3.16. The stock has gained 14.57% over the last year.

11. PetMed Express Inc. (NASDAQ:PETS): Drug Delivery Industry. Market cap of $347.55M. RSI(14) at 33.71. Call open interest at 2,161 contracts vs. put open interest at 3,972 contracts (Put/Call ratio at 1.84). Short float at 31.6%, which implies a short ratio of 35.71. The stock has lost -2.56% over the last year.

12. Calpine Corp. (NYSE:CPN): Electric Utilities Industry. Market cap of $5.44B. RSI(14) at 35.51. Call open interest at 37,664 contracts vs. put open interest at 66,989 contracts (Put/Call ratio at 1.78). Short float at 6.29%, which implies a short ratio of 13.06. The stock has gained 11.07% over the last year.

13. Strayer Education Inc. (NASDAQ:STRA): Education & Training Services Industry. Market cap of $1.77B. RSI(14) at 29.15. Call open interest at 4,740 contracts vs. put open interest at 8,092 contracts (Put/Call ratio at 1.71). Short float at 27.48%, which implies a short ratio of 9.13. The stock has lost -40.38% over the last year.

14. Rogers Communications Inc. (NYSE:RCI): Wireless Communications Industry. Market cap of $21.72B. RSI(14) at 36.23. Call open interest at 548 contracts vs. put open interest at 927 contracts (Put/Call ratio at 1.69). Short float at 6.29%, which implies a short ratio of 68.7. The stock has gained 40.72% over the last year.

15. Westamerica Bancorp. (NASDAQ:WABC): Regional Bank. Market cap of $1.48B. RSI(14) at 35.18. Call open interest at 372 contracts vs. put open interest at 608 contracts (Put/Call ratio at 1.63). Short float at 13.46%, which implies a short ratio of 24.21. The stock has gained 7.39% over the last year.

Disclosure: No positions