Earlier this month, I wrote about General Electric (NYSE:GE). While I was impressed with the company, I felt the valuation was rich for most non-dividend focused investors. In the course of my research, I learned more about, and became increasingly impressed with the "German GE", Siemens (OTCPK:SIEGY). SIEGY is not only a quasi-Dividend Aristocrat, having paid dividends 1980, but it is a technological leader with a strong, performance-driven culture, flat organization structure and leading positions in important, non-commodity industries.
SIEGY is a true European company, with all that is good (openness, concern for employees, inside-track in Europe), and all that is bad (politically-oriented goals, slow-growth home continent, labor inflexibility) associated with the stereotype.
Areas of Focus and Growth
SIEGY competes in four major areas (with numerous smaller SBUs): Energy (33%, Power and Gas, Wind Power and Renewables, and Power Generation Services), Industrial (23%, Process Industries and Drives, and Digital Factory), Infrastructure (22%, Energy Management, Building Technologies and Mobility), Healthcare (18%), Real Estate (3%) and Financial Services (1%).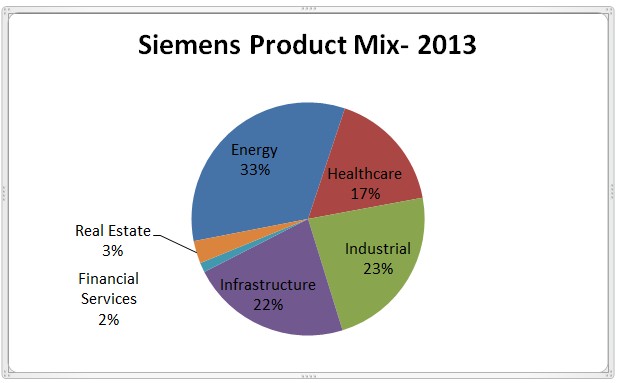 Source: Siemens 2013 Annual Report (rounded for consolidations):
SIEGY, like GE, has been engaged in a restructuring to enable the company to focus on high-growth, high-margin segments, where it has real and sustainable advantage, scale and can drive value-added. One of the metrics it highlights is EVA (Economic Value Added), which focuses on true return on (incrementally) invested capital.
SIEGY has identified Digitalization, Automation, Electrification and Unconventional Oil & Gas as its primary growth areas. The last one, "Unconventional" Oil and Gas impressed me, as it indicates SIEGY is willing to play (a large role) in the controversial US and Canadian oil and gas fields. To support growth in this segment, the company is acquiring for $1.3 billion (£785 million) Rolls-Royce's Aero Derivative Gas Turbine business; closing is anticipated in late 2014.
Siemens Growth Areas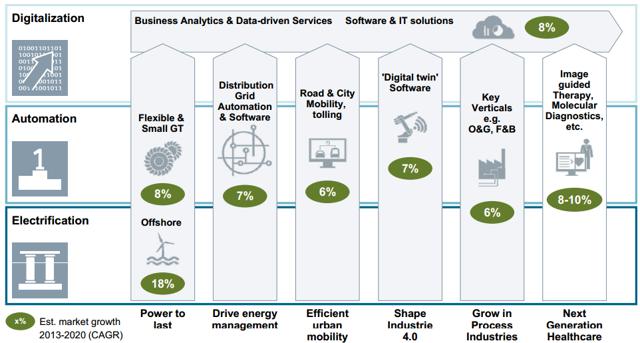 Source: Siemens Investor Presentation
SIEGY is also, like GE, exiting slower-growth/lower-margin businesses. It has, or is in the process of divesting its water, airport logistics, baggage handling, and Nokia Siemens Network businesses. It is also working to streamline its operations, committing $1 billion in overhead savings by 2016 (from 2014 levels).
Leadership
In July 2013, Joe Kaeser, a 33-year veteran of the company and past CFO, was named President and CEO after the previous leader was, in a very un-German way, fired for poor performance. Mr. Kaeser has embarked on a program he calls, "Vision 2020", to refocus the company on growth and enhance employee buy-in and ownership.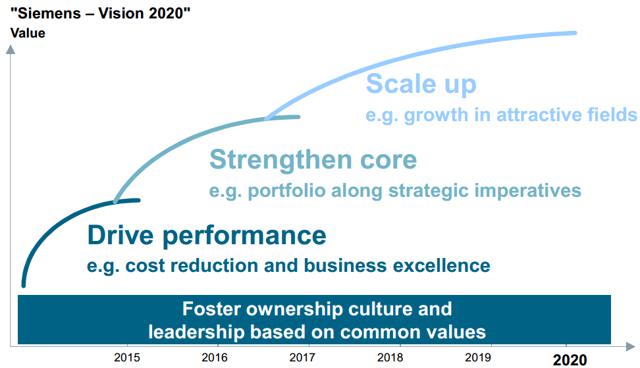 Source: Siemens Investor Presentation
To further employee buy in, Mr. Kaeser is working to enhance an ownership culture ("Always act as if it were your own company"), setting up a broad profit sharing pool, targeting a 50%+ increase in employees owning SIEGY shares (3% of shares are currently held by employees) and has espoused a leadership based on shared values ("It is not the strategy which makes the difference, but the culture of a company, its values and what it stands for").
Recent Performance
In SIEGY's second quarter (March 2014), the company reported an 11% increase in EPS on a 1% increase in revenue. SIEGY's profit increased in three of its four main drivers, Healthcare (+19%), Industrial (+32%) and Infrastructure (+n/a; €325 in '14 vs. €6 in '13). Energy was a laggard, showing a decline of 54%, most of which was attributable to a large charge on a turn-key Canadian project. The Asia region (CHINA) was the largest source of order and revenue growth.
Reading SIEGY's press release was a breath of fresh air from a candor and reduced spin perspective. The headline for Q2 read, "Mixed Performance, Outlook Confirmed". When have you ever seen a US company imply in the headline of their press release that everything was not coming up roses?
The target for fiscal 2014 (September, 2014) is a 15%+ growth in EPS over 2013 (analysts project 12% growth over the next five years).
SIEGY shares have appreciated since Mr. Kaeser took over, but trail the S&P500 over the same period. The stock is down 5.3% in July (which drove the underperformance against the S&P500), partly due to unease over the company's aggressive oil and gas-related acquisitions.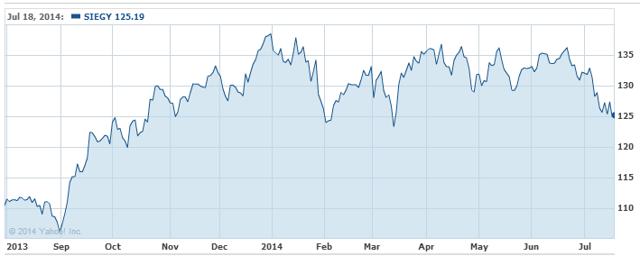 Source: Yahoo!
Over a five-year period, SIEGY has dramatically underperformed both the S&P500 and GE.

Source: Yahoo!
Dividends
SIEGY has been called a German Dividend Aristocrat, paying dividends since 1980. SIEGY typically makes an annual dividend payment, with an overt targeted payout ratio of 40%-60% of earnings. The most recent payout of $4.09 occurred in January 2014 and represents a respectable yield of 3.3%
Valuation
What initially sparked my interest in SIEGY was its attractive valuation and higher growth forecast compared to GE.
Analysts project a 5-year growth of 12.1% for SIEGY, which trades at 12.4x forward (2015) earnings, representing a PEG (Forward PE/ 5-year growth) ratio of 1.02.
GE currently trades at a 14.5x forward (2015) earnings multiple. Five-year earnings growth is projected at 8.9%. GE's PEG ratio of 1.63 is not a bargain.
Though direct comparables do not really exist, (Dutch) PHG is often mentioned in the same breath as SIEGY and GE; it is projected to grow by 7.1% and trades for 18.9x (2014), for a (2014 based) PEG of 2.66.
A Few Risks To Consider
SIEGY is a German company, therefore its results (as well as most of its operations) are denominated in Euros and currency swings can have a material impact on results. Further, SIEGY is still dependent on a European recovery, which has been slow, halting and is one default by a Portuguese bank away from downshifting. While it is a strong player in all of its key segments, it also faces competition and as a European champion can occasionally be hamstrung by politics (which can be positive as well as negative). SIEGY's public acquisition strategy (e.g. there are rumors it may buy Dresser-Rand) exposes shareholders to the risk of overpaying and distraction (especially if they buy and integrate a large deal).
Summary
Relative to GE (which is where I started this journey), I have been suitably impressed by SIEGY. While perhaps not as focused on its strategic core as GE, the company has strong positions in its focus businesses, an active acquisition (and divestiture) strategy and a dynamic CEO. From a valuation perspective, SIEGY is much more attractive, both on a PE and a PEG basis than GE. I'm also comforted by a healthy dividend and the long track record of paying dividends.
I don't have a current position in SIEGY, but I will very likely be long by the end of the week.
As always, do your own due diligence. This (and all) article reflects my thoughts, which are often subjective, and are not intended to be the basis of a buy or sell decision.
Disclosure: The author has no positions in any stocks mentioned, but may initiate a long position in SIEGY, GE over the next 72 hours. The author wrote this article themselves, and it expresses their own opinions. The author is not receiving compensation for it (other than from Seeking Alpha). The author has no business relationship with any company whose stock is mentioned in this article.
Editor's Note: This article discusses one or more securities that do not trade on a major U.S. exchange. Please be aware of the risks associated with these stocks.