Today Comcast Corporation (NASDAQ:CMCSA) is expected to announce Q2 earnings after-hours. Comcast is a global media and technology company whose primary businesses are Comcast Cable and NBCUniversal. For Q1 2014 cable communications represented about 62% of revenue and 79% of operating cash flow. The company has five business segments: [i] Cable Communications, [ii] Cable Networks, [iii] Broadcast Television, [iv] Filmed Entertainment and [v] Theme Parks. Below are Comcast's historical operating results: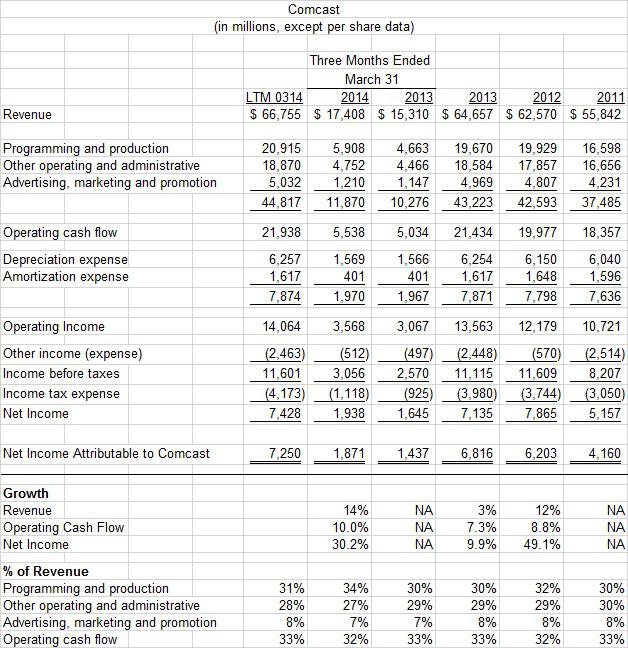 Growth
Revenue grew 14% from Q1 2013 to Q1 2014. Revenue growth was stagnant at 3% for full year 2013, down from 12% in full year 2012.
Operating cash flow grew 10% in Q1 2014 versus the previous period. Such growth was 7.3% and 8.8% in 2013 and 2012, respectively. Historically, operating cash flow has been consistent between 32% - 33% of revenue.
Net income attributable to Comcast was up 30% in Q1 2014. Net income grew 10% in 2013 and 49% in 2012.
Operating Expenses
The largest operating expense - programming and production costs - has ranged from 30% - 34% historically.
Total operating expenses - programming and production, other operating and administrative, and marketing - have ranged from 67% to 68%, regardless of revenue growth. This implies that Comcast does not benefit much from economies of scale.
Valuation
At $54 per share and a market capitalization of $140 billion, Comcast trades at approximately 19x net income attributable to Comcast of $7.3 billion through last 12 months ended March 31, 2014 ("LTM0314").
Including debt of $45 billion, the company has an enterprise value of $185 billion. The company's enterprise value to LTM0314 operating cash flow is 8.4x. That said, Comcast seems to be fully valued given it historical earnings growth.
Analysts Expectations
The average analyst estimate for the quarter is $0.72 per share on revenue of about $16.95 billion. For Q2 2013 the company earned $0.65 per share on revenue of $16.27 billion.
Estimates equate to 11% growth in earnings per share and 4% growth in revenue in comparison to Q2 2013.
If Comcast can achieve these results, excluding one-time costs related to its proposed merger with Time Warner Cable (TWC), the stock should remain in its current trading range.
Whether the stock trades up after-hours will most likely depend on management guidance - integration, cost/revenue synergies - after its proposed Time Warner Cable deal.
Conclusion
At 19x LTM0314 net income and 8.4x LTM0314 operating cash flow, Comcast is fully valued. Its earnings and revenue expectations for Q2 2014 are reasonable given past performance. Management guidance will most likely determine where the stock trades going forward.
Disclosure: The author has no positions in any stocks mentioned, and no plans to initiate any positions within the next 72 hours. The author wrote this article themselves, and it expresses their own opinions. The author is not receiving compensation for it (other than from Seeking Alpha). The author has no business relationship with any company whose stock is mentioned in this article.