Apple CEO Tim Cook sat down with CNBC's Josh Lipton last week to discuss his firm's blockbuster partnership to bring IBM's business analytics software to Apple's popular iPhone and iPad consumer devices. At the end of the interview when Tim Cook was asked what he thought of Eddy Cue's comments that Apple had its best product pipeline Eddy has seen in 25 years prepared for later this year, Tim Cook laughed and noted that he agreed.
Apple is notoriously secretive about its upcoming products, but it seems like just about everyone is expecting an iWatch and a new iPhone with a larger screen to be announced in the third calendar quarter of this year. Reports also indicate that Apple may introduce one or more devices with biometric capabilities and integrated user health monitoring technologies. No new devices were introduced this period (other than the $3B acquisition of Beats by Dre), but investors will look for growth in iPhone sales from China as a result of Apple's recent distribution deal with China Mobile. Apple Inc. (NASDAQ:AAPL) is set to report its next earnings release after the closing bell on Tuesday, July 22nd.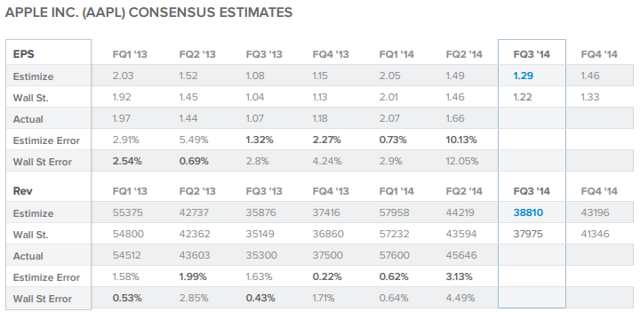 Source: Estimize.com
This quarter 139 contributing analysts on Estimize.com have come to a consensus earnings expectation of $1.29 in earnings per share and $38.810B in revenue compared to a consensus of $1.22 EPS and $37.975B in revenue from Wall Street. This quarter contributing analysts on the Estimize.com platform expect Apple to beat the Wall Street earnings consensus by 7c per share and come in $835M ahead of revenue estimates. Over the previous 6 quarters, the consensus from Estimize.com has been more accurate than Wall Street in forecasting Apple's EPS and revenue 4 times each. On Tuesday the Estimize community expects another earnings beat from the leaders in consumer tech.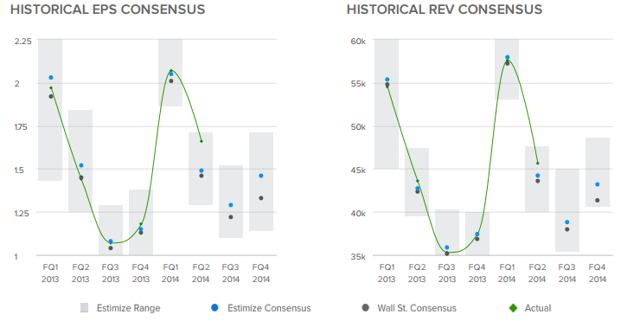 Source: Estimize.com
Last quarter Apple blew past earnings estimates despite not having a clear catalyst for growth going into the report. Apple stock has been riding a wave of momentum since the news from April. The price action is visible below and a dotted vertical line in the center of the chart highlights the company's previous earnings report date. Since being pleasantly surprised by the last report, investors have adjusted their company outlook upward significantly over the previous 3 months.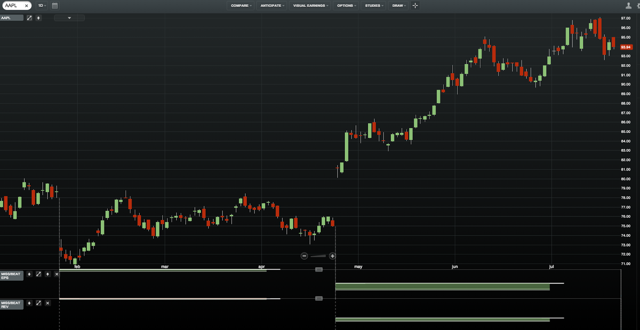 The Estimize community has set the bar high for Apple this quarter as the differential between the Wall Street consensus and Estimize consensus has increased considerably compared to last quarter. The magnitude of the difference between the Wall Street and Estimize consensus numbers often identifies opportunities to take advantage of expectations that may not have been priced into the market. The difference in earnings expectations gets even wider 1 quarter out for Apple's 4th fiscal quarter of 2014.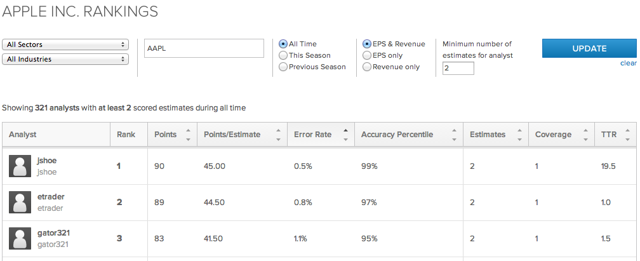 Source: Estimize.com
Estimize.com ranks and allows the sorting of analysts by accuracy, the analyst with the lowest error rate on Apple is an information technology professional who goes by the username jshoe. Over 2 previously scored estimates on Apple, jshoe has averaged an impressively low error rate of 0.5%. Estimize is completely open and free for anyone to contribute, and the base of contributing analysts on the platform includes hedge fund analysts, asset managers, independent research shops, non professional investors, and students.
The Estimize consensus was more accurate than the Wall Street consensus 65% of the time last quarter on the coverage of nearly 1000 stocks. A combination of algorithms ensures that the data is not only clean and free from people attempting to game the system, but also weighs past performance and many other factors to gauge future accuracy.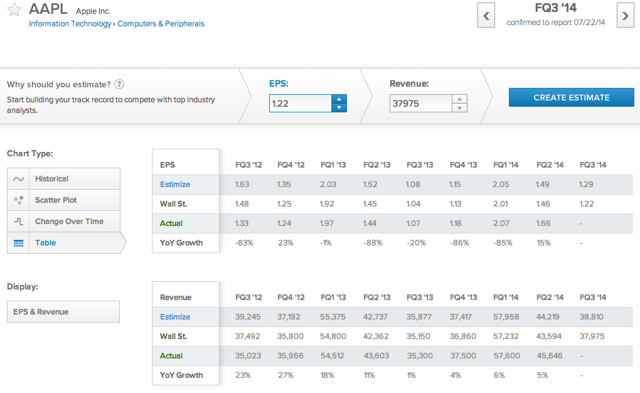 Source: Estimize.com
Contributing analysts on the Estimize.com platform are forecasting that on Monday Apple will report earnings growth of 22c (20%) compared to the $1.07 reported in the same quarter of last year. The Estimize community also expects year-over-year sales growth of $3.510B (10%), making this a very strong quarter even by Apple's own impressive growth standards.
Since the Estimize consensus is more representative of market expectations, it's important to view Apple's earnings relative to the Estimize consensus rather than the forecast from Wall Street. Statistically speaking when a company beats the Street's consensus but fails to meet the market's expectations as represented by the Estimize.com consensus, the stock price tends to fall rather than rise in response to the report. There's lot of optimism surrounding Apple's Tuesday report. The big question will be, "Can Apple continue to produce strong iPhone sales when the market smells a new model around the corner."
For now Apple's earnings bar is set at $1.29 per share, head over to Estimize.com/calendar for real time updates, alerts and notifications, and to follow the most comprehensive earnings calendar on the web.
Disclosure: None.