I must confess the ever expanding chasm between the performance of the Financial group and the rest of the equity market has kept my fingers off the keyboard and my head in the 'tea leaves' for the last two weeks. I'm looking for answers to offer reconciliation.
On Sept. 30 I illustrated the disturbing negative divergence between XLF(ETF of Financials) and the S&P500. Today, I will update this vexing issue with a comparison of KBE (banking ETF) to the S&P500.
Click to enlarge: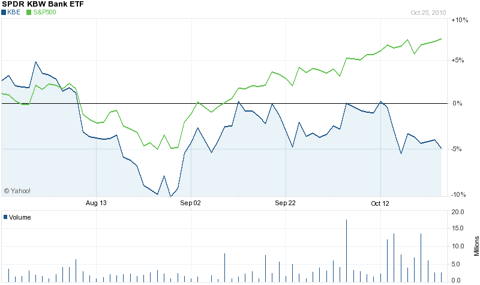 As you can see above, in the last two weeks the breach has grown larger. I am combining the collective and not insubstantial experience of the partners at RCM when I say, "something's got to give."
The Question: Will Financials rally or will the market falter?
The game is about to be played out and as usual the cheerleaders are already making a fuss. Most notably we have heard in recent days the 'Golden Cross(S&P500 50day moving average crosses above the 200day)' rally cry followed closely by the constant cacophony of QE2 cheers. As an encore the US$ death march seems to be playing on every Financial TV channel ensuring higher equity prices.
While I would love to be caught up in the festivities I am unfortunately reminded of the same type of behavior at the beginning of September. However, in Sept. the attitude was exactly opposite. All were sure the end was near. 'Death Cross(The opposite of above definition)' was the chant coupled with the obvious Head and Shoulders anthem portending doom for the markets.
The same bobble heads on Financial TV that were sure the market was doomed in early September are now absolutely sure the market will go higher when QE2 is announced and the US$ plummets to new lows. Rosenthal's Axiom: When everyone appears to be on one side of the trade it's time to put your head on a swivel.
Loyal readers may recall in September I turned bullish in the face of adversity. I, in essence, explained the 'Death Cross' was in fact a bugle sounding the charge for the Fed to act. Helicopter Captain Ben to the rescue was the image and we were going to ride the coattails. That investing advice worked like a charm and now I hear a bugle sounding again but I fear the notes are more somber. Instead of sounding the charge I believe we may be listening to Taps and when the music stops lights out!
Stock Market Strategy: It's all in the timing
I'm not writing today calling for a collapse. The music can and usually does play longer than expected. The elevated level of risk vs.the potential reward is at issue today. Hence, it is imperative to hedge the portfolio and reduce risk. We remain long Precious Metals, China and select U.S. Technology growth stocks while at the same time short the Financials and long the US$.
Precious Metals Outlook: No change in our bullish opinion. Any short term weakness caused by Fed announcements and QE2 reactions should be viewed as a buying opportunities. Our long US$ hedge should cushion some of the volatility.

Disclosure: Long precious metals. Short: XLF, KBE