Linn Energy (NASDAQ:LINE) has become one of the largest MLPs in less than a decade, but last year it had an unusually volatile year. This year, after the fuss was settled, the company has returned to running its business. But a dark cloud of uncertainty has not gone away, giving investors an opportunity to buy its securities with yields over 9% in a low yield environment.
This company has grown through acquisitions and has completed 60 transactions worth $15 billion since its IPO in 2006. LINE has 6.4 billion cubic feet Equivalent (BCFE) in proved reserves with a reserve life of about 16 years. Almost 2 years ago, it had an IPO for LNCO, which raised $1.3 billion. LNCO is a corporation that pays dividends without tax hassle of MLP distributions and can be used by LINE to buy energy corporations.
The business of LINE is different than most other MLPs, which invest in pipelines to transport energy products (largely oil and gas). LINE is an upstream company that pulls energy from mature energy properties by using new technology, such as fracking, to obtain more oil and gas. These properties are being depleted with a limited life expectancy. LINE develops and maximizes cash flow from these properties to bring higher cash flow for increased distributions.
Linn Energy Properties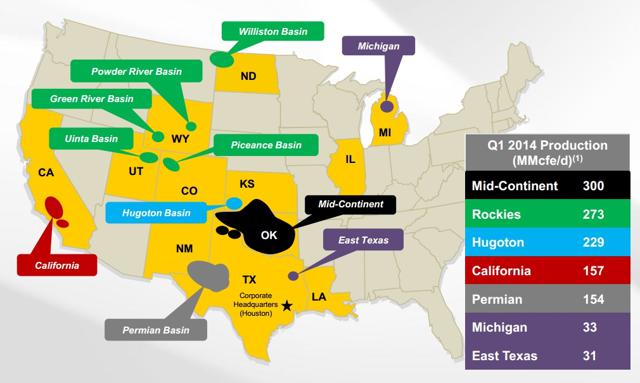 Last year was a year that management would rather forget. It started with a proposed acquisition of Berry Petroleum to increase LINE proved reserves from 4.8 Bcfe (billion cubic feet equivalents) to 6.4 Bcfe in Mid-Continent, Permian Basin, California Rockies, Hugoton Basin and Michigan. Then the world of LINE seemed to collapse.
Negative articles were written questioning accounting practices, saying that management was improperly accounting for puts that it sells on future production, calling into question the ability to maintain the distribution. However, much of this analysis came from money managers who were short LINE, giving a vested interest in promoting negative articles, which brings on selling. LINE units plunged 50% to the low 20s at mid-year. Since then LINE has been climbing back into the low 30s.
LINE - 2 years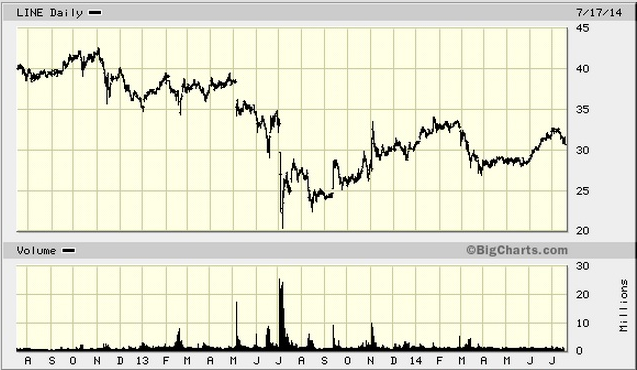 The SEC requested additional financial information from LINE and the Berry acquisition was not able to close in June. The SEC inquiry did not raise red flags and stockholder approval for the Berry merger in December was routine (after the company agreed to issue more LNCO shares to Berry shareholders). Following the commotion, 2 weeks ago a federal judge dismissed with prejudice a class action suit.
LINE continued its acquisition ways. Last September it bought the East Goldsmith Field in the Permian Basin (western Texas) for $525 million. The field has proved reserves of 30 Million Barrels of Oil Equivalent (MMBoe) with about 70% in oil and reserves that are expected to last 17 years.
2 months ago, LINE agreed to trade a portion of its Permian Basin properties to Exxon Mobil (NYSE:XOM) for interests in the Hugoton Basin. LINE will receive production of 85 million of cubic feet equivalent per day (MMcfe/d) with total reserves of about 700 billion of cubic feet equivalent (Bcfe). There are 400 future drilling locations, which will double the company's locations in the Hugoton Field. Annualized net cash accretion (available for distributions) is expected to be $30-40 million.
LINE is trading 25,000 acres it owns in Midland Basin and 1,000 acres in New Mexico. After the trade, LINE will retain 30,000 acres with 15 Mboe/d of production in Midland Basin and give up 2.0 MBoe/d production in the trade. While profitable, this land is very capital intensive and would take years to develop.
Then 3 weeks ago, LINE agreed to buy properties in 5 areas from Devon Energy (NYSE:DVN) in the Permian Basin for $2.3 billion. The properties produce 275 MMcfe/d with 80% of the production in natural gas with proved reserves of 1.242 trillion cubic feet of gas equivalent (Tcfe). Total proved reserves are estimated at 1.3-1.5 Tcfe with a potential of 3 Tcfe. The properties include 900,000 acres in the Rockies, Mid-Continent, east Texas, north Louisiana and south Texas with approximately 4500 wells. These deals are part of a strategy to develop the Permian Basin.
This acquisition will be financed through the sale of the Granite Wash assets and other non-producing acreage, part of the company's 2014 plan to realize value from the Midland Basin position with accretive acquisitions.
2014 production is guided at 1.07 - 1.14 Bcfe/d, based on organic growth of 3-4%. The $2.90 distribution is guided to be fully (but barely) covered in 2014. While that's a kind way of saying there will be no increase because of very thin coverage, it also suggests that the current rate should be continued (not reduced). A bonus for security holders is that last year the company switched from quarterly to monthly payments for distributions and dividends. Longer term, the 2 recent deals will save $400 million in annual capital expenditures, money that can be used for distributions and future increases.
LINE is one of 3 MLPs that have stock equivalent corporations, giving a choice when investing. The LNCO dividend (paid with money) matches the distribution on the unit, will be nontaxable through 2018, and LNCO is selling at a 3% discount to the unit price of LINE. LINE at $30.97 yields 9.4% and LNCO at $30.00 yields 9.7% (both with tax advantages) because the tumult last year has made new investors wary. This year the Alerian MLP Index surged from 463 at the start of 2014 to 520 for a gain of 12% while LINE is up less than 1% YTD.
I have liked Linn Energy for 3 reasons. First, management survived a significant challenge last year. Despite protests about accounting, the SEC review was a non-event. Second, the company keeps making acquisitions for growth with earnings that are accretive. And third, the yields feel good when the Federal Reserve continues to give signals that the period of lower interest rates will last for a "considerable amount of time."
Higher yields carry added risk. That and a high short position deter some investors. The short position for LINE was 9.1 million one year ago (peaking at 13+ million in December 2013) and on June 30, 2014, has risen to 9.3 million. Meanwhile daily volume, almost 12 million last July, has fallen to a little over 1 million currently. The risk trade has calmed to some degree.
There are doubts about management's ability to earn enough to support the distribution. Last year, management guided a distribution/dividend increase in Q4-2013 and that did not happen because of the disruptive negative press, SEC inquiry and lawsuits. Also, additional LNCO shares issued for the Berry merger will delay a distribution/dividend hike. However, the distribution was maintained during the recession in 2009 when doubts caused the yield on LINE to skyrocket above 22%. Courageous investors who bought then have done very well. LINE and LNCO are for brave investors who want rising income after capital appreciation has been uneven this year. Popular stock averages have had a limited rise this year, which includes a significant sell-off in January.
A key strategy for LINE is purchasing conventional assets with low maintenance costs to provide free cash flow for years to come. The LNCO IPO is significant for future growth. It raised a substantial sum of money, welcome by any MLP, and provides shares, which can be used to acquire energy corporations such as Berry. With last year's difficulties over, management is able to spend more time on acquisitions to bring higher distributions/dividends.
LINE and LNCO are made for income-oriented investors. LNCO shares have a slight advantage over LINE units with a higher yield and without additional tax hassle on dividends that will not be taxable for 4 more years (at least).
Disclosure: The author is long LNCO. The author wrote this article themselves, and it expresses their own opinions. The author is not receiving compensation for it (other than from Seeking Alpha). The author has no business relationship with any company whose stock is mentioned in this article.