Conclusion: Investors should reconsider their holdings in closed-end funds ("CEF") investing in municipal bonds as we may be nearing a correction in their share price.
Summary: In October of '08, I penned an article entitled, "CEF Muni Price Relationship with Muni Spread Highlights Current Wide Divergence—LEO, KTF, MVG" (10/5/08)[i], making the case for investing in muni CEFs.
On average those stocks listed in the title of the report are up 77.8% on an adjusted basis.
I now believe its time to consider reducing positions in muni CEFs for the following reasons:
Leverage: The following chart is a price comparison of the Joe Eqcome CEF Muni Price Index versus the iShares S&P National AMT-Free Muni Bond Fund (NYSEARCA:MUB) both indexed to the 9/30/10.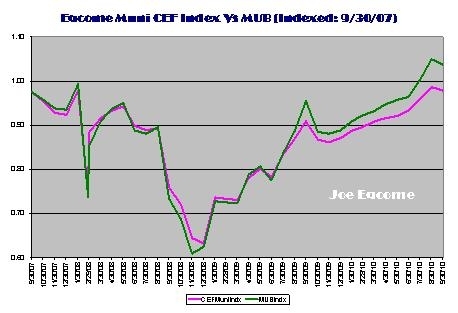 There are many differences between the average Muni CEFs and the muni ETF (MUB). A significant difference between the two is that MUB is effectively unleveraged and 87% of the 87 muni CEFs in the Eqcome database employ some form of leverage (on average 34%).
Baked Into the Cake: To a significant degree, the market has priced in that difference with the Muni CEFs trading at a pre-tax yield of 6.2% versus a comparable 3.6% yield for MUB.
As the chart demonstrates, the prices have been tracking fairly closely until late '09. As of late, the spread between the two is beginning to widen as well as turn down.
Leverage Concerns? This widening spread could be a function of investors' concerns that muni CEFs' debt is becoming a more important investment consideration — particularly with the regards to monetary easing leading to greater inflation resulting in higher interest expense on low "default" interest rates on ARPS.
Additionally, there is also looming the issue of state budget being balanced and the lag in state revenues once an economic recovery takes hold. Check out California — $19.1 billion budget deficit after massive cuts in spending.
Muni CEFs Trading at a Premium: Another ominous sign for muni CEFs is that on average they are trading at a premium. The last time that occurred was briefly at the end of 1998 as the chart demonstrates below.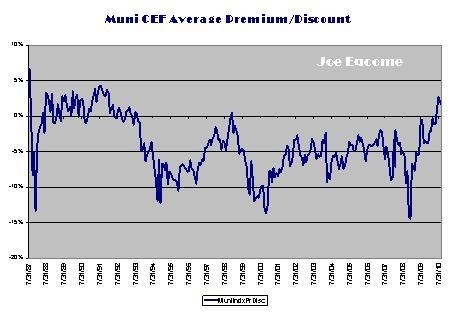 Muni CEFs of Note: A quick scan of the Muni CEFs turns up two Eaton Vance funds with the highest level of leverage, trading at a premium and sporting higher than average expense ratios.
They include Eaton Vance Muni Income Fund (NYSE:EVN) and Eaton Vance Muni Bond Fund II (NYSEMKT:EIV). I have not studied the portfolios to any significant detail so investors should seek additional guidance on specifics.
Morningstar rates EVN 2 stars on a historical performance basis (5 stars being the highest) and classifies it at higher than average on risk and lower return relative to its peer group. EIV is classified as 1 star and also shares the relative high risk and lower return versus its peer group.
Shorting muni CEFs is not recommend for retail investors as Muni CEFs make monthly distributions for which investors would be responsible.
This article is a wake up call for retail investors to review their muni CEF holdings.
Disclosure: No positions

[*] All things being equal, price and NAV should move in tandem. A price movement greater than the NAV generates a positive PrcNAVSprd and may be interpreted as negative on a near-term basis and indicate that the stock is overvalued relative to its NAV which in theory is the stock's intrinsic value. The opposite would be true for a negative PrcNAVSprd