There are times when you can just tell an new ETF is going to be popular.
On 10/28/2010, Van Eck launched its Market Vectors Rare Earth/Strategic Metals ETF (NYSEARCA:REMX). Not only does the Market Vectors brand name carry clout with its commodity company line-up (e.g., agribusiness, coal, goldminers, etc.), but the intrigue surrounding "rare earth metals" is as sharp as a Ginsu blade.
Here's a quick rundown on the case for rare earth metal investing: Big corporations use rare earth metals for precision-guided weaponry, hybrid cars and flat-panel screens. China accounts for 97% of the world's rare earth metal production, and frequently hints at reducing its exports. Ergo, in a world where demand for the 15 rare earth elements increases exponentially, supply shortages will create havoc.
Enter Market Vectors Rare Earth/Strategic Metals ETF (REMX). On the surface, the name gives one a sense of comfort that he/she is hedging against Chinese manipulation of the rare metals market. Of course, that really won't be the case.
REMX is not tracking a basket of actual commodities… it is tracking a dynamic index of specialty miners/refiners/producers. REMX intends to expose investors to 24 small- and medium-sized publicly traded businesses that relate to the mining/refining or manufacturing of rare earth, "slash" strategic metals. REMX is not focused exclusively on the 15 rare earth elements cited above, but up to 49 of the metallic elements that are deemed strategic.
Believe me when I say… I'm not complaining here. Van Eck is providing a means for everyday investors to gain diversified, rare earth exposure.
With that said, investors must recognize that they are not dealing with the spot price of commodities, nor are they dealing exclusively with the so-called "rare earth" variety. Moreover, the companies in the index come mainly from Australia, Canada and the U.S., followed by China and Japan. For better or worse, you have less rare earth production exposure and more rare earth exploration exposure.
If REMX is an investment that you're going to consider, you'll have to throw fundamentals out the window. The Current P/E of 38.8 and the price-to-book of 4.54 are somewhat daunting.
Nevertheless, I expect rhetoric from government officials in the U.S. and in China to continue fanning the "rare earth" flame. Combine government chest-thumping with investor desire as well as genuine demand… REMX will likely travel a similar path as Market Vectors Junior Gold Miners (NYSEARCA:GDXJ).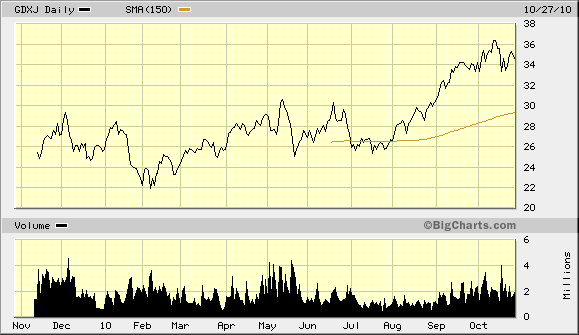 Disclosure: Gary Gordon, MS, CFP is the president of Pacific Park Financial, Inc., a Registered Investment Adviser with the SEC. Gary Gordon, Pacific Park Financial, Inc, and/or its clients may hold positions in the ETFs, mutual funds, and/or any investment asset mentioned above. The commentary does not constitute individualized investment advice. The opinions offered herein are not personalized recommendations to buy, sell or hold securities. At times, issuers of exchange-traded products compensate Pacific Park Financial, Inc. or its subsidiaries for advertising at the ETF Expert web site. ETF Expert content is created independently of any advertising relationships.