Market Vectors Egypt ETF (NYEGPT) has fared extremely well this year, rising over 28% YTD and over 53% if you stretch chart. With election of General al-Sisi, Egypt's economy is poised for further growth as investors from the West flock back to the Nile and are greeted by a pro-business government.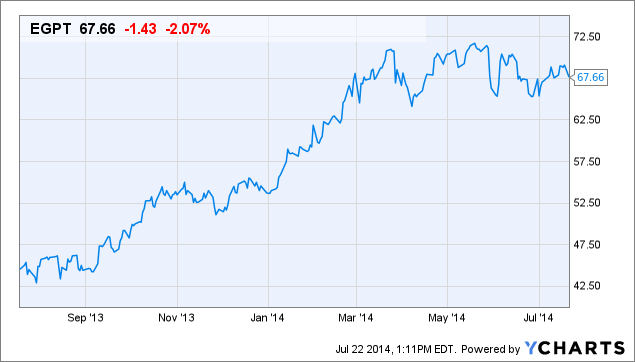 A Quieter Situation
Over the past few months,international focus has shifted from the Arab Spring to more pressing matters in Ukraine and the Levant. General Sisi's swift consolidation of power has been applauded by many who see his presidency as a return to normalcy. Earlier this month, the Sisi government rolled out a long-awaited reform and removed a large part of its fuel subsidies. Natural gas rose by 175%, yet protests were minimal, a sign that the days of gathering on Tahrir Square are perhaps gone.
General Sisi has pointed to Turkey's economy as being a success story that he will likely seek to replicate. The removal of costly subsidies is already a good step in the right direction, however much more will be needed.
Foreign Investment
The return of foreign investment is pivotal to the growth of the Egyptian economy. Under the days of the Muslim Brotherhood,investor confidence plummeted and it is likely it will take years torebuild what was lost. That being said, large, long-term investments by multinationals show a quick change of heart is possible.
This week Vodafone (NASDAQ:VOD) announced that its Egyptian subsidiary will invest $1.3 billion in the next three years. Last month, PepsiCo (NYSE:PEP) and Almarai, a Saudi Arabian diary company, announced a joint venture that looks to invest as much as $560 million over the next five years. Coca-Cola Co (NYSE:KO) was one of the first to lead recommence large-scale investments, with its $500 million investment plan back in March. Other Western firms could follow suit and make similar investments as Egypt's economy continues to grow.
The ETF
EGPT is has heavy exposure to Egypt's financial and telecom sector. The ETF is made up of 26 holdings, 17% of which are traded outside of Egypt (many large Egyptian companies seek to be listed on foreign exchanges to attract more capital). The ETF is relatively small with under $70m in net assets.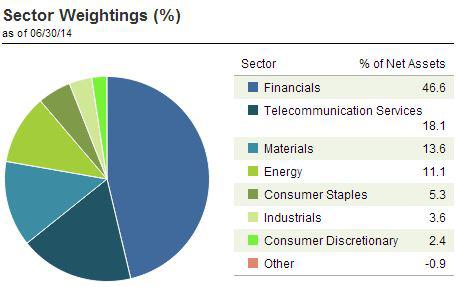 Image from Van Eck Global
EGPT's top holding, Commercial International Bank Egypt Sae (OTCQX:CIBEY), had strong first quarter results, growing both net-income and revenues. In general, Egypt's financial sector appears to be strong and ready to invest once consumer demand has picked up.
Another top position, Egypt Kuwait Holding Co., an investment company, looks to profit from fuel subsidy reforms. The firm also showed strong Q1 results and revealed long-term optimism from management. Paired with foreign investment, these local firms are bound to continue to perform well.
Conclusion
While EGPT has had a nice run since bottoming in June 2013, the ETF still has room for further growth in the next year. One should certainly keep an eye on developing local politics as the rose-tinted view of General Sisi wears off. However, Egypt remains an emerging market with a growing population and is likely to be another economic success story if political tensions stay under wraps.
Disclosure: The author is long EGPT. The author wrote this article themselves, and it expresses their own opinions. The author is not receiving compensation for it (other than from Seeking Alpha). The author has no business relationship with any company whose stock is mentioned in this article.