Overview
Dex Media (NASDAQ:DXM) is an overleveraged firm in a declining business and this distress has led to an overreaction and hence an incredible opportunity in the firm's common stock.
This pitch will be short and sweet. The common stock is a play on Dex's capital structure. In distressed situations, common stock behaves more like a "call option" than typical equity. The downside is considerable, but limited, relative to the possible return potential in a bull case.
Houlihan Lokey is an investment bank that offers some of the best advice in distressed situations. "Buying and Selling the Distressed Company" is their famous case study on bankruptcy and distressed investments, and I suggest any investor looking for more colour on this type of situation to read it. It's especially pertinent in this example, as Houlihan Lokey advised Dex on their most recent bankruptcy. Here's a more extensive quote from the case study on Page 17 about the "call option" behavior highlighted above:
In a Chapter 11, given the current value of the Company, the Ruffs likely will receive very little, or nothing, on account of their shareholdings. As majority equity holders, however, the Ruffs effectively hold a "call option" tied to the Company's performance. Their downside is limited… However, as long as the Ruffs maintain their equity position, they continue to enjoy the potential of an upside "call option" should the Company be successfully turned around, accrete in value and potentially become worth substantially more than the debt.
If the firm value is less than the firm's debt, the common stock is theoretically worthless. In highly leveraged situations, however, good performance can result in rapid price appreciation as investors begin to believe that cash flow will reach common stockholders.
Thesis
Dex Media publishes yellow and white page directories and sells advertisements for small businesses in the physical directories and online. The firm currently generates ample free cash flow for paying down debts. Below is a chart to illustrate: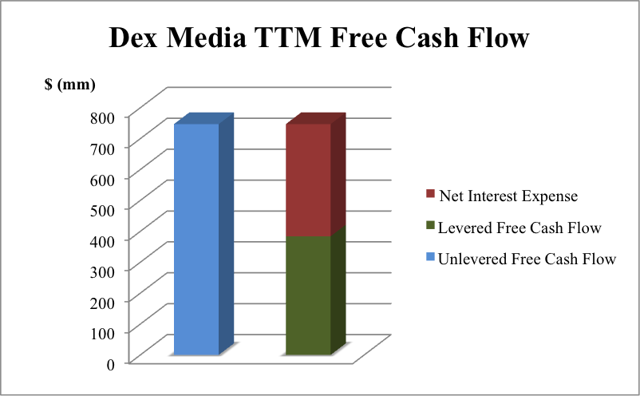 Some napkin math shows that Dex trades at nearly half the firm's annual free cash flow. The firm generates a healthy amount of cash flow for debt service and has wiggle room for the business to decline and still stay solvent.
Dex's cost of financing is also currently ~10%. A refinance of the firm's long-term debt to a lower interest rate would result in a significant portion of the red bar falling straight to the bottom line.
Sales trends are very important for modeling future cash flow. The current sales trend for Dex is a mid-teens decline per annum in its print business and high single-digit/low double-digit growth in its digital business. If these trends hold, Dex will be able to pay down all of its debts over time and then some, which would go to common stockholders. However, if digital growth decelerates, covenants in the firm's debt could be triggered and the common stock would perform poorly, as the market would believe it is less likely for stockholders to receive the firm's cash flow.
Thankfully, Dex is not materially exposed to the worst problem that occurs when debt covenants are triggered: "the spiral of distress". On Page 7, the HLHZ case study outlines this phenomenon, which occurs when business partners become less desirable because of their financial distress and the problem becomes self-compounding. Dex does business with 500,000+ small businesses, so it is less likely for one business partner to feel overexposed. Also, Dex and its subsidiaries have been in a state of distress ever since the financial crisis, so if they haven't moved on yet after three parent company bankruptcies, it is unlikely that they will.
The firm trades far too cheaply considering its current and expected levels of distress in the next few years.
Valuation
The key point with valuing Dex is that due to its large debt load, ratios based on enterprise value look reasonably priced while ratios based on market capitalization look dirt-cheap. To put this in perspective, below is a graph of the market capitalization of the firm relative to its net debt: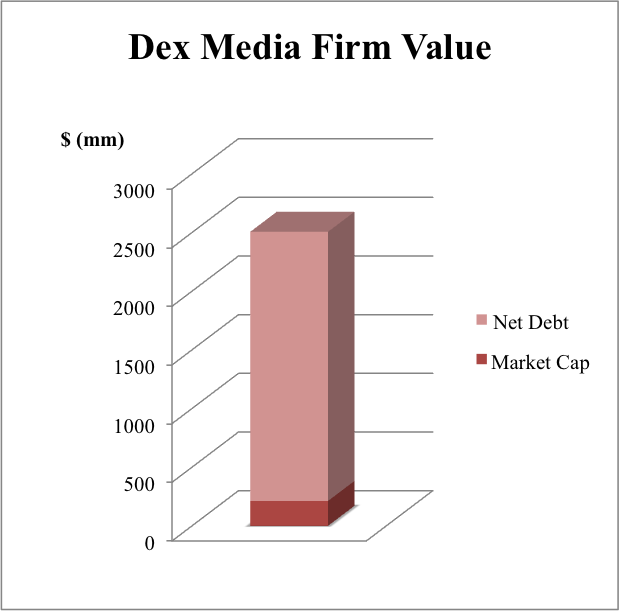 As you can see, the firm's net debt position is over ten times the size of the market capitalization. In a stable financial situation, this sliver would make up a much larger percentage of the total, and that is where the return potential originates.
| | | | |
| --- | --- | --- | --- |
| Price Ratios | | EV Ratios | |
| P/S | 0.10 | EV/S | 1.20 |
| P/EBITDA | 0.26 | EV/EBITDA | 3.02 |
| P/OCF | 0.52 | EV/OCF | 6.19 |
| P/FCF | 0.55 | EV/FCF | 6.53 |
Source: Company Filings
Distressed companies trade on enterprise value ratios because debtholders receive compensation first in the event of bankruptcy. As situations improve and bankruptcy becomes less likely, price ratios begin to matter more and the stock price increases to come closer in line with competitors. There are no companies similar enough to Dex for comparable companies analysis, but there is not a business I wouldn't own at 3x FCF that is relatively stable with no risks other than declining cash flow.
Conclusion
My 2016 free cash flow estimate in the most probable scenario is $317 million. At a P/FCF of 3x, the shares are worth ~$55, or 4.5x the current share price. This is a conservative and logical scenario where FCF falls 20% per annum before a $40-45 million boost from a refinance to a 7% interest rate in 2016.
Distressed situations with good risk-reward exist because investors dislike uncertainty. According to a friend and buy-side analyst at a non-distressed shop, Dex's common stock has a great risk-return profile but would never get through his fund's investment committee because of the uncertainty. If the situation improves, he thinks his fund is a buyer.
A careful calculation of the risk-reward potential before a non-distressed fund would consider the investment whatsoever can result in an attractive calculated risk, and I think this is a perfect example of such a situation.
Disclosure: The author is long DXM. The author wrote this article themselves, and it expresses their own opinions. The author is not receiving compensation for it (other than from Seeking Alpha). The author has no business relationship with any company whose stock is mentioned in this article.