Auto supplier stocks continue in an under the radar bull market... yesterday morning BorgWarner (NYSE:BWA) reported another impressive quarter, and raised guidance. EPS of 71 cents vs analysts 63 cents.
Technically, the stock looks very similar to Las Vegas Sands (NYSE:LVS) six weeks ago but BWA will have a difficult time putting on any sort of similar run as it is not the target of speculative traders, nor does the market have much chance of having a 6 week run as we have just exited. That said, it broke out nicely over a two week range late in the day yesterday so I've added about a 1% stake since I've sold some long exposure in other areas this week. (Click to enlarge)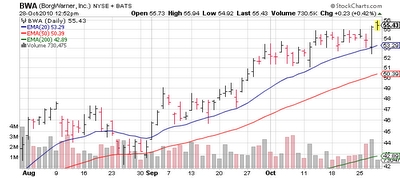 As much as I have liked this sector, we have an issue of commodity inflation to deal with - much like in late 07 through mid 08, we are starting to see a host of companies in various sectors complain about increasing commodity prices. Remember this? [May 17, 2008: WSJ - Fast Rising Steel Prices Set Projects Back] As Ben "succeeds" in causing a ramp in commodities, we can now begin to think about all the names we were shorting 3 years ago as candidates to face the fire again - restaurants are the first group that come to mind. Some clothing companies already are starting to whine as well about their input costs. Oil has remain contained thus far, and nat gas is in a complete dump - which is the main difference thus far from the speculator, margin driven excess in commodities 2.5-3 years ago. Energy costs are the broadest tax on the economy.
As I said about 5-6 weeks ago when QE2 was being celebrated (of course it still is) it's a short sighted euphoria. In fact, if corporations truly want to maintain profit margins in an environment where they cannot pass Bernanke's commodity inflation onto the end consumer (which I doubt they can), the great irony will be Ben will contribute to a worsening labor situation in the U.S. as companies cut labor to keep margins flat. Someone needs to eat this cost - its either going to be the consumer or the producer. The U.S. consumer simply cannot handle large scale inflation anymore, since wage pressure has decimated the middle class; hence companies will have difficulty passing along cost increases. Ben seems to live in 1978 still where he thinks inflation in goods will be passed to the consumer, who will demand higher wages, and companies will be happy to comply.... rather than to send that job to Chindia. But for now the market remains in ignorant bliss other than the individual corporate reports where costs have already risen to a point they are infecting profits....let's check back next summer; if commodities continue at current pace we have a stagscrewflationary mess on our hands.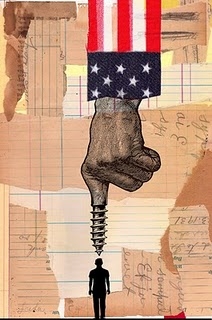 (cartoon courtesty of reader Anthony Freda - www.AnthonyFreda.com)
Anyhow, I digress...
Back to this sector, there are a few companies that aside from the cyclical rebound (however mild) in the auto sector, are benefiting from secular changes in their sub sector. BorgWarner is one of them as more and more content finds its way into autos, so hopefully some of that secular growth can offset the coming cost pressures.
BorgWarner makes turbochargers and transmission parts that are in demand due to increases in fuel-economy standards.
Sales in the business segment that makes turbochargers and timing components rose 38.6% in the third quarter, while sales in the unit that produces transmission components were up 33.8%
Including the 8 cent beat for this quarter EPS for the year should be closer to $2.90 (perhaps higher) versus the consensus $2.80. This gives a forward PE of 19 for the year (which ends shortly) - not cheap for an auto related stock. Next year's $3.50 however should be closer to $3.75 assuming QE2 does not cause another 50-100% ramp in every commodity on Earth. Also impressive to find a company in this sector actually purchasing back shares.
Via
AP
: (my comments in parenthesis)
Auto supplier BorgWarner Inc. on Wednesday said its

third-quarter profit rose more than sixfold, as sales of its powertrains shot higher, particularly in Europe and China. The strong results led the company to raise its forecast for the year.
For the three months ended Sept. 30, BorgWarner posted net income of $106.7 million, or 87 cents per share, compared with 17.2 million, or 15 cents per share, a year ago. Excluding a $21.2 million gain related to foreign tax credits, adjusted earnings were 71 cents per share.
Analysts polled by Thomson Reuters, on average, expected profit of 63 cents per share.
Revenue shot up to $1.41 billion from $1.03 billion last year. Wall Street projected revenue of $1.28 billion.
Chairman and CEO Timothy Manganello said the quarter's results reflected new business growth. "We grew in every major region of the world, most notably

in China where our sales were up nearly 70 percent," he said in a statement. China now accounts for about 6 percent of the company's overall sales and sales there have nearly doubled in the past year.
Shifts in Europe toward vehicles with higher BorgWarner content, including diesels, also drove sales higher..
The company said it repurchased about 1 million shares of its common stock during the quarter. (they have 114M outstanding, 112M outstanding)
Guidance
BorgWarner now expects to post profit for the year of $2.85 to $2.95 per share, excluding one-time items, up from its prior forecast of $2.60 to $2.80 per share. Wall Street is expecting $2.80 per share.
The company said it now expects revenue growth of 40 percent over 2009, when it reported $3.96 billion in sales. That's up from a prior forecast for growth of 32 to 35 percent, and implies $5.54 billion in sales for 2010. A
Disclosure:
Long BorgWarner in fund; no personal position