As I have discussed often, dividend investors for retirement have a unique strategy that affords us the ability to maintain an income stream that has historically moved higher in both good and bad times, bull and bear markets, as well as market corrections.
I wrote this article which did not even look at the share price and only focused on income. That being said, there are situations that could give all investors pause to review their portfolio holdings.
The Current Market Seems Fairly To Modestly Highly Valued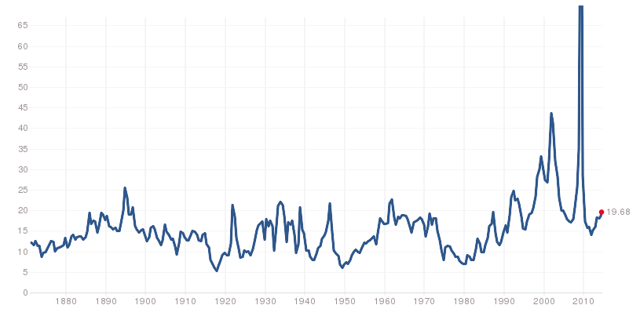 While the current PE ratio of the S&P 500 is at 19.68, the averages over the years has been 15.52 as a mean, and 14.46 as a median.
Not very high, but also higher than the two averages.
Even the biggest blue chip mega cap stocks could get ahead of itself in a bull market. That being said, there is absolutely no reason to sell 99% of all of these stocks during or after a correction. If my crystal ball worked well enough I would always sell my stocks the day before a correction and buy them back just as the correction ends, but since I do not have a good crystal ball and there are no technical charts that are certain enough to time the markets, I will simply stay on the sidelines and watch the parade go by, or start buying the dips and adding to my positions.
Playing Defense Is A Good Offense
What I make sure during peak market cycles (and I am not suggesting we are at one yet), is that I have enough of my core positions in defensive stocks.
The four companies that I personally feel are the best defensive stocks are Procter & Gamble (NYSE:PG), Johnson & Johnson (NYSE:JNJ), Coca Cola (NYSE:KO) and Exxon Mobil (NYSE:XOM). Obviously everyone has their favorites but these 4 represent my most important basics.
Huge global footprints
Brand names that nearly every consumer is aware of, either by product or just the name itself.
A cross section of the most vital sectors as a human race; energy, food, consumer staples, and healthcare.
Finally, a history of paying dividends and increasing them during any economic environment.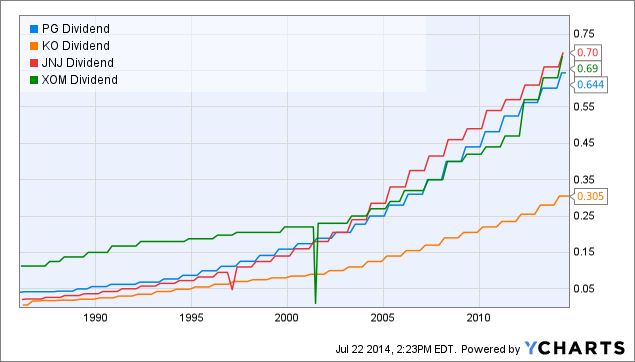 The dips are split adjusted, not decreases. PG and KO have increased dividends for over 50 consecutive years right now. JNJ and XOM are both over 25-30 consecutive years.
Not only that, but the historical pricing has always been up for these blue chips.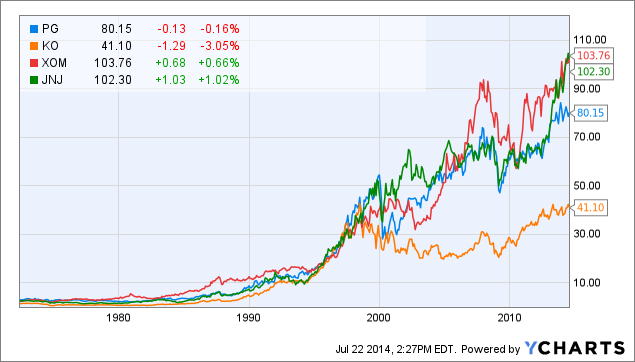 One could argue that if an investor bought at the wrong time, they might have suffered capital depreciation, which of course is a valid argument, however, these four stocks alone would have kept paying you a dividend through the majority of economic crises that anyone still alive had gone through as a working adult.
Some have had better track records than others, but if a dividend investor had purchased just these 4 stocks alone, to prepare for retirement, the reinvested dividends would have set the stage for exponential growth when the income was finally needed.
Let's just take KO as an example, simply because some investors are grumbling about today's earnings report, however here are the highlights.
Global unit case volume grew 3% in the quarter and 2% year to date. Coca-Cola International volume grew 3% in the quarter while North America volume was even.
Sparkling volume and brand Coca-Cola volume accelerated in North America, Eurasia and Africa, Europe and Asia Pacific in the quarter.
Global price/mix increased 2% in both the quarter and year to date.
Reported net revenues declined 1% in the second quarter and 3% year to date. Excluding the impact of structural changes, comparable currency neutral net revenues grew 3% in both the quarter and year to date.
Reported operating income declined 2% in both the quarter and year to date. Excluding the impact of structural changes, comparable currency neutral operating income grew 5% in the quarter and 6% year to date, resulting in improved operating margins while we continued to invest for growth in our brands with our global system partners.
Second quarter reported EPS was $0.58, down 1%, and comparable EPS was $0.64, up 1%. Comparable currency neutral EPS increased 6%.
Year-to-date cash from operations was $4.5 billion.
Not too shabby, but more importantly is what our dividend income strategy has offered shareholders for the long term.
Using an investment calculator, here are what 1000 shares of KO would be worth right now if you had purchased it 30 years ago: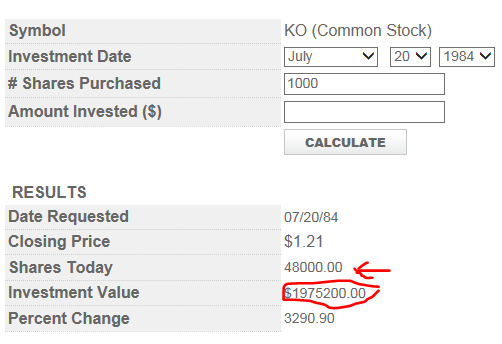 $1,975,200 with 48,000 shares, just by reinvesting all dividends and on a split adjusted basis. If you owned 48,000 shares of KO right now, your income from that one stock alone would be more than $58,000 per year, right now. Is there any question as to why KO is Warren Buffet's favorite stock?
The other 3 are not as dramatic but each would have a percent change in the thousands as well. Simply by owning these four defensive stocks, for 30 years, dividends reinvested until today, split adjusted, your annual income would be well over $150,000. Even if the bottom fell out tomorrow, and the share prices of these 4 stocks collapsed by 50%, as long as the company paid a dividend (even without increases), just about any investor could "weather the storm".
What About The Investors Just Starting Out?
Obviously we cannot go back in time and plunk down the money in these stocks, and past performance is not an indication of future results, an investor who simply wants to play defense in a "what if" market, I can think of no better way to invest than with dividend champion mega cap blue chip stocks over the long haul.
One of the keys to having somewhat similar success as those in the past, is NOT to head for the hills by running from these stocks out of fear and panic.
Focus on the end goal (income) and stay disciplined to your strategy!
Disclaimer: The opinions of this author are not recommendations to either buy or sell any security. Please remember to do your own research prior to making any investment decisions.
Disclosure: The author is long KO, JNJ, XOM. The author wrote this article themselves, and it expresses their own opinions. The author is not receiving compensation for it (other than from Seeking Alpha). The author has no business relationship with any company whose stock is mentioned in this article.