Introduction:
As an investor, I count myself among those who use the strategy known as Dividend Growth. For my own investing, tied into that strategy is the factor of valuation. Now, valuation becomes a sticky subject for some people, as investors have their own individual methodologies for stock selection. While some might find that a specific fundamental or technical benchmark is more important than another benchmark, we each have our own metrics for making a stock selection decision. And that's fine. If your own set of benchmarks works for you and has given you a measure of success, then continue to use those metrics.
What I Know:
I enjoy reading articles that "promote" a particular stock. There are folks out there who do a very good job of providing information as to why a given company appears to be a compelling value at any given point in time. By the same token, I like to look at the articles that suggest a particular company is not a solid value play and I like to look at the reasons that both authors present to make their case, either pro or con.
What has served me well over the years has been to define my own metrics and use those, first as a screening tool and then to "peel back the onion" and discover if my screening results have any gems in the stack. While I might find that a specific stock warrants a purchase, you may not. That's fine. No problem. We all have individual goals and expectations with the stocks that we choose to add to our portfolios.
Again, as a DG investor, I tend to choose companies that pay a dividend. That does not mean, however, that I will rule out what appears to be an obvious value target that does not happen to pay a dividend.
For the most part, though, my purchases are dividend paying stocks, some which are found in the Dividend Champion, Contender, and Challenger lists and some that have not made that list yet. Valuation is the key for me and I like to focus on those companies that have not only a dividend component, but also have some upside in potential capital appreciation. As someone who reinvests dividends and who tends to make purchases of companies that I want to own for a long time, my portfolio tends to "get out of balance" and I choose to rebalance that portfolio at least once a year, sometimes twice.
What You Should Know:
I have posted articles on three of my portfolios. I've posted "The Perfect Portfolio" (a taxable account); "The Common Man Portfolio" (my tax deferred IRA account) and "The Portfolio For Do It Yourselfers" (a tax deferred account owned by my children). You can look at those portfolios in the "articles" section of my Seeking Alpha account.
Value Investing And Why It Matters:
One of the most compelling factors in any portfolio is "length of time in the market." As someone who buys for the long haul, I've found that companies that I've owned through good markets and bad markets have done well. Especially when dividends have been reinvested and especially when additional purchases of those holdings have been made at times when the individual stock became a value.
By the same token, there is a time to pass on making any major additions to existing positions when they are not at a value price and passing on making completely new purchases of companies that do not reflect a value. So, for example, I personally would not be adding Coca-Cola (NYSE:KO) to my holdings, nor would I be making a purchase of it here if I did not currently own it today.
Some Life-Changing Events:
I recently sold a home that I owned in California. After sitting down with my tax advisor there will be capital gains taxes owed on this house, since it was not a primary residence, but was a second home. California will get its cut of taxes owed, as will Mississippi, and the Feds. Suffice to say, there will be money left over for two purposes. First, we will be using some of the money to purchase a beach house on the Gulf of Mexico for our retirement home and second, there will be money left over to invest in the market.
While some of this money will go to the continued funding of our Roth Accounts (mine and my wife's) the majority of the remaining funds will be invested into the taxable account with new purchases to be made in the coming months.
I realize that the market is at "all-time highs" and while there appears to be few if any compelling bargains out there, we will move forward with investing our money into new holdings that are not currently in our taxable account. For the most part, these will be companies that pay dividends. They will be companies that we will want to hold for the longer term and before we purchase anything for this account, we will actually write articles about what we are planning to purchase and at what price point we are going to make a purchase.
It is my intent to make this series of articles completely transparent. So, I will not purchase any stock moving forward without telling you exactly what we are going to purchase and how much of an investment we will be making in each selection.
That way, you can follow along with our portfolio and you will be able to see how well or how poorly we do with our picks. In no way would I be recommending that you purchase any of the companies that we will be adding to the account, but instead, I want this to be clear and concise so that no one can argue that we are cherry picking or some other nonsense.
Since the account will be held at Schwab, updates on the dividend income/reinvestment; updates on price appreciation or decline; and everything concerning this portfolio will be, in effect, an almost real-time update once the investing begins. You can follow along or not. The intent is to show, over the next few years, how this portfolio is performing.
It should be a lot of fun.
The Perfect Portfolio, Recapped:
The Perfect Portfolio was constructed with money from maturing CDs beginning in 2009 and as each CD matured, we bought a basket of DG stocks to replace income lost from declining CD rates for my mom.
The holdings in this portfolio include Abbott (NYSE:ABT), AbbieVie (NYSE:ABBV), Colgate Palmolive (NYSE:CL), Chevron (NYSE:CVX), Intel (NASDAQ:INTC), Johnson and Johnson (NYSE:JNJ), Kimberly Clark (NYSE:KMB), Coca-Cola, McDonald's (NYSE:MCD), Altria (NYSE:MO), Microsoft (NASDAQ:MSFT), Procter & Gamble (NYSE:PG), Reynolds American (NYSE:RAI), AT&T (NYSE:T), Verizon (NYSE:VZ), and Exxon Mobil (NYSE:XOM).
The portfolio was completed in 2011 with all 3 CDs being allocated to the stocks that are currently in the portfolio. We have not made any changes to the portfolio since 2011 and have not added any new money to the portfolio. Our initial $300k has grown to $500k and dividends received have been used to fund expenses over and above our normal budget items. The income from the portfolio has been growing as each company in the portfolio has increased their dividends every year. There are a series of updates on this portfolio that you can review at the "all articles" section at my SA header. You can review the 2013 year-end update here.
Here's how the portfolio looks today: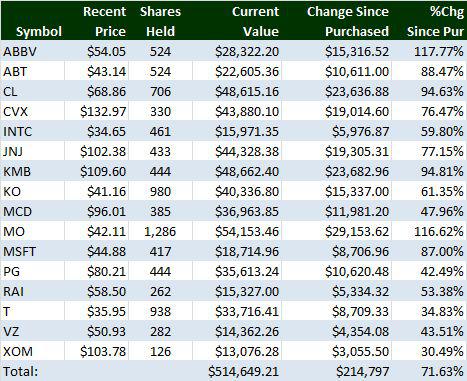 Moving Forward:
In the coming months, we will look at potential acquisition targets for our portfolio as well as taking a look at those companies that we currently own, as to holding, trimming, or selling them.
We will not take any actions without first writing about it in an article that may be published in the author's section of SA or if we have to, we will publish it in the SA Instablog section.
I am looking forward to what the next few months will bring and hope that you will enjoy this series moving forward.
Disclosure: The author is long ABT, ABBV, CL, CVX, INTC, JNJ, KMB, KO, PG, RAI, T, VZ, XOM. The author wrote this article themselves, and it expresses their own opinions. The author is not receiving compensation for it (other than from Seeking Alpha). The author has no business relationship with any company whose stock is mentioned in this article.