Blue Nile Inc. (NASDAQ:NILE), headquartered in Seattle, Wash., is an online retailer specializing in diamonds and fine jewelry. Started in 1999, they are now world's largest online retailer of diamonds. They offer lower end pricing compared to their competition, which has created popularity for the company to grow in the last few years due to the economy and people not wanting to spend as much on engagement rings and other jewelry. They offer a better option to those individuals who cannot afford to pay a premium for fine jewelry. Sometimes, a customer can save up to 50% buying from Blue Nile vs. some of its competitors.
Also, in 2013, Blue Nile partnered up with Nordstrom and implemented a small Blue Nile jewelry showcase in two locations, in Seattle and on Long Island. Blue Nile is currently the leader in online diamond jewelry sales, and if they ease into bricks-and-mortar stores allowing customers to see and feel the jewelry, that could help them gain market share from their competitors.
Revenue has increased year-over-year for four straight years, along with gross profit also increasing during the same period. Most of their revenue, roughly 70%, comes from the sale of engagement diamond rings. They are looking to expand into the non-engagement ring market as they only have a 0.2% non-engagement diamond market share. Blue Nile is also looking to grow internationally, especially in China, where Chinese e-commerce sales have taken off in recent years. CEO of Blue Nile Inc., Harvey Kanter, recently stated:
For us, international is a huge opportunity. Just one data point: China, the country marketplace, is about twice the size in our core engagement business in the U.S. We already have two offices in China. We're really trying to extend our relationship there. We have a good brand awareness overall, but that opportunity is really meaningful. ... Today we have storefronts in Guangzhou, Shanghai, and Beijing, and the expectation is that as we grow there will be more storefronts available for pickup and delivery, and we will continue to see the westernization of that consumer…
If Blue Nile can increase their market share and revenue in different international markets, especially China, watch for future year earnings to keep on increasing.

Source: Nasdaq.com.
Approaching Two-Year Support Level
The current channel has the stock approaching its two-year support level of $25.86 back in July 2012. NILE is currently in the longest consecutive negative monthly downturn since the IPO back in 2004, but that is due to it being -40% YTD. The key is to monitor whether or not the price nears the two-year support level in the next few weeks. If it gets near the two-year support level and breaks support, we might see a big selloff. However, look for it to test support, not breakthrough, and bounce back into the $35-$40 range.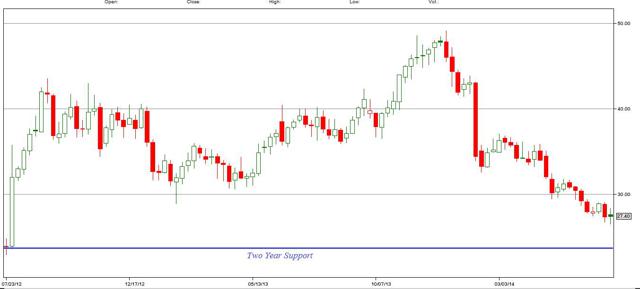 Source: Scottrade Daily Chart.
Drop-Shipping Reducing Expenses
One of Blue Nile's biggest competitive advantages is their drop-shipping business model. They do not own any inventory that is sitting in a warehouse, which allows them to purchase inventory from their suppliers only when a customer places an order. This unique sales model keeps inventory and accounts receivable accounts at a minimum because the customer places an online order and pays when they checkout. Due to not having much debt, the company's long-term debt to equity is only at 2.23%, which is incredibly low, compared to industry average of 36.67%. Their short- and long-term debt has decreased every year for the last three years.

Source: Yahoo Finance.
Friendly Buyer Website Interface
Another positive asset is their unique user interface when looking for jewelry on their website. The website allows the potential customer to select certain features they would like to be included in the search and all jewelry that meets the search criteria shows up in the results. The user can input the shape of the stone, the minimum and maximum price range, cut, color, carat size, and clarity. This very user-friendly interface allows the consumer to find a diamond, or other piece of jewelry, that matches their desired piece perfectly.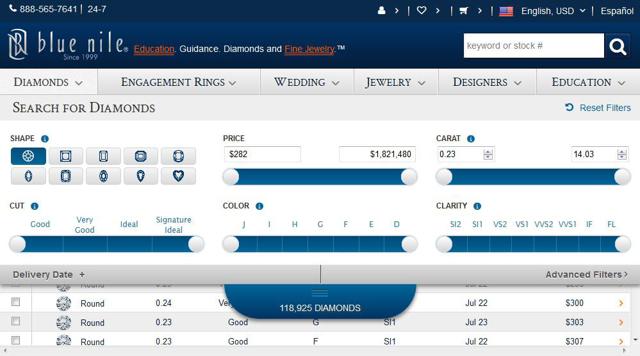 Source: Blue Nile website.
Biggest Competition
Their biggest competition in the jewelry industry is Tiffany & Co. (TIFF). Although Tiffany & Co. is the "hot" name in the jewelry industry, and their stock has a positive trend the last two years, their financials might tell a different story. Operating expenses outgrew gross profit in their last few fiscal years, which caused their net income applicable to common shares to drop 56% between those years. Tiffany averages having their inventory sit for over a year before they are able to sell it to customers.
Conclusion
Blue Nile has a great opportunity to rebound and grow 20% to 40% within six months. If it does not break through the two-year support level, look for a positive trend to take over. The longer-term horizon is more ambitious. If they can increase their market share in non-engagement ring sector, and become a leader in the Chinese economy, watch for the stock price to shoot back up and test the 52-week high.
Disclosure: The author has no positions in any stocks mentioned, and no plans to initiate any positions within the next 72 hours. The author wrote this article themselves, and it expresses their own opinions. The author is not receiving compensation for it (other than from Seeking Alpha). The author has no business relationship with any company whose stock is mentioned in this article.