Apple's (NASDAQ:AAPL) fiscal Q3 earnings performance was dominated by its two flagship devices, iPhone and iPad. While the iPhone continues to post very healthy year over year growth and set a unit sales record for fiscal Q3, the iPad is moving in the opposite direction with substantial year over year declines. In this article, I'll discuss what the current earnings report says about Apple's flagship products and prospects for Apple in the second half of the year.
Data Snapshot
In the table below, I summarize some of the most pertinent data from the earnings report, along with my model estimates, some of which I had published previously in my earnings preview article.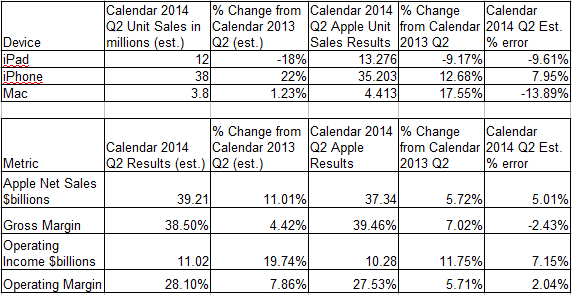 As the reader can see, my largest error was not in my estimate of unit shipments for iPhone, where I was very bullish, but in my estimate for Mac unit shipments. Let's first look at the Mac.
Mac: Defying the Market
Not too long ago I wrote an article, "Apple's Laptop Opportunity", in which I speculated that a low cost Macbook Air could substantially increase Mac unit sales. The catch: it would have to be priced about $500. Shortly after the article appeared, Apple rolled back the price slightly (by $100) for the base Air. Not enough to get into the notebook price sweet spot, but enough to test the demand for a lower-cost Air. Judging by the discussion at today's conference call and Apple's Mac unit sales, the response was quite strong.
Now that Apple has realized the growth opportunity that awaits a bargain Air, we shouldn't have long to wait for one. As I've suggested previously, an Air based on Intel's (NASDAQ:INTC) Bay Trail would provide the necessary cost savings to approach, if not achieve the $500 price point. After all, Intel's practically giving Bay Trail away, as I pointed out in my review of Intel earnings.
iPhone: Still Growing
At this juncture it's too early to tell whether the iPhone held market share (I'm still waiting for numbers from IDC and Gartner), but at least it's posting healthy y/y gains in unit shipments and revenue. A 12.7% unit shipment gain y/y is very respectable.
Once again, I credit the strong combination of 64-bit processor exclusivity and a superior iOS user experience. Even though the 35 million unit shipments didn't quite meet my very bullish expectations, 35 million was enough to set a record for fiscal Q3.
The widely expected larger screen iPhone 6 can only help sales. Will iP6 be enough to reverse the pattern of market share decline that has characterized iPhone over the past few years? In and of itself, I think not. I believe that only an engineered-from-the-ground-up low cost iPhone can do that. Although many Apple fans have argued against moving "down market," there is nothing in Apple's corporate DNA that would preclude an economy iPhone.
The situation with iPhone currently is analogous to a case where Apple only offered one type of Mac computer, let's say the Mac Pro, and then only offered older models of Mac Pro as low-cost alternatives to the current Pro. This clearly would be absurd. Yet this is essentially what Apple currently does with iPhone. Even the iPhone 5c is just an iPhone 5 with a plastic case. Imagine the derision if Apple offered one of the older tower Mac Pros with a plastic case as a low-cost alternative to the current Mac Pro.
Apple offers Mac in a variety of form factors and price points, and seems set to move even further "down market." Until Apple does the same with iPhone, its market share will continue to erode.
iPad: An Object Lesson
The current decline in unit sales of iPad provides an object lesson in what can happen if declines in market share are ignored. Declines in market share percentage have a way of rapidly devolving into declines in absolute unit sales.
Especially when facing an adversary willing to cut prices to an extreme that would make Apple's leadership team turn white with fear and loathing. This is exactly what Apple faces with Intel's pricing of Bay Trail for tablets. As I've pointed out, Intel has declared war on the ARM ecosystem, of which Apple is a founding member (an original investor in ARM (NASDAQ:ARMH)). Intel's actions are at the heart of iPad's decline, as I recently pointed out in "Apple's iPad Problem".
Besides draconian price cuts on Bay Trail, there is also another factor at work, the emergence of the credible Intel-based Windows Tablet. As much as Apple ridiculed Windows 8 convergence, convergence is here to stay, and it's eating Apple's iPad lunch. The Microsoft (NASDAQ:MSFT) Surface Pro 3 is a very capable Windows 8 PC that runs the latest Intel Core processors, has a larger screen, and doesn't cost that much more than iPad.
In the face of this kind of competition, I can't get too excited about the IBM (NYSE:IBM) partnership for enterprise iPad computing. I doubt it will do much to reverse iPad sales declines unless it is combined with substantially beefed up iPad hardware. In addition to an iPad with a quad-core processor, Apple needs to offer a larger screen (~12-inch diagonal) with a detachable keyboard. I'm pretty sure that a quad-core iPad will make its appearance this Fall, but a 12-inch iPad? Probably not. Unfortunately, Apple seems very slow to respond to its iPad problem. Even if Apple has finally realized that it has a problem, product development cycles are such that an effective response could be 6-12 months away.
Hope for the Fall
Apple's results and guidance for next quarter definitely provide hope for new products for the Fall and beyond. Apple's R&D spending, which has long needed increasing, rose to an all-time high both in absolute dollars ($1.6 billion) and as a percent of revenue (4.3%). This encourages me that Apple has realized that it needs to spend like the other grown-up tech companies, if it wants to see new products come to market more frequently than once every four years.
I've also suggested that Apple and Samsung could be collaborating on Samsung's (OTC:SSNLF) 14 nm FinFET process, which Samsung intends to put into production in Korea and at the Austin, Texas facility where the current Apple A7 chips have been made. I'm sure that Apple is spending on capital equipment for the plant, since it has in the past, and possibly diverting some R&D to support the effort as well. Just as having the first 64 bit ARM processor gave Apple a huge advantage, having the first SOC in production on a 14 nm FinFET node would also be a huge advantage.
Of course, production on 14 nm is likely to slip into 2015, so Apple may have needed to develop a second source (such as TSMC (NYSE:TSM)) to tide it over for the Fall products while the production kinks are worked out in Austin.
Another source of hope for the Fall is in the gross margin guidance for calendar Q3, which was 37 percent-38 percent. This was such a steep decline from the calendar Q2 that it had analysts wondering out loud on the conference call whether this was due to the new product offerings. Apple wouldn't say what the new products were, but more or less confirmed that "product cycle transitions" were responsible for the decrease.
Apple appears to be on track to roll out new iPhones and iPads, new MacBook Airs, a new Apple TV, and one or more iPod wearables such as an iWatch or headphone/iPod combination (PodBeats?). With the likely appearance of the new iPhone in late September, we still have a couple of months to wait. I expect Apple's stock won't move much either up or down until then.
Disclosure: The author has no positions in any stocks mentioned, and no plans to initiate any positions within the next 72 hours. The author wrote this article themselves, and it expresses their own opinions. The author is not receiving compensation for it (other than from Seeking Alpha). The author has no business relationship with any company whose stock is mentioned in this article.
Editor's Note: This article discusses one or more securities that do not trade on a major U.S. exchange. Please be aware of the risks associated with these stocks.