It is very difficult to find a company with more attractive economics than BlackRock (NYSE:BLK). Most companies in the world have to invest incremental amounts of capital to increase earnings. In BlackRock's case all they need is that financial assets grow in size for their earnings to increase. The reason is that most of their products and services have a royalty type component on the value of the assets they manage for clients.
Even better, if they have organic growth in the amount of money they manage (positive AUM flows), they will have three strong earnings growth drivers:
The increase on the value of the financial assets they manage
Organic growth in assets under management (positive AUM flow)
Operating leverage
The end result of these strong levers is outstanding earnings per share growth, and operating leverage that increases the size of the company's moat protecting it from aggressive competitors.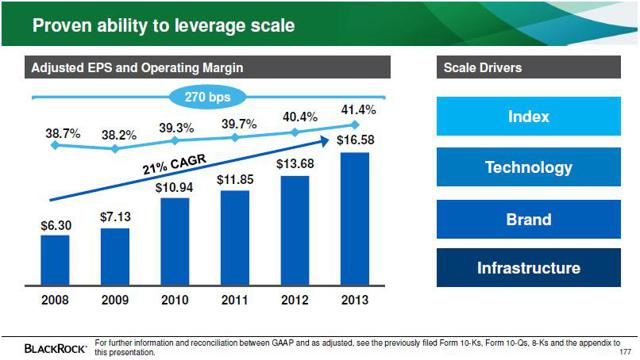 Operating leverage and sources of competitive advantages (from recent investor presentation)
Besides rapid earnings growth, another great feature of BlackRock's business model is how little tangible economic capital they require to support the business. It is generating more than three billion dollars in operating cash flow from around 1.7 billion dollars in tangible equity.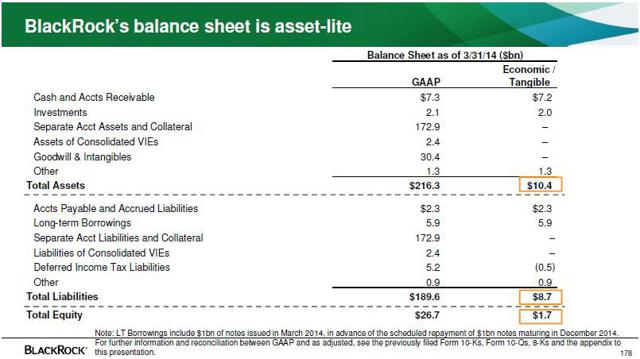 Rock solid company with very light capital needs (from recent investor presentation)
The end result being that the business requires very little additional capital to grow. Therefore most of the operating cash flow can be returned to investors (through buybacks & dividends) and the rest can be used for growth initiatives.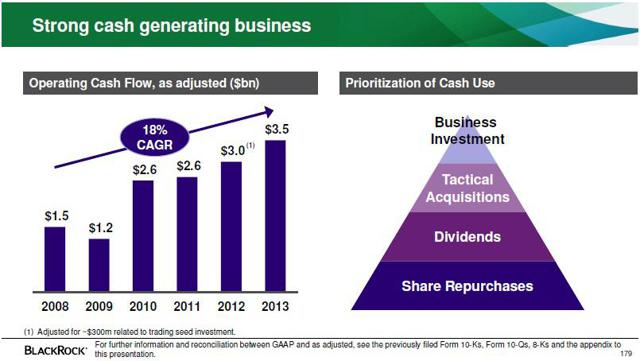 Capital allocation is very shareholder friendly (from recent investor presentation)
Currently BlackRock trades at a P/E ratio of approximately 17 (just slightly more expensive than the market average), but with a much higher earnings growth potential. In fact the forward P/E is around 15.
This is a good moment to initiate an investment considering that one of the key product segments appears to be reaching an inflection point where growth will accelerate. It is expected that ETF products will grow rapidly the next 2-3 years.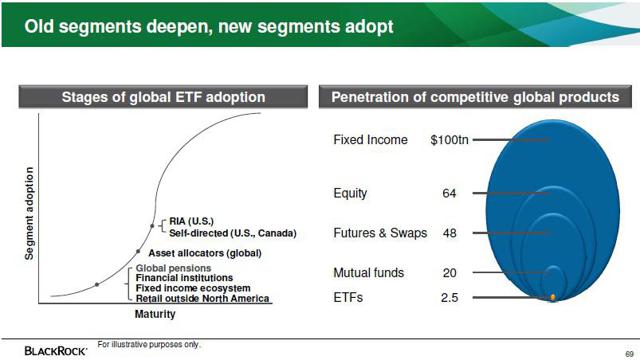 ETF adoption appears to be at an inflection point (from recent investor presentation)
The company expects that the ETF industry will grow to 3.6 trillion dollars by 2017, which implies a 44% growth from its current size. This trend should propel earnings higher for the company even if it decides to slightly lower commissions to fence off competition.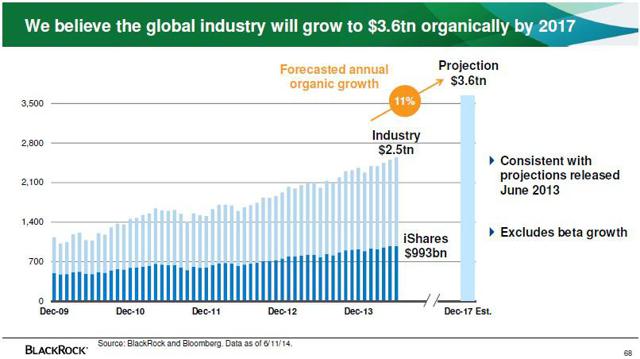 ETF industry projected growth (from recent investor presentation)
Given the high quality of the business, and the long-term growth prospects, it is reasonable to expect that 5-7 years from now the P/E ratio won't suffer much contraction (e.g. remain at least in the 15-17 range). Since we are not assuming much P/E expansion either, most of the appreciation must come from EPS growth and dividends. With operating leverage and share buybacks this earnings growth should be higher than the historical 11-12% long-term growth of the stock market (as long as positive AUM flows continue). It is reasonable to expect a 13%+ EPS growth rate, and adding a 2%+ dividend results in a 15% expected return for the next few years.
Conclusion
Some readers could point out that expecting a higher return from investing in BlackRock compared to the market is simply a result of its high β of around 1.42. While it's true that the stock has been more volatile than the market, it is not necessarily more risky for long-term investors.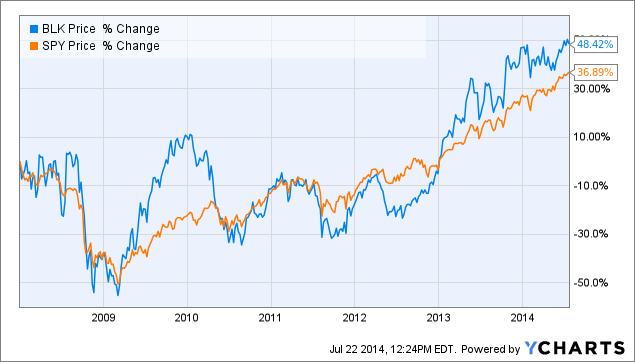 For example, during the financial crisis it went down basically the same amount the market did. It has however significantly outperformed the market in recent years. In a way it makes sense, since although the company will most likely have lower earnings in market downturns, it will be very difficult for the company to generate losses. In contrast to banks, BlackRock does not risk its own capital. Further de-risking the company is the fact that a large part of its fixed costs are paid by its competitors. This might sound strange, but it happens to be that BlackRock opened Aladdin (its risk-management platform) to competitors for a fee. This is currently generating around 400 million dollars in annual revenues.
In conclusion, BlackRock is offering a very compelling risk/reward opportunity for investors at present prices. In the long term, assets under management should continue to grow and competition should be kept under control by the brand, technology, and scale advantages.
Disclosure: The author is long BLK. The author wrote this article themselves, and it expresses their own opinions. The author is not receiving compensation for it (other than from Seeking Alpha). The author has no business relationship with any company whose stock is mentioned in this article.