By Jeff Bailey
When you've got a Big Disrupter in the industry, namely Amazon (NASDAQ:AMZN), and other tradition-defying companies trying upset the historical order, it becomes tough to separate retail stocks that are merely cheap due to a self-inflicted stumble or a temporary external shock from those that are doomed by their outdated business models.
We've been trying to provide insight on this very issue concerning retail stocks in recent months, weighing whether the stocks look cheap or look like looming disasters.
Along comes Barron's writer Andrew Bary and covers this same ground very smartly, and mostly takes on stocks we've been writing about. We haven't had much to say in recent months on Target (NYSE:TGT), where poor handling of a giant credit card data breach blotted out other news, or on Bed Bath & Beyond (NASDAQ:BBBY), where management is amping up buybacks in hopes of keeping activist investors at bay.
We have, however, as Barron's does, weighed in on GameStop (NYSE:GME), Staples (NASDAQ:SPLS), TJX (NYSE:TJX) and Whole Foods (WFM), the last one by way of finding relative value in Kroger (NYSE:KR).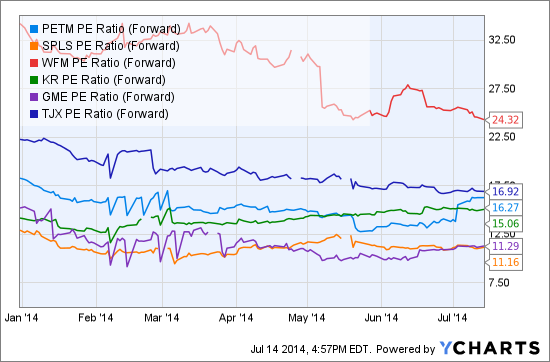 PE Ratio (Forward) data by YCharts
GameStop isn't growing much but it's highly profitable and is adapting better to the changing video game landscape than critics give it credit for. It uses abundant cash flow to buy in stock, vastly reducing shares outstanding in recent years. It has a loyalty program for gamers that seems to be highly effective. The stock is up 4% since we wrote about GameStop June 20.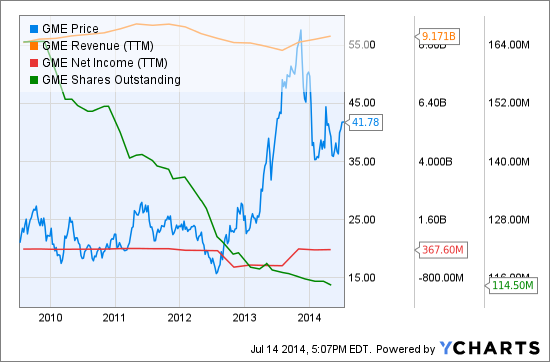 The dividend has grown, too, and the dividend yield is above 3%.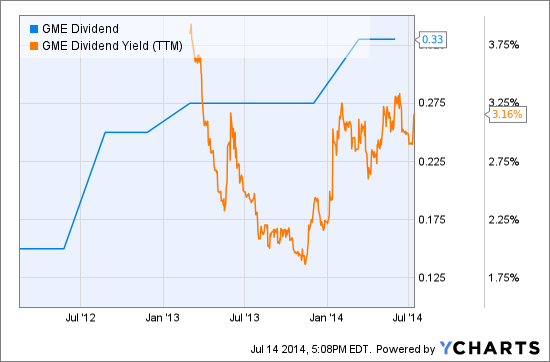 GME Dividend data by YCharts
On Staples, we part company with Barron's. More than a year ago, we suggested that young people don't use office supplies much, which would seem a big problem. The stock's off 26% since then. More recently, in March, we repeated our warnings that even category killers can get killed, and the stock's off 18% since then.
Barron's sees the office supplies industry benefitting from the recent merger of Office Depot (NYSE:ODP) and OfficeMax, and notes that Staples has shifted about half of its sales to the Internet and does a thriving business delivering supplies to corporate customers.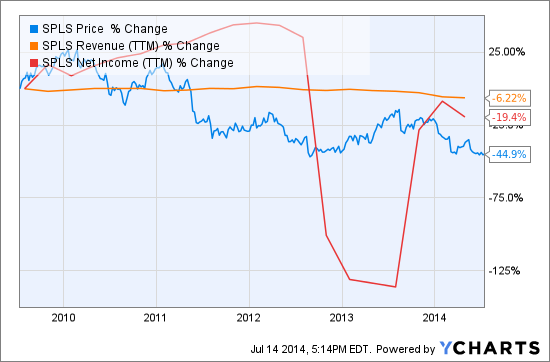 Staples is the market leader and stands a good chance of out-performing the competition. The remaining question is demand for its products.
Like Barron's, we've long been fans of TJX, the discount department store operator. There's growth left in its retail formats, its strong management turns over inventory rapidly and has found other ways to widen margins. It's not a cheap stock but TJX is a great company. Shares are off 10% since we wrote about TJX in April.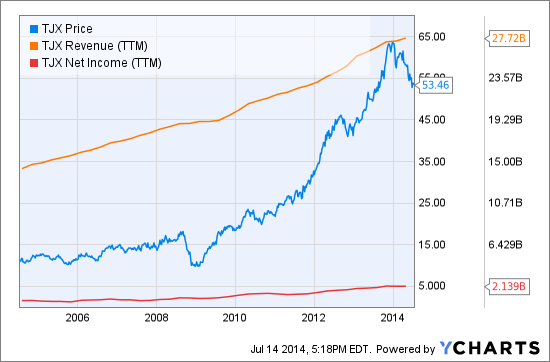 We also looked at Whole Foods recently.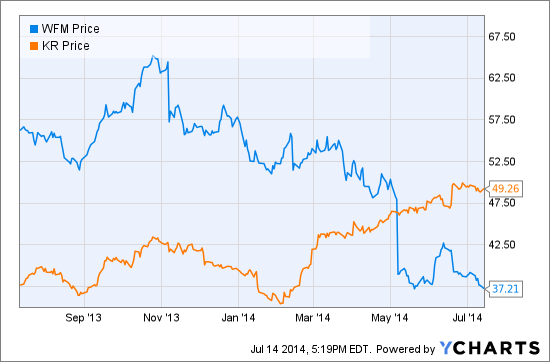 Doing so, we ended up writing about Kroger instead, even though its stock has risen of late. The traditional grocery chain has proven itself highly adaptable, notably to the competition from Wal-Mart (NYSE:WMT) from below, and more recently has turned to defending itself from pricier competition from the likes of Whole Foods. Along the way, it cranks out low-single-digit same-store sales gains, turns those into 8%-to-11% EPS gains and regularly lifts the dividend. Like TJX, it communicates its strategy with unusual clarity and executes on it consistently. Due to its longevity, it possesses excellent store locations.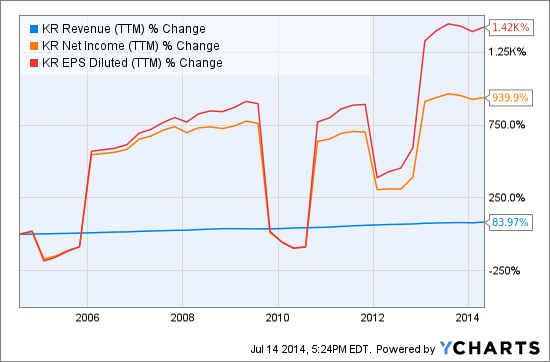 KR Revenue (TTM) data by YCharts
Barron's gives just a short mention in the article to PetSmart (NASDAQ:PETM), which holds an enviable position in the market for supplying pet lovers. PetSmart shares dipped briefly, and we were lucky to write admiringly about PetSmart on May 30 before the shares snapped back.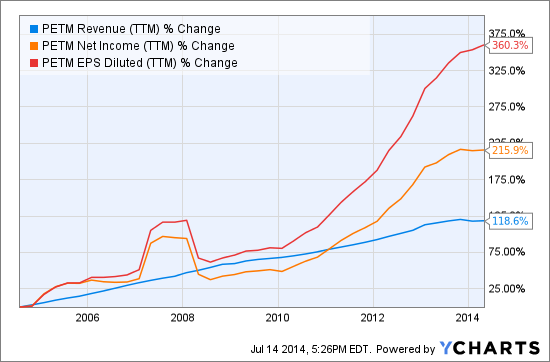 PETM Revenue (TTM) data by YCharts
PetSmart could get disrupted by the likes of Amazon, but the recent glitches seem more execution than poor market position.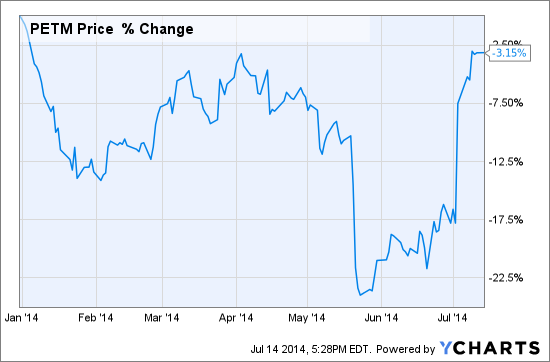 Each of these companies has a unique business strategy, executes on it differently (and with different levels of success) and faces different kinds and levels of competition.
Disclosure: None.