FedEx (NYSE:FDX) built its giant express package business on a fleet of jets and the promise, "When it absolutely, positively has to be there overnight." The last two years or so, however, FedEx has painfully discovered that plenty of businesses and individuals can wait another day and would prefer to pay less for delivery of a parcel.
And that leaves the company Fred Smith founded and built -- and still runs at age 69 -- with an asset mismatch:
For the year ended May 31, 60% of FedEx's assets were tied up in its speedy Express segment, and capital spending in recent years has leaned toward that segment, as well, as FedEx slowly retires a fleet of aging MD-11 and MD-10 wide body jets in favor of more modern and fuel-efficient Boeing planes.
The overall corporate goal is to reach an operating margin of 10%. The laggard Express segment, which also accounts for about 60% of revenue, hasn't broken 5% the last three years for an operating margin. FedEx Ground, meanwhile, the wheels-stay-on-the-pavement unit, cranked out operating margins between 16.8% and 18.4% the last three years. And even though Ground is far smaller than Express, Ground has out-earned, on an absolute dollar basis, its speeder brother each of the last three years.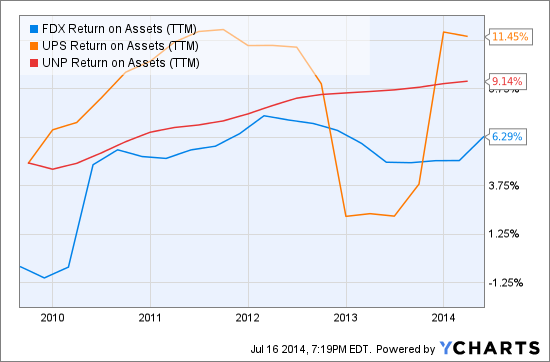 FDX Return on Assets (TTM) data by YCharts
In transportation, slow is good these days, as one sees from a return-on-asserts chart featuring FedEx's slower competitor UPS (NYSE:UPS) and an even slower transportation giant, Union Pacific (NYSE:UNP). Transportation shares have outpaced the broader market by a lot over the last 18 months or so, and FedEx, UPS and Union Pacific have all risen on that tide.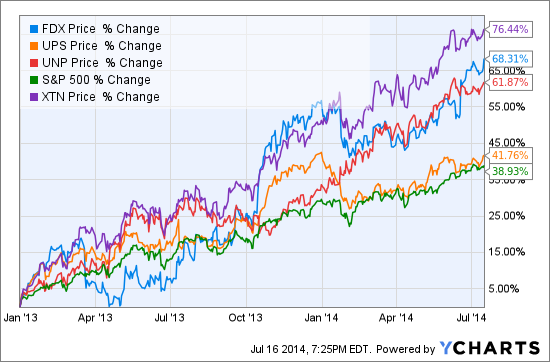 FDX data by YCharts
Investors seem to think the turnaround is all but finished at FedEx. But is it? The company laid off 3,600 employees to cut costs, but that's a small number when FedEx employs more than 300,000 and also has many thousands of "independent contractors" (a mountain of class action litigation challenges this keep-the-drivers-off-the-books approach) driving its local routes in the U.S. In investor presentations and the 10-K, FedEx lays out a broad profit-improvement plan to lift annual income by $1.6 billion (run rate) by the end of 2016.
But the disclosure is vague and mostly sounds like stuff that ought of be standard operating procedure for a company like FedEx: in addition to the layoffs and modernizing the air fleet, "we are transforming our U.S. domestic express network by closing and realigning regional and district facilities, reorganizing pickup and delivery operations while maintaining our outstanding service levels, improving flight and crew scheduling, refining aircraft maintenance processes."
It hardly inspires confidence. Yet the company, under Fred Smith, has delivered so well for so long that FedEx gets the benefit of the doubt. Perhaps a strengthening economy will help out enough on the revenue side to make the plan work.
The betting here is that the domestic Ground unit can improve its already-strong performance more easily that the lagging Express unit can achieve the corporate goal of 10% operating margin. Why? Transportation is all about route density. The more dumpsters a trash collector empties in a single neighborhood, the more efficient it is. Multiple pizza deliveries to the same apartment block? A money maker. And domestically is where both FedEx and UPS have route density. A Peapod truck driving blocks and blocks between grocery deliveries? A loser.
For all its talk about serving more than 220 countries, FedEx gets 72% of its revenue from the U.S. and domestic sales have grown the past three years while international receipts have been flat. UPS sales are about 75% domestic. Its advantage of late has been that its business mix is skewed toward pickup and delivery on the ground. That capitalizes on consumers' increasing use of Internet shopping but leaves UPS less vulnerable to global businesses that have figured out how to avoid having the ship items on a rush basis.
UPS's route density in the U.S., among other factors, makes UPS a productivity machine, as we've written. And despite holiday delivery snafus this past year, the trend to Internet constitutes a strong wind at UPS's back.
While the CEO, Smith, is no spring chicken, it's interesting to note that the entire 8-person executive leadership at FedEx averages nearly 60 years of age and the youngest is 55. They've mostly been in their current jobs for a very long time, and that's great continuity. But one wonders where the next generation is and whether FedEx mightn't benefit from some external points of view.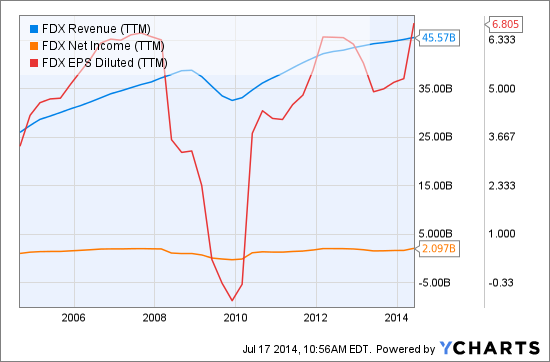 FDX Revenue (TTM) data by YCharts
FedEx during fiscal 2014 bought back $4.9 billion in stock, which is expected to lift fiscal 2015 EPS by 45 cents. The stock cost FedEx $131.83 a share, and in hindsight the long recent period of the stock bouncing around the $90 level seems like it would have been a better time for such an expression of confidence.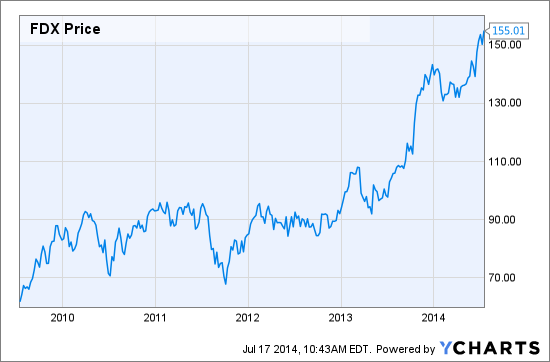 FDX data by YCharts
A 33% dividend hike, to 20 cents quarterly, is welcome, but with a dividend yield well below 1%, nobody's buying this stock for current income. The payout ratio is about 10%.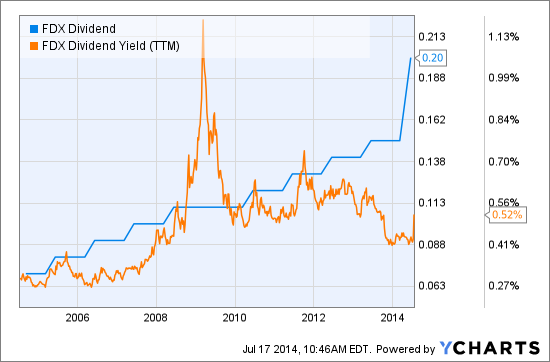 FDX Dividend data by YCharts
Back to those aging airplanes for a moment: it's going to be a long slog substituting out those MD-10s and MD-11s. FedEx operates, as of May 31, 125 of the flying dinosaurs. On order through 2019 are 48 Boeing 767s and six Boeing 777s, all in freight configurations. It has commitments to buy another 12 777s in the years beyond 2019. So, fuel guzzlers will be around for a good long time.
Disclosure: None.