More than five years into the recovery and all is clearly not forgiven between the major U.S. banks and investors. Even Wells Fargo (NYSE:WFC), the reputational Boy Scout compared to Bank of America (NYSE:BAC), JPMorgan Chase (NYSE:JPM) and Citigroup (NYSE:C), hasn't managed to keep pace with the S&P 500 over the past five years: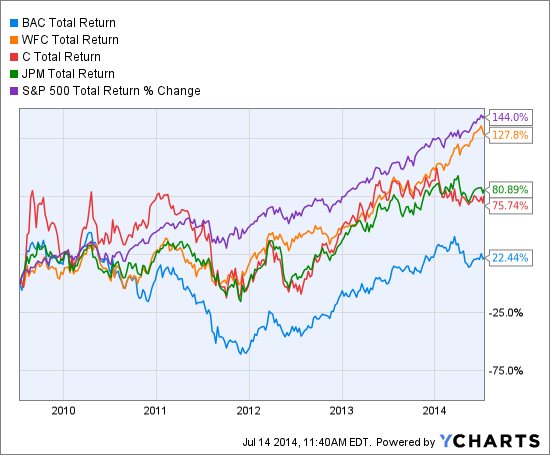 BAC Total Return Price data by YCharts
An endless stream of headlines continues to serve as all the confirmation the non-believers need. This week we have Citigroup's $7 billion settlement with the Justice Department over its mortgage-related misdeeds. A mere drop in the bucket compared to the $13 billion JPMorgan coughed up late last year when it admitted to "serious misrepresentations" in how it marketed mortgage-backed securities. And the $13 billion Bank of America is said to be offering.
Bank of America's mortgage-related book is such a rat's nest it had to make the embarrassing admission in late April that it had understated its losses by $4 billion, thereby putting the kibosh on a much anticipated stock buyback request, as regulators were not amused at the slightly-more-than-a rounding-error oversight.
And if you're in the Chicken Little camp on the financial sector, you can rev up the buzz about a new round of European contagion that could be a harbinger of nothing good. In the vacuum of little news here, the travails of a Portuguese institution missing a debt payment, followed less than a week later by the failure of a Bulgarian bank, is ample ammunition for the anti-bank crowd.
The value-focused investment pros at Harris Associates, managers of the top-rated Oakmark mutual fund and Oakmark Select fund are happy to take the other side of the bet. Oakmark has nearly 24% invested in the financial sector and Oakmark Select nearly 30%, compared to the 16% weight for financials in the S&P 500. Bank of America and JPMorgan account for a combined 10% of Oakmark Select's portfolio.
In an early June note to shareholders, Oakmark Select co-manager Tony Coniaris pointed out the still-compelling valuation for three of the four big boys: "With minimal help from higher interest rates, we believe JPMorgan, Citigroup, and Bank of America are all selling for roughly 8x normalized EPS and are, or will be, in a significant excess capital position within the next 12 months." Ycharts has a slightly higher normalized annual PE for the three banks, but the point stands that they are near lows and expansion has not entered into the picture: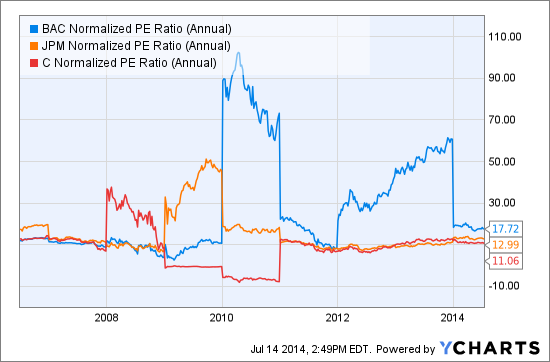 BAC Normalized PE Ratio (Annual) data by YCharts
Coniaris notes that even without their multiples expanding, the stocks should see "attractive total returns."
His colleague Bill Nygren expanded on the argument in recent commentary that ran through all the behavioral biases (read: scars) at the root of investors' continuing cold shoulder toward financial stocks. "(m)any investors, including many value investors, have completely sworn off owning them. The argument usually goes something like this: "I lost a lot of money on my financial stocks during the crisis. The reason I lost money is that financial stocks have become very complicated and as a result are too difficult to value. To avoid future losses I will avoid investing in this industry."
Indeed, many value funds got smacked silly with over-bets on financials, not fully recognizing that what looked like cheap stocks were dangerously leveraged to a real estate market that was about to take an unprecedented dive. Oakmark Select investors were among the biggest losers during the crisis. At one point prior to the real estate meltdown, Washington Mutual accounted for more than 15% of Oakmark Select assets. (A massive miscalculation to be sure. But it is worth noting that Oakmark Select's 10 year annualized gain of 9% is about one percentage point ahead of the S&P 500 index. And that 9% is net of a pricey annual expense fee of more than 1%.)
Nygren acknowledges financial sector losses during the crisis, but he's not falling for hindsight bias or recency bias that has many convinced financial stocks are to be avoided. From Nygren: "We also lost money in financial stocks during the crisis, but have come to a very different conclusion as to why. Financial companies had too much leverage, they let their underwriting standards decline, and most importantly, the real estate market crashed . . . Our big mistake was that we didn't see the real estate crash coming. Today, financials are less levered, they have tighter underwriting standards, and most importantly, they do not seem likely to face another crash in real estate prices."
Leverage has indeed been seriously trimmed: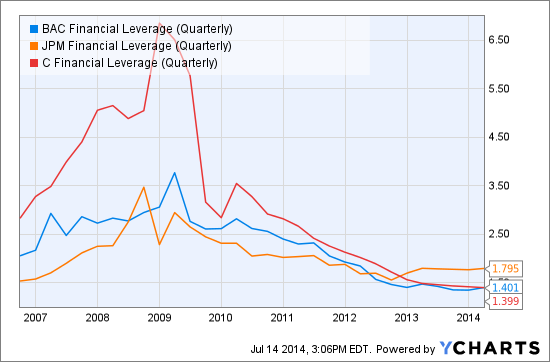 BAC Financial Leverage (Quarterly) data by YCharts
And despite the strong rebound in home prices over the past 18 months, the Case-Shiller Index of 20 major metro markets is only 3% above where it was a decade ago; adjusted for inflation, real housing returns are in serious negative territory. Not exactly bubble-ish: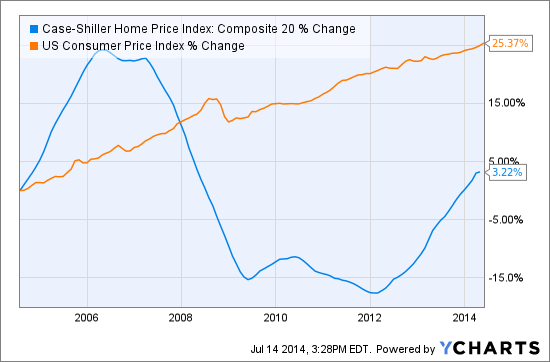 Case-Shiller Home Price Index: Composite 20 data by YCharts
Banks won't shed the remaining problems from the crash in a single earnings season. The healing is long term, but it's occurring. To prepare for quarterly results, consult the Ycharts earnings calendar.
For the biggest potential bang for your buck, Citigroup might be the place to focus further investment research. In the second quarter, the stellar contrarian fund, FPA Crescent, more than doubled its stake in Citigroup to more than 2.8% of the fund's equity stake. While JPMorgan's near $17 billion in net income over the trailing 12 months greatly outdistances the $13.8 billion for Citigroup and Bank of America's $9.3 billion, it's Citigroup that has the strongest growth rate over the past 24 months: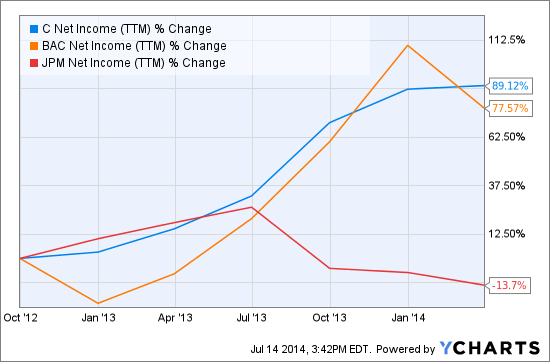 C Net Income (TTM) data by YCharts
And Citigroup has managed to keep its return on energy steadily increasing over that stretch, while its return on assets (ROA) recently nudged higher than JP Morgan.
Disclosure: None.