HudBay Minerals (NYSE:HBM) is a Canadian integrated mining company with producing, development and exploration properties in Manitoba and Peru. The company operates the 777 mine, a zinc, copper, gold and silver mine that began production in 2004, and the Reed mine, a high-grade copper deposit that commenced production in September 2013.
For 2014, HudBay is forecasting production of 101,000 to 123,000 ounces of gold/silver production, with 41,000 to 55,000 tonnes of copper and 87,000 to 105,000 tonnes of zinc production.
TD Securities recently upgraded shares of HudBay to a "buy" rating with a $13.50 price target on the stock, up from their previous target of $10. Analysts at Raymond James also raised their price target to $11, while Canaccord Genuity raised their target to $13.50.
Analysts expect full-year earnings of $.12 per share in 2014, giving the company a 2014 P/E ratio of 87.8. However, 2015 EPS are estimated at .73 cents per share, a forward P/E ratio of 14.4. Seven wall street analysts cover HudBay, with two rating the stock as a "strong buy", three rating the stock as a "buy" and two rating the stock as a "hold."
Stock Quote: HBM
Shares Outstanding: 193 million
Stock Price: $10.54
Market Cap: $2.03 billion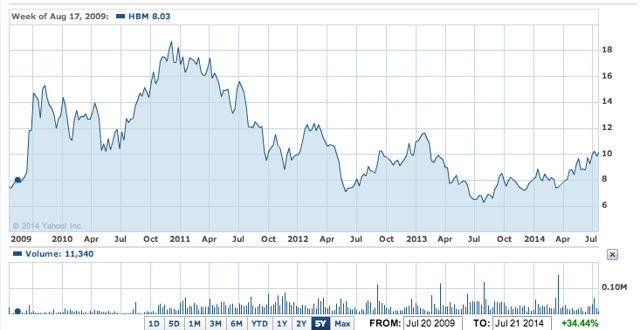 Since 2010, shares of HudBay have outperformed the benchmark Global X Copper Miners ETF (NYSEARCA:COPX) by a wide margin, and since the start of 2013, shares are up more than 40%.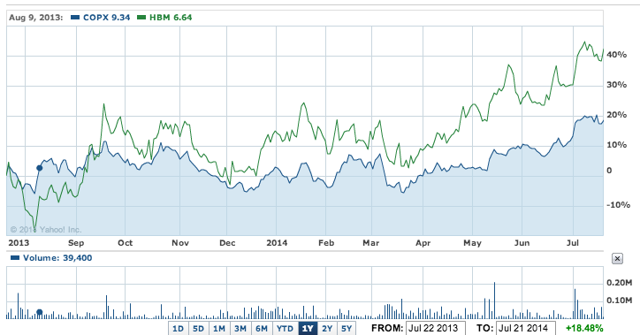 Why HudBay Will Continue to Outperform: Significant Growth is Ahead
HudBay is on-track to achieve the company's growth objectives in 2014, but the next few years is where the company will really have a chance to shine: by 2015, HudBay is forecasting a 570% increase in copper production and a 137% increase in gold equivalent production. This production will be lead by the ramp-up in production at the Reed and Lalor mine, and initial production beginning at the Constancia mine in Q4 2014.
- At the Lalor mine, the company is ramping up production with $432 million of overall $441 million capital budget spent and committed as of March 31, 2014, according to the company's presentation. The mine is expected to produce 59,000 tonnes of zinc, 43,000 ounces of gold equivalent, and 5,000 tonnes of copper annually for 15+ years, with an average annual sustaining capital cost of just $23 million.
- At the Reed mine, a 2-year construction program was recently completed, with the company achieving commercial production ahead of guidance. Average annual copper production of 15,000 tonnes at low cash costs of $1.64/lb is expected for 5 years, with average sustaining capital of just $10 million per year.
- Constancia remains on track for initial production in the fourth quarter of 2014, with the project over 71% complete as of March 31, 2014. Once in full production, the mine will produce 82,000 tonnes of copper annually at cash costs of just $1.25/lb for 22 years, according to company estimates.
- At the currently producing 777 mine, the company is producing 25,000 tonnes of copper and 51,000 tonnes of zinc per year, with negative cash costs (net of by-product credits).
- In February 2014, the company announced the acquisition of Augusta Resources (NYSEMKT:AZC), an offer worth $555 million or $3.56 per share, and on June 23, 2014, both companies entered into a definitive support agreement. This deal is one of the main reasons I like HudBay going forward as it gives the company a great opportunity for future growth.
In fact, the acquisition of Augusta's Rosemont project should increase the company's annual copper production by at least 570% in the next 2-3 years, and it also increases HudBay's proven and probable copper reserve base by 92%. Once in production, Rosemont is expected to be one of the largest copper mines in the U.S., and accounting for roughly 10% of total production in the country.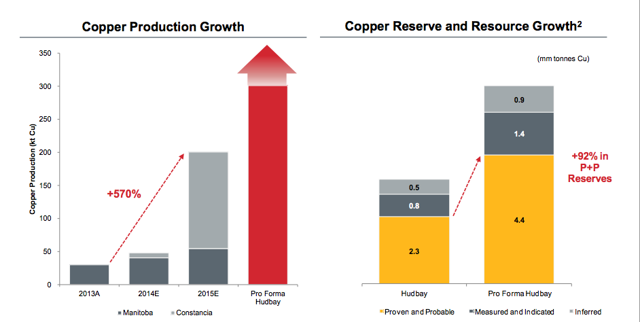 - By 2018, the company estimates that it will be the 15th largest copper producer, but also put them in the top 5 cash costs in the world, right below Southern Copper (NYSE:SCCO), Chinalco Mining Corp (OTC:CNMLF), and Russian Copper, and ahead of Capstone Mining (OTCPK:CSFFF), OZ Minerals (OTCPK:OZMLF) Rio Tinto (NYSE:RIO) and Freeport (NYSE:FCX).
- In addition, the company says it has enough capital to complete construction at Constancia and to advance Augusta's Rosemont project, located in Arizona. The company has current liquidity of $1.3 billion, which is made up of $764 million in cash and equivalents, $250 million credit facilities and tax refunds due, $150 million credit facility and $135 million remaining stream payments from Silver Wheaton (NYSE:SLW).
HudBay agreed to receive $750 million in deposit payments from Silver Wheaton for 100% of the payable gold and silver from the 777 mine until end of 2016, plus 50% payable gold and 100% silver thereafter, and 100% of silver produced from the Constancia project. Besides the $750 million in payments, HudBay gets $400 per ounce for gold and $5.90 per ounce silver, subject to a 1% annual increase beginning 2015. Investors should read the company's corporate presentation for further details.
The bottom line: with Constancia and Rosemont advancing towards production, HudBay is in the early stages of a tremendous growth spurt. Even better, HudBay projects as one of the lowest cost copper producers in the world. I believe shares will outperform, proving the analysts to be right.
Disclosure: The author is long SLW. The author wrote this article themselves, and it expresses their own opinions. The author is not receiving compensation for it (other than from Seeking Alpha). The author has no business relationship with any company whose stock is mentioned in this article.