Last year, I wrote an article on Gulf Resources (Nasdaq: GFRE). One year later, the stock had seen a volatile 12 months. Share price went up to more than $14 and down to $6.28.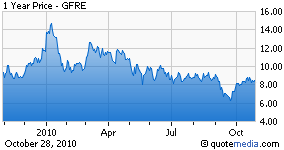 Ben Gramham said market is a weighing machine in the long term. So as a value investor, I don't care about the short term volatility but its real value.
Macro
According to China Salt Association, the spot market price of bromine has jumped quickly to more than 20,000RMB/ton. The solid demand from downstream chemical companies coupled with supply shortages will drive further bromine price increases.
Albemarle recently announced to raise bromine price for $500/ton. The new price will be effective on November 1, 2010.
Valuation
The company currently has around 43,000 metric ton capacity (37,000 in last year and increased by 6,000 tons through acquisition). If its capacity utilization is 90%, which is conservative under current macro background, I expected the company to make:
43000 x 20000 RMB x 90% = $116.9 Million
This is a very conservative revenue estimate without consideration of GFRE's chemical product business.
With 25% net profit margin (27% in 2009), the net income is estimated to be $29 million. Current market cap is $287 million. So without considering its chemical product business, its PE is below 10x!
The Enterprise value = Market cap + debt - cash = 287+12-45=$254 million.
Its EBITDA in the past 12 months is around $54 million.
EV/EBITDA = 5x
For resource companies, I prefer book value because at the end of the day, the most valuable asset for resource companies is its assets. The earnings could be volatile but asset is asset and it is always there.
Look at its balance sheet: the company's largest asset is PP&E and cash, which are hard assets and hard to give a discount to. So the book value of $161 million should not be discounted. So Price/Book Value = 1.78x.
With 1.78x PB ratio, I am confident saying GFRE is definitely undervalued.
Disclosure: Long GFRE