Apple (NASDAQ:AAPL) reported Q3 results in which $1.28 EPS (+19% y/y) was ahead of consensus $1.22 potentially due to lower share count. While the net profit was up 12% y/y to $7.7b, revenue of $37.4b (+6% y/y) fell short of the consensus in what I see is the continued contraction of the iOS ecosystem owing to the decelerating iPhone sales and the worse than expected iPad shipments. Moreover, revenue guidance of $37-40b was slightly below $40.4b consensus, which could indicate 1) declining carrier commitment to the new iPhone and 2) the potential of a delayed launch of the 5.5-inch iPhone model. I remain bearish on Apple in light of these results and reiterate my view that Apple is facing the structural challenge of a flattening innovation curve as it tries to catches up with larger display smartphones and the contraction of the iOS ecosystem due to competitive pressure from Google (NASDAQ:GOOG) (NASDAQ:GOOGL). See my bearish note: Apple: The Party Is Over; Initiating With A Bearish View
Ecosystem contraction playing out
The iPhone shipment growth of 13% y/y was a deceleration compared with 17% in Q2 and 20% in Q3 '13. While I suspect that the anticipation of iPhone 6 may have played a role in the subdued demand, I also believe that rival handset makers are taking advantage of the pre-iPhone 6 quiet period to attract consumers with their own flagship handsets. For example, Verizon (NYSE:VZ) started pre-order of LG G3 starting in July 10th with some positive response while media reports have indicated that over 133k G3 units were sold within the first two weeks of launch in Asia.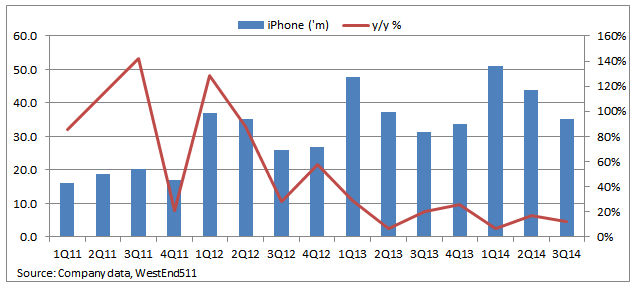 However, I believe the bigger issue lies in the flattening of Apple's innovation curve compared with the high-end Android handsets. As I noted in my initiation report, Apple is falling behind its competitors such as Samsung (OTC:SSNLF) and Xiaomi in terms of hardware upgrade and the current iPhone model is losing its appeal to the mainstream consumers as they seek smartphones with bigger screen, higher resolution and faster processor to run multiple apps.
As iPhone's popularity wanes around the world with the exception of North America and Europe, Apple is gradually losing its pricing power. I note that iPhone ASP has declined for seven consecutive quarters to $561 from $641 in 1Q12.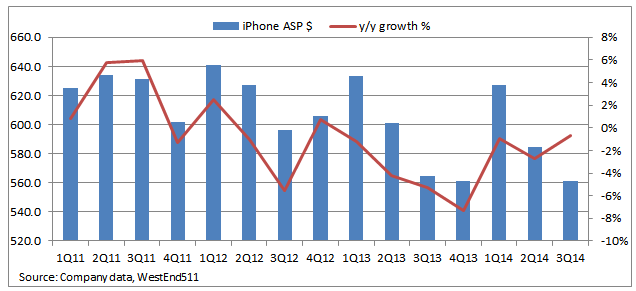 The consensus expects that the new iPhone could command pricing power (in particular the larger 5.5-inch model). However, I believe that pricing power is not with Apple given that consumers have many alternatives to choose from and there is a limit on how much the consumers are willing to pay for a smartphone. That said, the larger-display model is likely to be priced on par with the current 5S model. If that is really the case, we could see ongoing margin contraction for Apple due to higher component cost associated with the larger device.
Regulatory risk and competition heating up in China
Geographically speaking, China was the only bright spot where revenue was up 28% compared with mid to low-single digit growth from the other regions. While the iPhone sale was up 48% y/y (thanks to the support from the thee carriers), I expect sales in China to decelerate due to both regulatory and competitive risks.
On the regulatory front, China's State-owned Asset Supervision and Administration Commission has asked the Chinese big three telcos to cut back on smartphone subsidies due to declining profit. China Mobile (NYSE:CHL) is expected to cut $1.6b, followed by China Unicom (NYSE:CHU) and China Telecom (NYSE:CHA) each cutting $400m in subsidies. The cutback will likely affect the high-end smartphones such as the iPhone, which is subsidized at around $400 each compared with $200-300 from the competing smartphone brands. Without a generous subsidy, Chinese smartphone users are likely to switch to the competing high-end handsets such as the Huawei Ascend P7, Coolpad Dashen, ZTE's (OTC:ZTCOF) nubia and Oppo Find 7 that are priced at least 30% discount to the iPhone and can be customized towards the local preference (i.e. social networking, mobile maps, anti-virus, media streaming etc.).
On the competitive front, Xiaomi unveiled its latest flagship smartphone today called Mi-4, which features Snapdragon 801 2.5GHz quad-core processor, 3GB of RAM and 5-inch 1080p display that is superior to the iPhone 5S (see the Apple specs in my initiating note). The 13MP rear camera and a 8-MP front-facing camera also beat out iPhone's 8MP/1.2MP rear/front camera set. Finally, the 3080mAH battery, vs. iPhone's 1560mAH, gives the phone 36 hours of battery life under normal usage.
Xiaomi's rise in China's smartphone space is nothing but impressive, having outsold Apple in 1H14 and expected to again for the year. The critical trend that we are seeing is that the local smartphone makers are competitive and taking market share away from Apple by attracting consumers with highly customizable OS, higher hardware specs and, most importantly, lower price. This trend is not only happening in China but also India, which is one of the reasons why I believe China and India, two of the world's fastest smartphone markets, will be difficult for Apple to penetrate and expand, thereby limiting the expansion of the iOS ecosystem.
In conclusion, Apple's decelerating iPhone shipment further points to a contracting ecosystem. The weak shipment in iPad could likely exacerbate the story. China's contribution to Apple sale once again shows the importance of that market but Apple will likely face both heightened regulatory and competitive risks. I reiterate my bearish view of the stock. Dividend increase and share buyback are the only two positives on Apple for yield-oriented investors.
Disclosure: The author has no positions in any stocks mentioned, and no plans to initiate any positions within the next 72 hours. The author wrote this article themselves, and it expresses their own opinions. The author is not receiving compensation for it (other than from Seeking Alpha). The author has no business relationship with any company whose stock is mentioned in this article.