Gilead Sciences, Inc. (NASDAQ:GILD) reports Q2 earnings tomorrow. Gilead is a biopharmaceutical company that develops and markets medicines for unmet needs. Areas of focus are human immunodeficiency virus ("HIV"), liver diseases such as hepatitis B ("HBV") infection, hepatitis C ("HCV") infection, and respiratory and cardiovascular conditions. Below are the company's historical operating results: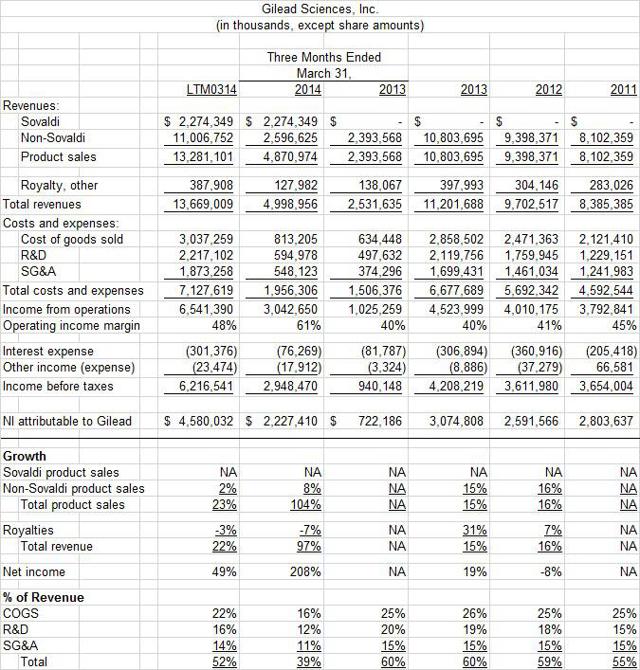 Revenue
Revenue grew 104% from Q1 2013 to Q1 2014, mainly on the strength of the company's Sovaldi - a drug used to treat HCV - which was launched in December 2013. Sovaldi accounted for just over 45% of Q1 2014 revenue.
Historically revenue has grown from 15%-16% year-over-year.
Operating Income
Operating income margin has ranged historically from 40%-45%. Operating income margin increased to 61% in Q1 2014 on the strength of Sovaldi sales.
Cost of goods sold as a percentage of revenue declined to 16% in Q1 2014 versus 25% in Q1 2013. It most likely reflects the premium prices commanded by Sovaldi.
R&D and SG&A expenses as a percentage or revenue declined to 23% in Q1 2014 from approximately 35% for the previous period. Gilead's business model is benefiting from tremendous economies of scale as product sales grow.
Valuation
At a market capitalization of $137 billion, the company trades at about 30x net income through the last 12 months ended March 31, 2014 ("LTM0314") of $4.6 billion.
Implicit in the earnings multiple are that [i] the company will continue to grow earnings at high-double digit rates, and [ii] the growth of Sovaldi sales will continue unabated.
Expectations
Expectations for Q2 2014 are high, as they should be, given the explosive growth of Sovaldi. Analysts are expecting earnings per share of $1.79 for the quarter-on-revenue of $5.86 billion. That equates to earnings per share growth of about 35% in comparison to Q1 2014's $1.33 earnings per share. It also equates to sequential revenue growth of 17% in comparison to Q1 2014 revenue.
Sovaldi Impact
According to the company's most recent 10k, in January 2012, Gilead acquired Pharmasset, a publicly-held clinical stage pharmaceutical company, for $11 billion; the deal was financed with a combination of cash, unsecured notes and bank debt. Pharmasset's primary focus was the development of oral therapeutics for the treatment of HCV infection. In December 2013, Pharmasset's leading product, Sovaldi, was approved by the FDA and Health Canada for treatment of HCV infection and for patients awaiting liver transplants. In January 2014, the European Commission granted marketing authorization for Sovaldi in all 28 countries of the European Union.
Ravi Mehrotra of Credit Suisse estimates Q2 Sovaldi sales of $2.98 billion, up from a consensus of $2.92 billion. For Gilead to meet analysts' Q2 revenue estimates of $5.86 billion, it would imply non-Sovaldi revenue of approximately $2.94 billion.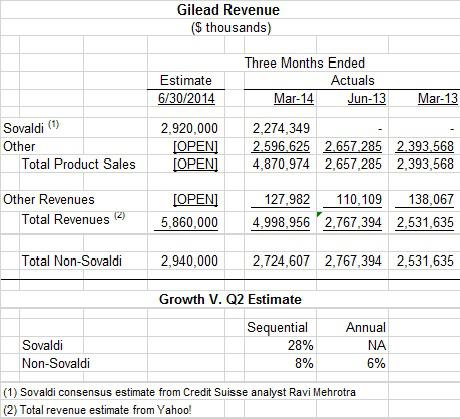 Built into analysts' estimates are [i] sequential revenue growth for Sovaldi of 28%, and [ii] sequential and annual revenue growth for non-Sovaldi segments of 8% and 6%, respectively.
Historically, the company has achieved revenue growth prior to Sovaldi of 15%-16%, but to assume such double-digit growth occurs long term is frothy. It also leaves little margin for error in case there is no upside surprise in Sovaldi sales.
Conclusion
Gilead has hit a home run with its $11 billion acquisition of Pharmasset, the owner of Sovaldi. Implicit in Q2 earnings estimates is sequential revenue growth for non-Sovaldi segments of about 8%, which appears frothy. Anything less than an upside surprise in Sovaldi sales could disappoint the market.
Disclosure: The author is long GILD. The author wrote this article themselves, and it expresses their own opinions. The author is not receiving compensation for it (other than from Seeking Alpha). The author has no business relationship with any company whose stock is mentioned in this article.
Additional disclosure: I own straddles on Gilead.