(Editor's Note: Investor's should be mindful of the risks of transacting in illiquid securities such as TSDRF. Tsodilo's Canadian listing, TSD.V, offers an additional alternative, but is also highly illiquid.)
Featured Investment: Tsodilo Resources Ltd (CVE:TSD
Tsodilo Resources (OTC:TSDRF) an exploration/development company with operations in Botswana. The company has uniquely positioned itself as (1) a Botswana-based prospect generator, (2) an iron ore development play, and (3) a promising "carried interest" copper play. With a current market capitalization of ~ $40M, the company offers excellent speculative upside. Additionally, TSD's multi-pronged approach and strong shareholder base provides a decent Margin of Safety at this valuation.
The Partnership has held TSD since inception with an average cost of $0.85 per share. As of July 15, Tsodilo is trading at $1.30. TSD is the second strongest performer of the 7 holdings (out of 25 current holdings) that the Partnership has stuck with since inception in September 2011. Additionally, due to this outperformance, TSD is one of the Partnership's top 3 largest holdings.
In this Featured Investment piece, I start by providing the investment theses for copper and iron ore (the two metals of most interest to Tsodilo shareholders). It is important to keep in mind that Tsodilo has not yet found a copper deposit and is only just starting to define its Xaudum Iron Ore Formation. If the company doesn't ultimately find economic copper or iron ore, then the prospects for these two commodities are irrelevant. Conversely, if the company does end up gaining exposure to a world-class copper or iron ore deposit, then shareholders will be rewarded regardless of the copper/iron ore price (baring a monumental collapse). Regardless, I thought it would be good to share my investment theses on both of these metals for some broader perspective on the Tsodilo Resources story.
I then profile the African country of Botswana - the sole jurisdiction in which TSD operates (though the company does have their corporate office in Toronto). The stability of Botswana both geopolitically and as a viable mining destination is essential to the success of this investment.
I conclude with my investment thesis for Tsodilo, covering the company's background, management team, current operations, and ultimate upside as an investment. I then comment on Tsodilo's Margin of Safety as, with any investment, understanding the downside is just as important as knowing what there is to gain.
Investment Thesis for Copper
Copper is one of the world's most widely used industrial metals, valued for its conductivity and malleability. Copper has hundreds of use cases, including: electrical power cables, data cables, electrical equipment, automobile radiators, cooling and refrigeration tubing, heat exchangers, artillery shell casings, small arms ammunition, water pipes, and jewelry.
While copper is a key component of many high tech applications, for simplicity's sake I think of copper as an "infrastructure metal". This means that if a building is being constructed, new electricity access is being provided, or new water infrastructure is being installed, you can be sure that a significant amount of copper is being used.
The below chart (courtesy of BHP Billiton) views copper consumption in terms of GDP per capita. You'll notice that copper consumption per capita increases exponentially in developing nations, before leveling off when GDP per capita reaches between $20,000 and $30,000. (Note that neither China nor India are remotely close to this threshold.)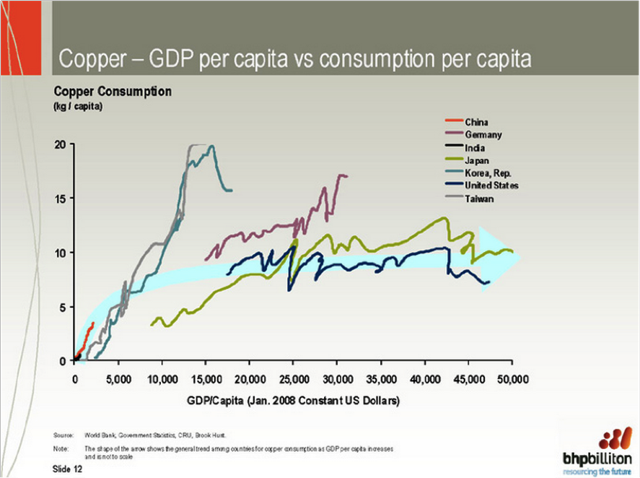 According to Rick Mills, "One billion people will enter the global consuming class by 2025. That's 83 million people per year. Demand is not going to go down. China will have to increase its average urban per-capita copper stock by seven or eight times just to achieve the same level of services we in the West enjoy." Demand is growing exponentially and, even if emerging economies only grow modestly in the coming decades, this is mathematically set to continue. Further confidence in future copper demand projections stems from the low substitutability of the metal. The International Copper association states that "substitution has accounted for losses of about 2 percent a year in copper usage globally over the past three years". For some perspective, Chinese copper demand has grown 15% per year since 2000.
Switching to the supply side, economic copper resources are being depleted with the equivalent production of three world-class copper mines being consumed annually. The majority of this production comes from five countries, with Chile being the clear copper king. You'll notice from the below chart that all of these companies (with the United States being an exception) have scaled up production drastically in the past two decades to meet demand. Copper supply is expected to continue its rise for at least the next 4 years, as massive development projects (most notably Rio Tinto's Oyu Tolgoi mine based in Mongolia) reach commercial development. Due to this ramp up, copper is expected to be in surplus for the medium term.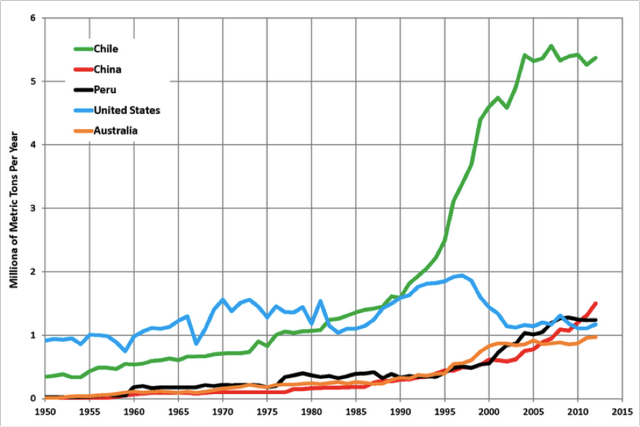 This increased production comes with a price however. Similar to all major commodities, the cheapest, most easily extractable reserves always go first. As these become exhausted, producers turn to mines that are less rich in copper, more expensive to develop, more technologically difficult, more geopolitically risky, or all of the above. This has resulted in rapidly escalating production costs, and this too will continue. The below graph demonstrates marked decline we've seen in ore grades in the past 15 years. In short, even taking into account technological advances, it is costing more and more to produce the same amount of copper.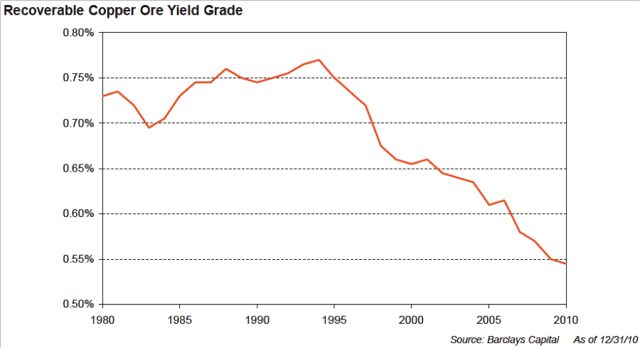 There are large-scale, high-grade copper deposits still waiting to be developed, but these are located in operationally/geopolitically risky jurisdictions. (Think Congo, Mongolia, Ecuador, Eritrea, and Serbia to name a few.) Some of these deposits will not be put into production due to these risk factors. However, those that do will make very satisfactory returns at current copper prices. And while copper will not likely make a dramatic upward move in the near term, when it does occur, the operating margins for these "top quartile deposits" will only increase. There remains a tremendous opportunity for select high-grade copper deposits going forward.
Investment Thesis for Iron Ore
The story for iron ore is a similar tale, although in recent times price fluctuations have been particularly volatile. Iron ore is a similarly important base metal to copper and is a crucial commodity for mining giants such as Rio Tinto, Vale, and BHP Billiton. Iron ore is critical component of steel production and roughly 98% of mined iron ore is used to make steel. Steel is involved in virtually every large-scale construction project and should be considered an "infrastructure metal" alongside copper. In absolute terms, iron ore has been more integral to the global economy than any other commodity (with the possible exception being oil).
As is the case with nearly every major commodity, global iron ore demand is growing exponentially. Aside from cement, iron ore is the commodity most highly correlated with Chinese growth and economic expansion. In fact, since 2000, China itself has accounted for the entire growth in iron ore demand and consumes ~48% of all iron ore produced globally. These are stunning numbers considering that rampant infrastructure construction is far from a Chinese-specific phenomenon. Iron ore demand will continue growing exponentially over the coming decades, but on an annual basis, demand will continue to fluctuate more erratically than most basic materials.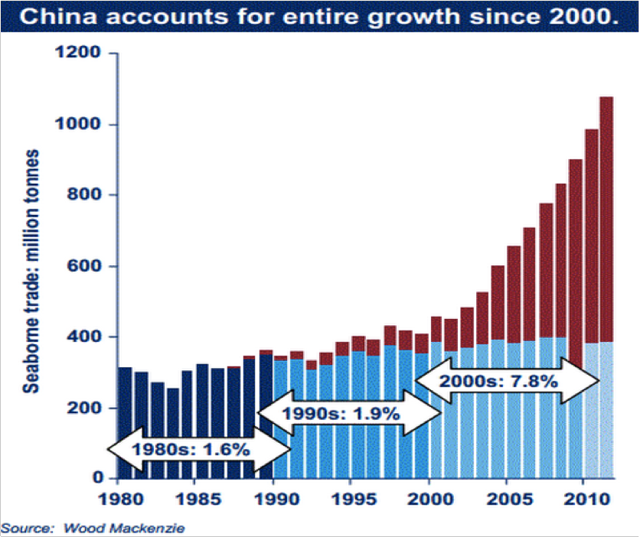 China, Australia, and Brazil contribute over 75% of global iron ore supply. In fact, 45% of global production comes from China alone. However, as the supply curve below suggests, not all iron ore miners are created equal. There are two types of iron ore deposits: hematite and magnetite. These have very different economics. High-grade hematite deposits are often referred to as Direct Shipping Ore ("DSO") because it is mined and beneficiated using a relatively simple crushing and screening process before being exported for use in steel mills. One of the major advantages hematite ore has over other types like magnetite is its high iron content. That makes the iron extraction process much less costly and time consuming.
Magnetite deposits are much lower iron content than their counterparts. That means the ore has to be concentrated before it can be used to produce steel, resulting in a higher operating cost. Until the next prolonged period of iron ore price appreciation, the majority of iron ore deposits brought to production will contain hematite rock. However, baring a further collapse in the iron ore price, there is still opportunity for strategically located magnetite deposits (Tsodilo's Xaudum Iron Project being a prime example).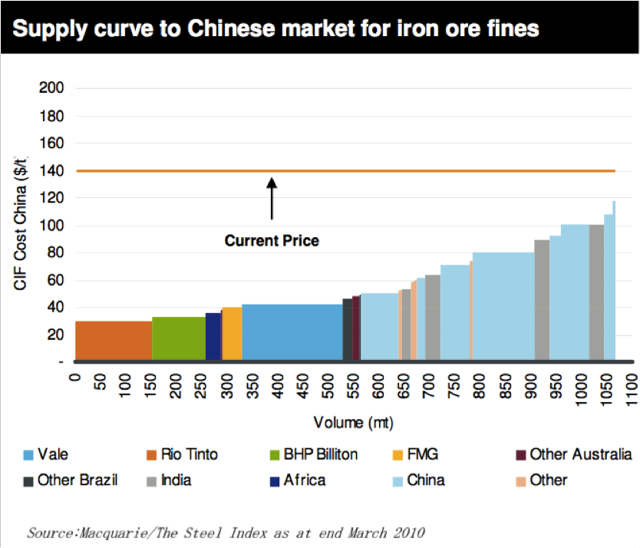 There has been a 30% plunge in iron ore prices YTD and the price currently sits right around $100 per tonne. Interestingly, it seems as if this price decline has been engineered by the aforementioned mining giants (Rio Tinto, Vale, and BHP) to drive high-cost producers out of business. Far from being conspiratorial, this theory makes perfect business sense. Considering that average cost of production of the giants is ~$60 per tonne of iron ore, they were making an absolute killing when iron ore prices where above $150 per tonne in early 2013. However, the giants realized that they could kill two birds with one stone by dramatically increasing their production profiles. The first benefit is higher overall profits (a ~70% profit margin is still very strong, especially considering a large increase in production capacity). The second benefit is that current prices around $100, many high-cost/small-scale iron ore operations will be forced out of business (the average operating cost for Chinese iron ore producers is $80-90, not far below current prices). A bonus is that this price decline will cause marginal development projects to be shelved until markedly higher prices return, putting a limit on medium term supply. For at least the next 4-5 years, marginal iron ore development projects will be shunned and only best of breed projects will make progress towards production.
Investment Thesis for Botswana
Botswana is a landlocked country located immediately to the north of South Africa. 70% of the country is covered by the Kalahari Desert. The country has a population of just over two million. Considering this population, Botswana's landmass is surprisingly large (roughly the size of France) - making Botswana one of the most sparsely populated countries in the world. As Jared Diamond taught us in Collapse, in general, more sparsely populated countries have greater stability than their high-density counterparts.
Botswana has been a democracy since 1966 with a consistent record of uninterrupted elections. This impressive stability relative to the rest of Africa has spilled over into the nation's economy, and Botswana has been one of the world's fastest growing economies for the past 15 years. The country has a GDP per capita of $16,400 per year, which, for some comparison, is higher than China's. The mineral industry provides about 40% of government revenues, with the vast majority of mining revenues coming from diamonds.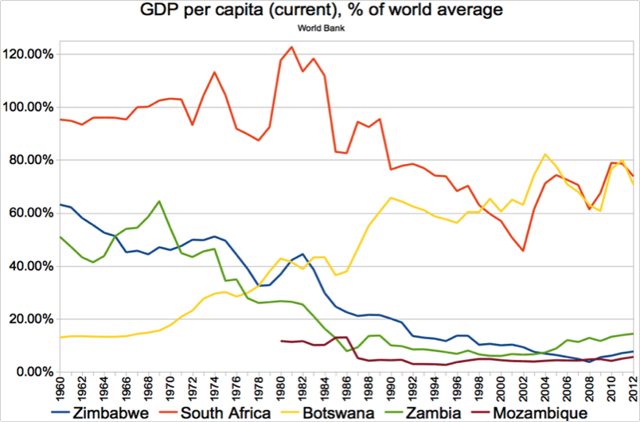 Ignoring the diamond industry, Botswana is one of the more underexplored mining destinations in Africa. The government is cognizant of this and announced in early 2009 its intention to shift Botswana's economic dependence on diamonds. Since roughly 2007, several international mining companies have established a headquarters in Botswana's capital Gaborone and begun prospecting for gold, uranium, copper, iron ore, and oil. Companies currently active in Botswana exploration include: First Quantum Minerals, Jindal Steel, Tsodilo Resources, Honda Copper Corp, and Galane Gold. However, considering Botswana's large landmass, much of the country is unexplored. (For instance, Tsodilo's properties in the northwest of the country are "virgin lands" - prospects that haven't been touched by previous mining outfits.)
The northern part of Botswana hosts the geological setting for stratiform copper-cobalt deposits similar to that of the Copperbelt in Zambia and Congo. This is highly promising given the world-class nature of the Congo and Zambian copper mines located to the north of Botswana. At this point, not enough drilling has occurred to confirm or deny this possible southern extension of the same copper-rich formation. However, when Botswana's promising geological setting is considered alongside the fact that the country is finally being explored for minerals beyond diamonds, it seems likely that a world-class deposit will be discovered somewhere in Botswana over the next few years.
Investment Thesis for Tsodilo Resources
Tsodilo Resources is headquartered in Toronto with operations in Botswana. The company has been in Botswana since the early 2000's but was exclusively focused on diamond exploration for the first five years of existence. However, even as Tsodilo's exploration team scoured the northern part of the country for years, the drilling never yielded that big Botswana diamond discovery for which management hoped.
The silver lining is that the company's exploration efforts revealed a previously unrecognized magnetic complexity that looked highly promising for a base metal deposit. CEO James Bruchs decided to pivot and applied for metal licenses around 2007. Follow up drilling by Tsodilo has since discovered the multi billion tonne Xaudum Iron deposit, which is currently 100%-owned by the company and under development. Additionally, in April 2013, the company signed a JV agreement with copper giant First Quantum Minerals (OTCPK:FQVLF). The agreement stipulated that FQM could earn up to a 70% interest in any copper deposits discovered within Tsodilo's land holdings. The agreement works well for both parties: Tsodilo provides access to the Botswana land holdings that they have accumulated over the past 10 years, and FQM provides financing and copper exploration expertise. The success of this JV partnership will be revealed over the upcoming 12 months.
Tsodilo currently has 35 employees active in Botswana. The management team is headed by CEO James Bruchs. Bruchs is all-in on Tsodilo - he owns 7% of the company and has been CEO of TSD since 2002. Bruchs takes great pride in the contrarian approach that TSD has taken (i.e. exploring in Botswana before anybody else was and purchasing company drilling rigs when leasing was in vogue). The company itself has extremely high insider ownership, with 58% of outstanding shares held by management, employees, directors, institutional shareholders (including the International Finance Corporation), and First Quantum Minerals. The company has an extremely tight share structure, with roughly 40M shares fully diluted. As TSD advances development of the Xaudum Iron Property and furthers grassroots exploration efforts, the company's burn rate is between $2-3M annually. This is very reasonable given Tsodilo's $40M market capitalization, resulting in minimal dilution for existing shareholders.
While the majority of Tsodilo's cash burn is going towards the Xaudum Iron Project, Tsodilo is very much a Botswana prospect generator. The below map shows Tsodilo's extensive metal prospecting licenses in the Okavango Delta Region. First Quantum owns the rights to any precious metal, base metal, or rare earth deposit found in Tsodilo's land holdings, while Tsodilo is free to explore for diamonds, uranium, and iron ore. The company is currently conducting grassroots exploration for all of these resources, with an eye to farm out any promising discoveries to a larger player. These efforts include surface sampling, core sampling, ground magnetics measurements, airborne surveys, and eventually drilling in the coming quarters. This drilling is done very economically, made possible by management's decision to purchase in house drilling rigs. Keeping in mind that the vast majority of drilling expenses currently go to the Xaudum Iron Project, Bruchs explained that the company spends $2M "in house" to drill what would cost them $6M with a contractor.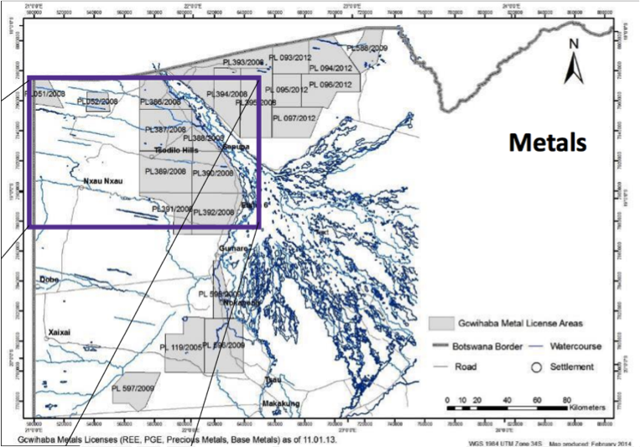 As of now, the market is not ascribing much value to Tsodilo's prospect generating capabilities (even with their recent success in getting $15B First Quantum Minerals involved). However, given the promising geology of Tsodilo's land holdings and the strategic advantage of company-owned drills, there is a real likelihood that Tsodilo can create further value aside from the Xaudum Iron story and FQM partnership. The progress will likely be slow for the time being, but I have hope that the company will be able to double or triple their grassroots exploration expenditures in 2015. (Once the market has become fully aware of the homerun potential of the FQM Joint Venture, raising larger sums of money will become much easier for TSD management.)
The majority of Tsodilo's current market capitalization can be attributed to their Xaudum Iron discovery. This project is 100%-owned by the company, as the First Quantum Minerals JV agreement specifies that Tsodilo has full rights to any iron ore found on the company's properties. The project was recently discovered by the company and has been brought into development, with over 182 holes having been drilled over the past few years. The company expects the Xaudum project to ultimately have a massive resource of 5-7 billion tonnes of iron ore. Bruchs estimates that the company has to drill 100 more holes to define a 1.5 billion tonne resource. At the company's current annual burn rate of $2-3M, TSD can drill ~60 holes a year. I look forward to seeing this resource sometime in 2015.
The Xaudum Iron Project is a magnetite iron deposit. The average grade of all mineralized drill intersections thus far is 29.4% iron ore. Company metallurgical tests have confirmed that all mineralized units are capable of creating premium grade magnetite of >68% Fe after processing. The below map shows that the majority of the formation has yet to be drilled. A maiden NI 43-101 Mineral Resource Estimate for Block 1 will be released imminently, with Block 2 drilling to commence in Q3 of this year.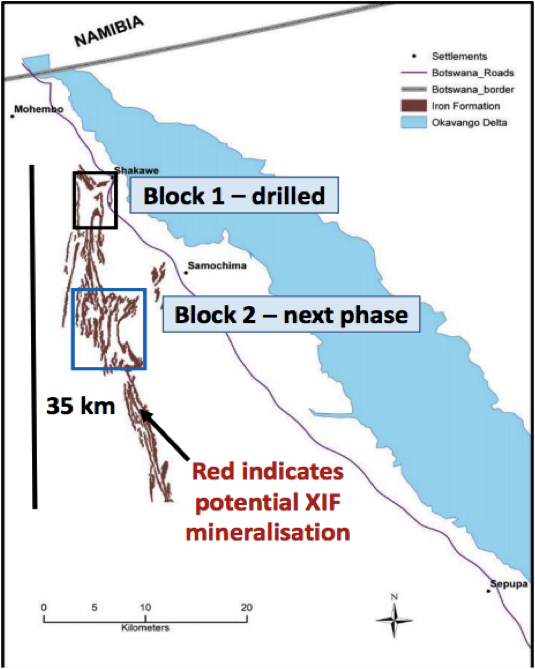 Given the size and early stage of the Xaudum project, it will take multiple years for this deposit to be fully developed and many millions of dollars. Bruchs is convinced that the time and effort will be worth it, largely due to the burgeoning steel industry in Gaborone (Botswana's capital). Currently Botswana produces a minimal amount of premium steel, but the government is keen to spur steel production in the nation's capital. Over the recent years there has been a significant amount of thermal coal discovered in Botswana (a crucial input in high-quality steel), prompting Indian steel giant Jindal to purchase a Botswana thermal coal deposit within the past year. Tsodilo's plan is to ship their iron ore by rail to Gaborone as a feedstock for the anticipated increase in steel production. The recently announced Trans-Kalahari Railway line, scheduled for completion in 2019, will serve as a means for Tsodilo to both supply Gaborone and export excess iron ore production out of Botswana.
The timeliness of these transportation plans remain a risk factor for Tsodilo and needs to be monitored going forward. While there are many worse problems to be had, it's quite possible that Tsodilo might discover "too big" of a deposit over the next few years (in terms of the necessary transportation infrastructure). In this case, a scaled ramp up may be necessary. An additional risk factor is the price of iron ore. Since Xaudum is a hematite deposit, the project won't be viable at significantly lower iron ore prices. However, as long as prices stay near $100, the Xaudum deposit provides immense strategic value to both the company and the Botswana steel industry. The Xaudum project has the potential to add $4-5 to TSD's share price (currently at $1.30) if they are able to successfully continue development or find a JV partner to take over funding responsibilities.
The most exciting piece to the TSD story is the recent copper joint venture agreement that the company signed with First Quantum Minerals in April 2013. FQM is a giant in the copper world and has had success bringing massive, high-grade projects located in remote jurisdictions (such as Zambia, Mauritiana, Panama, Peru, etc) into production. FQM is the ideal company to be conducting a copper exploration campaign on TSD land holdings and James Bruchs has stated "We are absolutely delighted to announce First Quantum as our strategic partner. They are a world-class mining company with great financial strength and specific expertise in exploration for African Copperbelt type base metal targets gained from their mining operations in Zambia….Having First Quantum's experienced exploration team from Zambia moving exploration on our ground forward is as good as it gets. This joint venture will allow for aggressive exploration for world-class base metal deposits on our licensed areas. In addition, First Quantum's equity investment will enable Tsodilo to accelerate the exploration and evaluation of our Xaudum iron formation project as well as continue our kimberlite exploration. First Quantum's involvement will allow us to deliver results from our metals projects to the market sooner than we could have without the help of our new strategic partner."
First Quantum Minerals raised their exploration threshold to 3 billion tonnes of copper in 2013. Considering that they have spent close to $8M exploring Tsodilo's landholdings for copper since August 2013, First Quantum believes that there may be a copper formation of at least this size in northern Botswana. Another $9M in exploration expenditures gets First Quantum a 70% stake in the joint venture. The remaining 30% is very valuable for Tsodilo because, if FQM finds what they are looking for, TSD's stake will be worth hundreds of millions of dollars.
FQM is currently awaiting the results from 200 shallow geochemical holes whose purpose is to map the bedrock for rock type and alteration. A new line of stratigraphic holes is also underway. The last remaining data set is a gravity survey now underway with results expected by the end of July. Only then will FQM be in a position to study the entire data set to see if the general geological model remains intact. If it does, FQM will look for specific drill targets and we can expect first drilling by September of this year. The below graphic is taken from a recent First Quantum presentation. The large yellow arrow indicates the possible extension of the copperbelt into northwestern Botswana.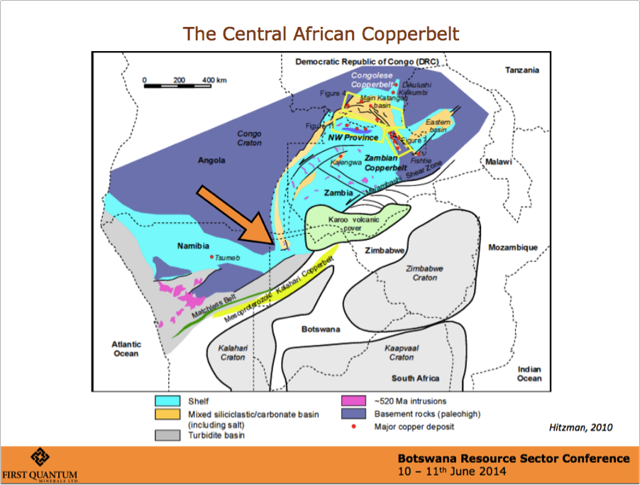 The market is not currently assigning much value to Tsodilo's JV Partnership with First Quantum Minerals, as the copper system is only conceptual at this point. This will not be the case for too much longer - FQM is expected to release the first drill results from Botswana sometime in the second half of this year. In a home-run scenario, First Quantum will be able to delineate a mutli-billion tonne copper deposit over the upcoming 24-36 months. An economic copper deposit of this size is worth billions of dollars and would see Tsodilo's share price skyrocket to double digits. According to Bruchs, First Quatum management has called Tsodilo's land holdings the leading exploration target for FQM globally. Quite honestly, given the immense success of First Quantum's exploration team over the past decade, I'm surprised that the market isn't giving this JV partnership a larger speculative premium.
In conclusion, Tsodilo has multiple catalysts taking place over the upcoming two quarters. In the next few weeks, the company expects to release a NI 43-101 compliant resource estimate for the 100%-owned Xaudum Iron Project. Additionally, FQM will be reporting the first drill results from the copper exploration program occurring on Tsodilo land holdings. If FQM is able to confirm the existence of economic copper, then the Partnership will potentially return 10x on our original investment. If the copper exploration is a bust but TSD is able to successfully develop Xaudum, a triple or quadruple is feasible over the upcoming 2-3 years. It is important to remember that TSD still needs to raise $2-3M per year in order to advance the Xaudum Iron Project in a timely manner and continue grassroots efforts. (The company still needs to raise $1.7M more this year.) The good news is that the copper exploration is being fully funded by First Quantum so, even if Tsodilo management is never able to raise another dime, the company will at least maintain their minority stake. That is the beauty of a carried interest play.
Tsodilo's Margin of Safety
As Tsodilo is an early stage exploration/development company located in a single jurisdiction, there is inherent risk with their operations when compared to other Partnership holdings (although there is significantly more upside as well). Nonetheless, it is any smart management team's job to minimize risk and Bruchs & Co have done their best to do so. Due to Tsodilo's multi-pronged approach, strong shareholder base, and minimal funding needs, the company has a reasonable Margin of Safety at this current valuation.
Tsodilo's multi-pronged approach (as a prospect generator, as an iron ore development company, and as a carried interest copper play) affords the company a Margin of Safety. Each of these focuses has the potential to generate tremendous value for the company, and the company only has to succeed with one of these to generate outsized returns. Much of the company's current market cap can be attributed to their Xaudum Iron Project, but in 6 months we very well may find that the copper JV alone is worth the entire current valuation. It will take longer for Tsodilo to create that type of value through new prospect generation. However, the combination of the company's fully-owned drilling rigs and experience with Botswana exploration mean that future diamond, uranium, and/or iron ore discoveries are a distinct possibility. As TSD continues to make progress on each of these fronts, the likelihood of a dramatic share decline from current levels is reduced.
Tsodilo's current valuation is also supported by a dedicated shareholder base. Notable shareholders include CEO James Bruchs (7%), Director David Cushing (8%), Azur LLC (16%), Firebird Management LLC (3%), First Quantum Minerals (8%), and the International Finance Corporation (15%). Aside from FQM, all of these parties have been involved for multiple years. There is unlikely to be any major selling in the near term due to the imminent catalysts listed above. These shareholders have already showed tremendous patience thus far and will be waiting on the edge of their seats for the FQM results. A positive result would immediately vindicate those who have stuck around, and in the meantime TSD's downside will be very limited.
The final factor is Tsodilo's modest funding needs to continue advancement of the Xaudum Iron Project and grassroots exploration efforts. (Remember that the promising copper exploration efforts are fully funded by FQM.) As I stated earlier, Tsodilo management took the unusual step of purchasing drilling rigs instead of leasing. While the company felt the short term pain of paying upfront for the rigs, it has ended up being an excellent decision - affording the company flexibility and the ability to drill at a third of the expected cost. Bruchs believes that the company needs $2-3M annually to properly move forward development. Considering the Tsodilo's ~$40M market capitalization, this seems achievable and will not be particularly dilutive for existing shareholders.
It is clear that Tsodilo has immense upside potential between its prospecting efforts, Xaudum Iron development project, and First Quantum Minerals copper JV. Just as importantly, there are multiple catalysts over the upcoming two quarters which will confirm the viability of Tsodilo's various efforts. However, if immediate validation does not occur, I have confidence that Tsodilo's multi-pronged approach, strong shareholder base, and modest funding needs affords the company a reasonable Margin of Safety at a $40M valuation. I look forward to updating you on Tsodilo's progress in Jan 2015 and feel confident that the share price will be markedly higher than the current $1.30.
Disclosure: The author is long TSDRF. The author wrote this article themselves, and it expresses their own opinions. The author is not receiving compensation for it (other than from Seeking Alpha). The author has no business relationship with any company whose stock is mentioned in this article.
Editor's Note: This article covers one or more stocks trading at less than $1 per share and/or with less than a $100 million market cap. Please be aware of the risks associated with these stocks.