Limelight Networks (LLNW) is a content delivery network (CDN) that has been consistently delivering below average performance for customers. With a poor management team, all evidence points to a continual loss of market share to its competent competitors. In 2012, Limelight was the #2 revenue-generating CDN after Akamai (AKAM). Last year, Level 3 (LVLT) surpassed Limelight as the #2 CDN. Right now, Limelight is ranked #4, and will likely be #5 by the end of the year after Akamai, Amazon (AMZN), Level 3, and EdgeCast/Verizon. Today, there is no reason for new customers to choose Limelight over those other four top-notch CDN performers.
The mechanics of a CDN operator is it gets paid by content providers such as media companies and e-commerce vendors for delivering their content to their audience of end-users. CDN technology has advanced to the point that it's a standard, commoditized service.
To learn more about the CDN industry, I interviewed expert Dan Rayburn last week. He is one of the industry's top analysts and doesn't invest in stocks, so is non-biased in evaluating the publicly traded CDN operators. Before he became an analyst, he co-founded one of the industry's first streaming media webcasting production companies, Live On Line, and sold it to Digital Island for $70 million.
Regarding CDN performance, he said:
CDN performance is not determined solely on number of servers, locations, peering, transit, software, route optimization etc... it's all of them taken together that determines quality.
Regarding Limelight, he said:
LLNW will never get back to where they used to be with their CDN business. It's been flat/down for more than two years, they neglected it for too long, stopped investing in it for awhile which hurt their performance, current management has no experience in the CDN market and LLNW has nothing special. They have a lot of cash, so they aren't going anywhere, but as others have gotten bought like Cotendo, EdgeCast etc... no one seems to want LLNW.
There is a lot of excellent, updated info on the industry from the 2014 Content Delivery Summit Pricing Presentation by Mr. Rayburn. It's based on a survey done in March-April 2014 of more than 700 customers who use CDN for video delivery. From the presentation:

The above slide shows there are 32 big CDN spenders in the US of over $1M per year in both 2014 and 2012. The biggest change since 2012 is Limelight has lost most of its biggest customers, while Amazon has aggressively gained them. Limelight went from 12 large customers in 2012 to 2 large customers in 2014, while Amazon, new to the game, went from 1 to 15 large customers in that time period.
Also note that both of Limelight's large customers are multi-vendor. This means that the customer uses Limelight and at least one other CDN provider, and can interchange them at will, depending on which gives a better service at the time.
In my discussions with several experts in the CDN industry, the following are my estimated 2014 CDN revenue numbers from the five biggest players:
Akamai: $700M
Amazon: $300M
Level 3: $200M
EdgeCast: $175M
Limelight: $117M
Many of the above companies don't reveal their CDN numbers, so most of these are estimates. Except Level 3 said it expects $200M in CDN revenue for 2014. Akamai's media and entertainment revenue for 2014 is expected to be $800M. Its CDN revenue is most of that, so I believe $700M is a good estimate.
Amazon has grown rapidly because it has one of the fastest, best-performing CDNs. From conversations with insiders, it's likely that it's the #2 revenue-generating CDN.
Limelight's CDN is about 75% of its revenues, so if it generates $156M in revenues in 2014, which is the consensus estimate, then its CDN revenues will be about $120M.
As content delivery is a commoditized service, the overall pricing doesn't vary much among the different CDNs. The reason why Limelight has been losing customers is because of poor performance, not pricing.
Over the past several years, there has been constant CDN price erosion. This will continue in the coming years. Also from the report, on page 5, it says:
"Video CDN price declined by 20-25% in 2013, and is expected to decline 25-30% in 2014 and 35%+ in 2015."
This price decline will further decrease the gross margins for CDN companies. As Limelight already operates at a loss and will continue to lose CDN traffic, its earnings and revenues will be further hurt by this price erosion.
Limelight Lost Customers Because Of Inferior Performance
Limelight's decline began in 2009, when it started its strategy of diversifying its revenue away from pure CDN services and more towards cloud-based services. Because of this divergence of focus on its CDN, it completely stopped investing in its CDN. Performance tanked, and customers noticed this and left. Limelight never recovered from falling behind, and this explains the massive loss of customers between 2012 and 2014.
Limelight acquired EyeWonder in 2009 for $110M to get involved in advertising. Then, when it realized that advertising doesn't fit with its core business, it sold it for $66M in 2011. It acquired Clickability, a web content management system, in May 2011. Then decided that didn't work out either, so sold it in December 2013.
Limelight has realized its mistakes, and has now decided to reinvest in its CDN, in order to try to be competitive. But it is too late. Limelight will likely never be able to compete with the other top four CDNs, because it is lacking technological expertise and is at a smaller scale.
Regarding Limelight, Dan Rayburn said:
Management is ineffective. Limelight has had a lot of management changes and most of the executives they have recently brought in, have no experience in building infrastructure services. They tend to come from software business and other services that don't truly overlap with network infrastructure services.
I agree with Dan Rayburn's assessment on Limelight's management that they don't have experience with infrastructure. For example, Limelight's CEO, Bob Lento, was brought in by Goldman Sachs at the end of 2012 as an interim CEO to try and sell the company. He wasn't able to sell Limelight, so he stayed on as CEO, even though he doesn't have infrastructure experience. Prior to joining Limelight, he spent 14 years as a senior sales executive.
Earlier this year, Joe Depalo got promoted to VP of network and infrastructure. His previous job with Limelight was operations, a much different job than technically improving infrastructure.
In March, 2014, Sajid Malhotra was hired as senior VP of Corporate Strategy and investor relations. Mr. Malhotra has no experience whatsoever with CDNs.
Limelight Will Likely Continue Burning Cash In The Years Ahead
In the Q1'14 earnings call, the company said "we're making substantial investments in improving our processes and infrastructure." The company guided $19.5m on capex for 2014. It also needs to fix sales team churn by providing more aggressive incentives. Expect this to lead to higher cost.
High operating loss: Year after year, Limelight is burning cash with its negative operating margin. The following is from the past three years from Yahoo Finance:

Limelight's gross and operating margins are the worst out of its CDN US peers. The following financial numbers are from 2013:

As Limelight stays stagnant and/or loses revenues, it will continue to burn cash year after year, until its cash pile dwindles down to the point where it needs to either raise more cash or fire sale its assets.
In April, Limelight announced a partnership with NeuLion, a digital video broadcasting company. It said in the PR that NeuLion partnered with Limelight because it thought its CDN performs well. However, I have a source close to the matter have told me that's not the truth. They said the reason why the two firms partnered was because Limelight helped NeuLion get a new customer. I can't provide evidence to prove this, but from my source, I believe it's true.
Limelight Is Unacquireable
On June 10th, Roth increased its price target for LLNW to $4.50 from $3, saying since it won a court case and so didn't infringe on Akamai's patents, now "the firm thinks the win could cause some investors to see an acquisition of Limelight as more likely."
But there is no one who would want to acquire Limelight. It is at the point of no return. Akamai acquired Contendo in December, 2011, one of its biggest CDN competitors at the time, for $268M. Contendo was a threat to Akamai's dominance.
Verizon recently acquired CDN company EdgeCast, another stellar performer. EdgeCast is a better-managed CDN provider than LLNW, generated $100M in revenues per year, and was profitable. Verizon took it out in 12/2013 for $350M.
But Limelight is a declining, stale CDN. That doesn't make for an appealing takeout target, unless it's for a very cheap price, which LLNW isn't priced at now with a $280M market cap.
Many big-volume CDN users are building their own CDN in-house. Netflix (NFLX) used to be 40% of LLNW's traffic. Now NFLX is building its own CDN. It's currently 20% of LLNW's traffic, and LLNW said in its last earnings call that NFLX will leave LLNW in the middle of this year. This is a significant revenue decrease, and LLNW expects zero revenue from NFLX by Q4 of this year.
With telcos or large cable companies, having their own CDN is a natural fit. When a company has a lot of content, it is better off creating its own CDN. That way, it can use it for itself and save money from paying another CDN operator, and can also sell the service to customers on the side. Comcast launched its commercial CDN service in May 2014.
Limelight's Recent Rally Is Unmerited
The following is a one-year chart for LLNW's share price: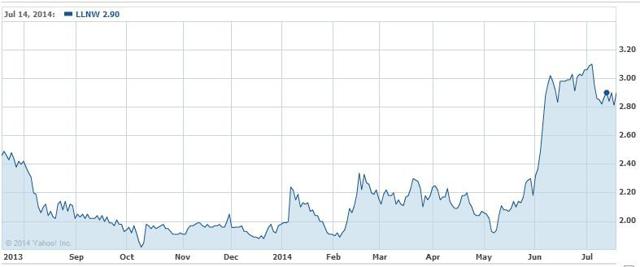 As shown in the above chart, LLNW has traded around $2 for most of the past year. Only recently, around the beginning of June, did LLNW shoot up to close to $3, for around a 40% gain. This gain isn't merited, because the fundamentals for LLNW haven't changed. There are two reasons for this jump. First, LLNW successfully defended a lawsuit from Akamai accusing LLNW of violating its patents. Second, LLNW recently hired a new executive, Sajid Malhotra, who purchased 250,000 shares of LLNW in late May and early June on the open market at above $2.00 per share.
LLNW's position in the CDN industry has not improved. First, Mr. Malhotra was hired as a senior VP of Strategy, Corporate Development, and Investor Relations in March 2014. But Mr. Malhotra wasn't very familiar with the industry when he got hired. Naively, he purchased 250,000 LLNW shares at above $2.00. Notice that the other executives didn't buy many shares, most didn't buy any. Those that know the business well would stay away.
Secondly, winning the Akamai lawsuit was a one-time event. Limelight might have prevented itself from losing a lot of money, about $43M, but it didn't gain any money from winning it.
Despite these two occurrences, Limelight is still losing market share. So it's likely the stock will drift back down to $2 per share, where it was trading in May, once it's realized that the company is in terminal decline.
Another event that might have fueled some speculation was a fake bid of $645M for Limelight. But this bid is false and should be ignored, as even Limelight itself said:
"Accordingly, management believes current and prospective investors in Limelight Networks should disregard Tuition Build's proposal."
Conclusion
The 2005 documentary "Walmart, The High Cost Of Low Prices" features small shops getting run out of business by Wal-Mart. This harsh reality is now happening to Limelight. Since CDN is a commoditized business, when you fall behind, it's tough to get back up, because it's safer for customers to go with the established, bigger players. Being the #5 CDN in revenues, things will likely continue getting worse for Limelight, unless it can somehow turn things around, which is unlikely, for the reasons stated in this article.
Amazon can be thought of as a "Wal-Mart" in the CDN industry. It has been beating the competition through price cuts and having a fast, reliable CDN at the same time. After only launching its CDN in 2008, it swiftly brought itself to become the #2 revenue-generating CDN.
I'd recommend shorting LLNW down to $1.50 per share, not much lower than where it was trading in May. Once it gets to that price, it will go lower, as it's in terminal decline, but it will take a couple years, since the company has a lot of cash.
Disclosure: The author is short LLNW. The author wrote this article themselves, and it expresses their own opinions. The author is not receiving compensation for it (other than from Seeking Alpha). The author has no business relationship with any company whose stock is mentioned in this article.