As the Federal Reserve continues to remove quantitative easing, long-term interest rates have remained remarkably stable. The 10-year and 30-year rates have actually dipped, and the feared 3.00% 10-year rate has not reappeared.
To me, that means several things for Annaly Capital (NYSE:NLY):
The spread between short- and long-term rates should enable NLY to make more money.
The decrease in rates could increase NLY's book value again.
The dividend will be increased simply by virtue of the fact that if NLY makes more money, they are required by the IRS to pay more in dividends.
Yes, I take a very simple approach to my "dividend opportunity" stock. I will leave the heavier lifting to the folks that write about every financial aspect because I try to keep my investing simple for myself, and I can understand it without the fancy footwork.
ZIRP Is Still King
The Federal Reserve implemented a "zero interest rate policy" when the financial crisis and Great Recession began. Based on everything that Janet Yellen has stated publicly, ZIRP will remain in place as long as inflation is almost nil, incomes remain stagnant, and employment is tenuous.
"The Committee is also fostering accommodative financial conditions through forward guidance that provides greater clarity about our policy outlook and expectations for the future path of the federal funds rate. Since March, our postmeeting statements have included a description of the framework that is guiding our monetary policy decisions. Specifically, our decisions are and will be based on an assessment of the progress--both realized and expected--toward our objectives of maximum employment and 2 percent inflation. Our evaluation will not hinge on one or two factors, but rather will take into account a wide range of information, including measures of labor market conditions, indicators of inflation and long-term inflation expectations, and readings on financial developments.

Based on its assessment of these factors, in June the Committee reiterated its expectation that the current target range for the federal funds rate likely will be appropriate for a considerable period after the asset purchase program ends, especially if projected inflation continues to run below the Committee's 2 percent longer-run goal and provided that inflation expectations remain well anchored. In addition, we currently anticipate that even after employment and inflation are near mandate-consistent levels, economic conditions may, for some time, warrant keeping the federal funds rate below levels that the Committee views as normal in the longer run."
It cannot be stated any clearer than that. ZIRP will be around for quite some time, and if that is true, then the stable interest rate environment, along with lingering low longer term rates will mean more net income for NLY as well as other mREITs.
Short term rates: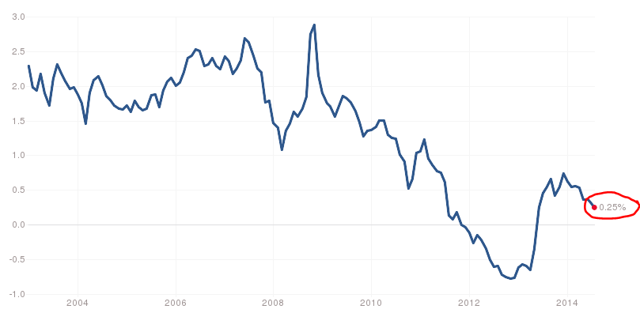 10-year Treasury rates: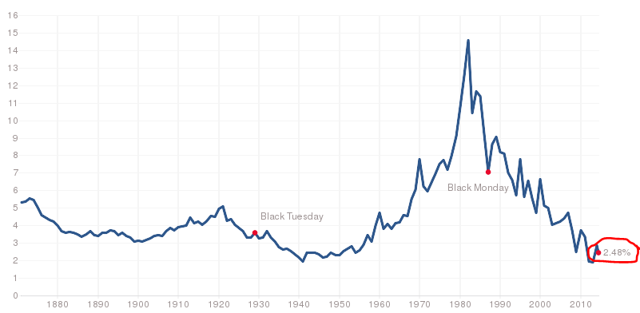 30-year Treasury rates: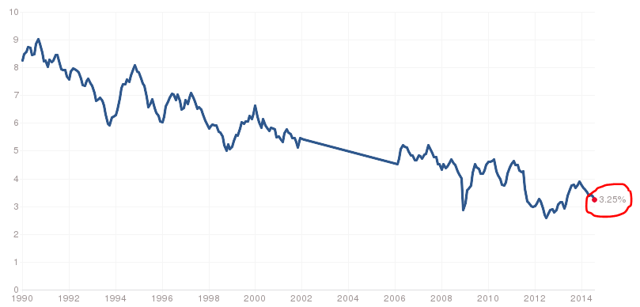 Can it be any more clear than these charts that show interest rates still dropping not skyrocketing?
Annaly Is My First Choice For A Dividend Opportunity Stock
I like NLY because of its lower use of leverage, and more conservative approach to how it navigates the business. Add this to the focus on becoming a unique hybrid mREIT (RMBS, CMBS, and triple net lease agreements) and I believe that not only will the book value of NLY rise, but so will net income and dividends, sooner than later, and perhaps even next quarter. This quarter ends in one week, and we will know more details around the first or second week of August, when the company reports.
I expect a very solid quarter.
I would also suggest that Annaly Capital is a bargain at its current price, and I still believe that the stock could revisit the last 5-year high of nearly $19.00/share within 24-36 months.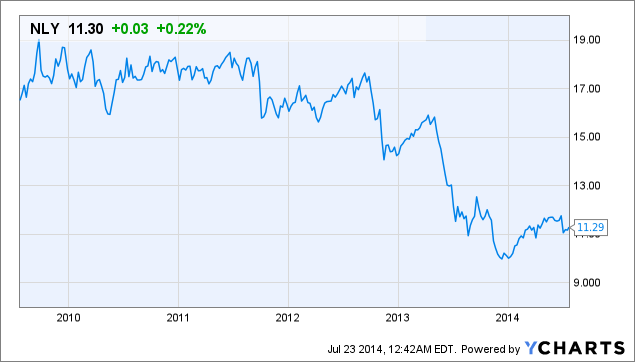 That could be greater than a 70% increase in share price or about 23% per year over 3 years. Add that to a possible dividend increase, which might be $.03/share (10%), or maybe more if the net income is higher due to the increasing commercial business focus, and I believe NLY is just beginning to rock and roll.
The Bottom Line
The interest rate environment can change and the rates can skyrocket right after this is published, and my thesis might be completely out the window. I do not believe that will be the case based on the opinions I have stated above, but obviously anything can happen. The headwinds always need to be monitored and a risk allocation of perhaps no more than 3-6% of your total portfolio value would be prudent.
Allocation and diversification are always important, and never put all your eggs in one basket, no matter how good it appears.
For now, the environment is more than sanguine for NLY.
Disclaimer: The opinions of the author are not recommendations to either buy or sell any security and the author is not an expert in the mREIT business. Please remember to do your own research prior to making any investment decisions.
Disclosure: The author is long NLY. The author wrote this article themselves, and it expresses their own opinions. The author is not receiving compensation for it (other than from Seeking Alpha). The author has no business relationship with any company whose stock is mentioned in this article.