Threats to global oil (NYOIL) production are perhaps as big as they've been in recent memory, with rising tensions in the Ukraine following the Malaysian airplane attack, the U.S. and now the European Union imposing further sanctions against Russia (with new fears of another Cold War rising), plus the fear that conflict with ISIS militants in the Middle East could disrupt the world's oil production (Iraq has the world's fifth-largest proven oil reserves, with Iran fourth, and Russia coming in at eighth).
In my view, geopolitical tensions should continue to drive the price of oil higher. You will see from the below chart that the price of light crude oil currently sits at $102.80 a barrel, but prices are still well below the 2008 top of $140 a barrel.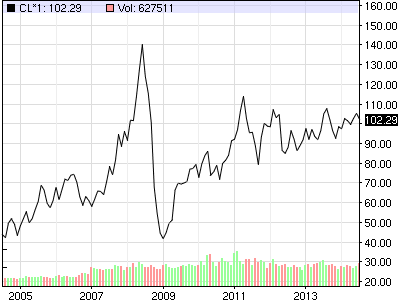 You can profit from rising oil prices with a select group of oil producers that stand to directly benefit from increased prices.
In this article, I'd like to highlight three of my current favorite dividend paying oil stocks. I believe these three companies will outperform the benchmark S&P Oil & Gas Exploration & Production ETF (NYXOP) going forward, provide a solid income for investors. In my view, each of these stocks holds substantial share price upside.
| | | | | |
| --- | --- | --- | --- | --- |
| Company | Market Cap (NYSE:B) | Stock Price | P/E (2014 E) | Yield |
| Canadian Oil Sands | $10.8 | $22.25 | 13.5 | 6.35% |
| Conoco Phillips | $105.2 | $85.71 | 13 | 3.41% |
| EnerPlus | $4.9 | $23.82 | 22 | 4.29% |
#3 Canadian Oil Sands (OTCQX:COSWF)
Canadian Oil Sands holds a 36.74% interest in the massive Syncrude project, which is operated by Imperial Oil (NIMO). The project produces approximately 100 million barrels of oil a year and contains a whopping 4.5 billion barrels of proven and probable reserves. This gives the company a reserve life with more than 45 years of production.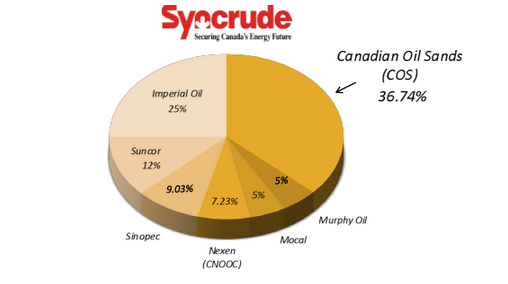 Credit: Canadian Oil Sands Presentation
- The reasons to invest in Canadian Oil Sands are plenty in my opinion. First, the company is highly leveraged to increasing crude oil prices - a WTI price of $90 barrel results in 2014 cash flow per share of $2.20. According to the company, every 1.00/bbl WTI increase or decrease in crude oil prices increases pr reduces cash flow from operations/share by $0.05 after tax. Therefore, a $20 increase in crude oil prices would result in an additional $1 per share cash flow from operations.
- The company currently pays out $.35 per share in dividends, with a current yield of 6.35%. This makes the stock one of the highest yielding oil stocks on the market.
As the company's free cash flow has increased over time, so to has its dividends paid out. This tells us that the company is committed to returning earnings to shareholders.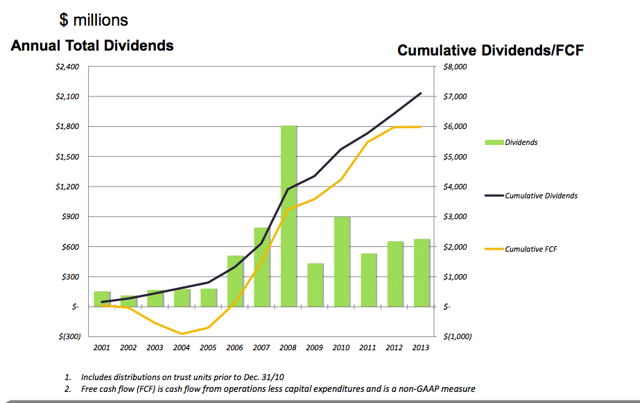 Credit: Canadian Oil Sands Cannacord Presentation
- The stock has outperformed the S&P/TSX Oil & Gas index and the S&P/TSX Composite by a wide margin since 2013, providing investors with average compounded annual returns of 14%: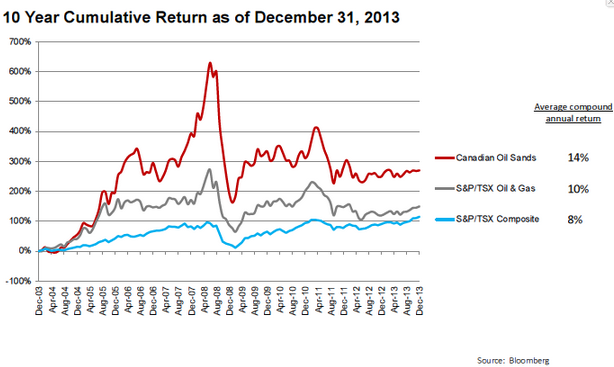 Credit: Canadian Oil Sands Presentation
- Next, the company expects a significant drop off in capital expenditures in the coming years, with total capex of just over $100 million in 2015, down from $900+ million in 2013.
The company expects several capital projects to be completed by 2015, including the biggest project, the Mildred Lake mine train replacement, which is estimated to cost $1.6 billion when complete, and the Aurora North mine train relocation, which costs $400 million.
In my view, this puts the company is a position to generate substantial amounts of free cash flow in the coming years. As cash flow increases, investors might see higher dividends follow, if history is any indication.
In conclusion, Canadian Oil Sands owns a large position in the very high quality Athabasca oil sands deposit. The company has a long-life, cash generating asset which is highly leveraged to a rising oil price. With a solid dividend and growing free cash flow, Canadian Oil Sands should continue to perform very well, and I intend to hold shares for the long-term.
#2 Enerplus (NYSE:ERF)
Enerplus is a North American crude oil and natural gas exploration and development company. The goal of the company is to deliver sustainable, profitable growth and provide income to investors. For 2014, the company forecasts production growth of 10% on 96,000 to 100,000 BOE/day production.
Here are a few reasons why I consider shares of Enerplus attractive at current levels:
- Enerplus' projects include the U.S. Oil-Williston Basin, which accounts for 25% of 2014E production, the U.S. Natural Gas-Marcellus, for 30% of 2014E production, the Canadian Oil-Waterfloods, 20% of 2014E production and the Canadian Natural Gas-Deep Basin, 15% of 2014E production. The company has a nice mix of natural gas (56%) and crude oil (40%) of production, with projects located in politically favorable jurisdictions.
- Enerplus recently announced a 250% increase in economic contingent resources, from 39 MMBOE to 136 MMBOE, according to a June 18 release. The company estimates 830 future drilling locations to support its growth.
- Reserves have grown at a compound annual growth rate of 10% per year, with 406 million BOE (49% natural gas, 47% crude oil). The growth is led by the company's Fort Berthold project, with an astounding 370% reserve growth rate since 2010 (22.5 MMBOE reserves in 2010, up to 105.4 MMBOE by 2013). Production at Fort Berthold also delivered 340% growth since 2011.
- The Marcellus natural gas project has also delivered rapid growth, with annual production in 2014 forecasted at 180 MMcf/day, representing three-year growth of more than 750%. Since 2010, reserves at Marcellus have grown 415%, from 117 Bcf of natural gas, to 601 Bcf.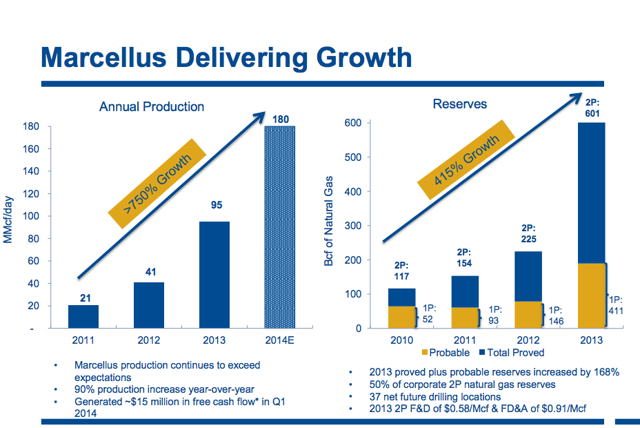 Credit: Enerplus Presentation
- Meanwhile, annual production for the entire company has grown at the exact same rate of 10% during this time.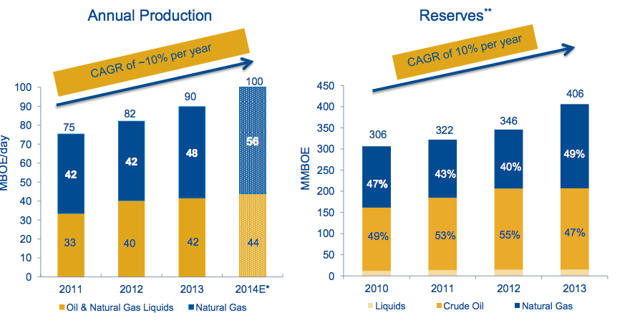 Credit: Enerplus Corporate Presentation
- Enerplus' profits and cash flow is on the rise - the company's fund flow/share should grow 18% for 2014 to $4.45 per share. Since 2012, the company estimates a compound annual growth rate of 12% in funds flow growth, from $3.19 in 2011 to $4.45 this year.
- Enerplus is one of the few oil and gas producers whose stock pays a monthly dividend, currently $.09 a share. There are numerous reasons why monthly dividends can be more favorable than quarterly or semi-annual dividends - read my previous article on monthly dividend stocks for more details.
- Enerplus' share price is on a tear the past 2 years, returning more than 100%. In 2014 alone, Enerplus has returned 34%. The technical picture remains very bullish for shares, with the stock well above its 200-day moving average: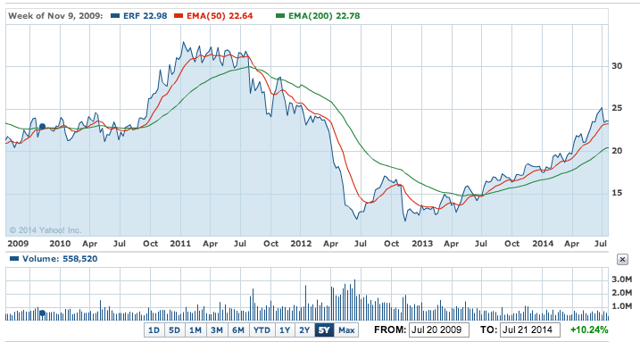 Credit: Yahoo! Finance
With its top tier oil and gas assets, growing reserves and production, and solid monthly dividend, Enerplus is hard not to like. I think shares have at least 25-50% upside potential over the next 1-2 years, not including dividends.
#1 Conoco Phillips (NYSE:COP)
Conoco Phillips is engaged in the exploration, development and production of crude oil and natural gas, with operations spanning 27 countries. The stock looks very attractive at current prices based on a number of factors.
- First, Conoco is expected to grow at a compound annual growth rate of 3-5% per year, but the company also expects margins to grow 3-5% between 2014-17. This should lead to a growth in cash from continuing operations of 6-10% per year for the next 3 years, with the company estimating $20-$23 billion in cash flow by 2017.
- The company has a diversified asset base, by location with reserves in Alaska (19%), Canada (27%), Europe (9%), by product with 31% of production in oil, 23% bitumen and 29% natural gas, and by margin, with 23% Oil Sands, 24% North American Conventional Oil, and 18% international oil and gas (Source: Corporate Presentation).
- The company appears committed to returning cash to shareholders via dividends. The board of directors recently approved a 5.8% increase in quarterly dividends to $.73 per share, which gives the stock a current yield of 3.43%. The increase marks 14 straight years of annual dividend growth.
- Conoco is focused on providing "double-digit" annual returns to shareholders. As part of the strategy, the company is planning to invest $16 billion per year to grow production, but most of this money will also help increase profit margins.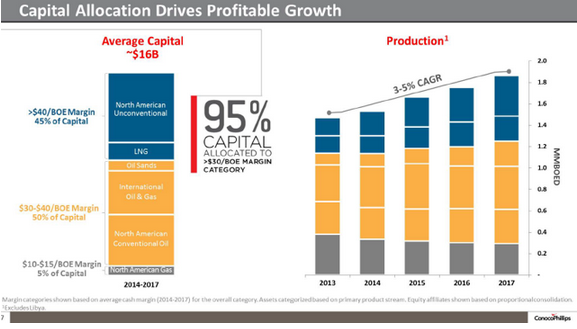 (Credit: Conoco Phillips Presentation)
- Shares of Conoco have provided investors with outsized returns over the last few years. You'll see in the below chart that Conoco has outperformed its peers BP plc (NYSE:BP), Hess (NYSE:HES) and Exxon Mobile (NYSE:XOM) by a wide margin, returning more than 140% since 2009.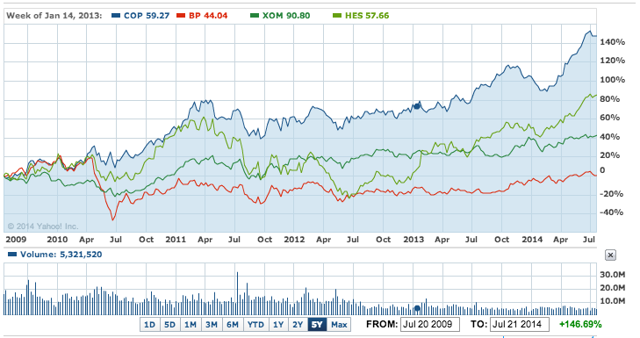 (Credit: Yahoo! Finance)
- Conoco is still trading at a discount to its peers, however. With a current share price of $86.08 and EPS of $7.35, the company has a P/E ratio of just 11.71. Analysts are estimating an average full-year 2015 EPS of $6.61, which would give the company a forward P/E ratio of 13. However, the high estimate for 2015 is $7.52 per share, which would result in a forward P/E of just 11.43.
With production and margin growth, a solid dividend, an attractive asset base and a soft valuation, I believe Conoco will outperform its peers in the coming years and I think more than a few dividend increases will be in store.
In conclusion, I feel these are 3 very high quality oil and gas producers that pay sustainable, growing dividends. I rate all three companies as outperform, and plan on adding shares of all three in the near future.
Disclosure: The author is long COSWF. The author wrote this article themselves, and it expresses their own opinions. The author is not receiving compensation for it (other than from Seeking Alpha). The author has no business relationship with any company whose stock is mentioned in this article.
Editor's Note: This article discusses one or more securities that do not trade on a major U.S. exchange. Please be aware of the risks associated with these stocks.